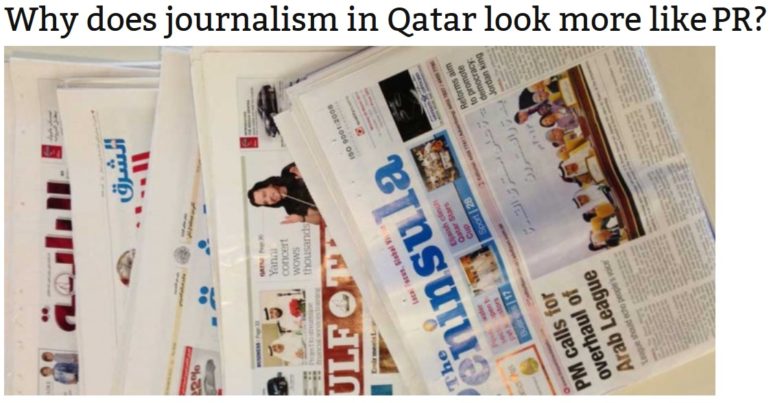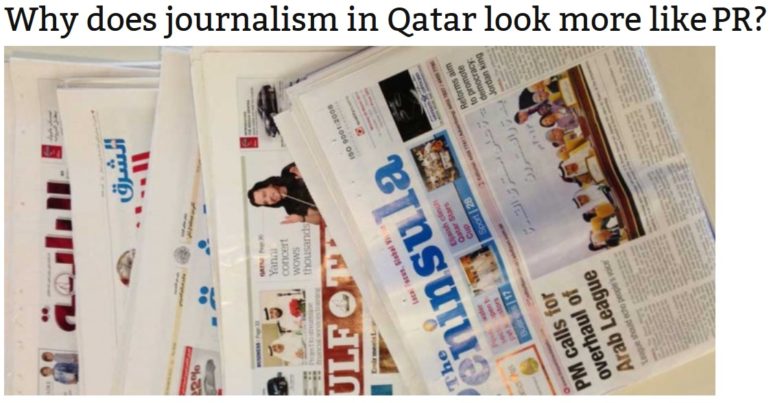 Full guide here. العربية | বাংলা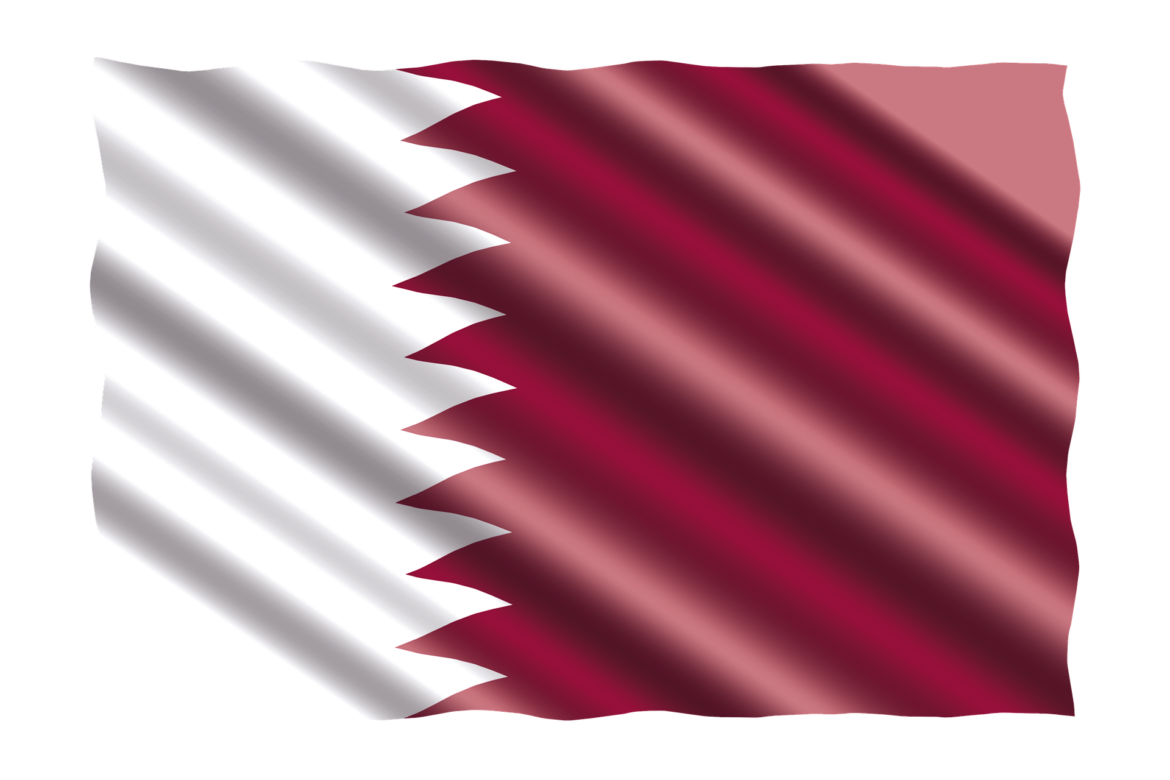 These tips were provided by Vani Saraswathi, a former Qatar-based journalist and associate editor for Migrant-Rights.org.
Media Environment

While Qatar is home to the Al Jazeera network and the host of the Doha Centre for Media Freedom, there is little or no tolerance for critical reporting in the country.  The Doha Centre does commendable work outside of the country, but its operations within are farcical.
Overall, there is very little criticism of the government or the ruling family in the local media, with only occasional critical pieces around municipal council elections. Doha News was the only independent media in the country until it was blocked — the excuse given for the block was a lack of proper licensing — forcing its original owners/editors to sell.  In fact, Qatar hasn't issued a new media license in years, apart from one for Al Rayyan TV in May 2012. While online platforms do exist, the controversial Cyber Crime law makes independent operation difficult.
The three English and four Arabic newspapers all practice self-censorship, and any reporting on migrant labor issues is done without critical analysis or background. However, because the publications have access to court hearings and government releases, those brief reports – often reprinting government PR verbatim  – can be the seed for further investigations.
Almost all English-language journalists — and most Arabic-language journalists — are migrants themselves, hence they work in an environment of intimidation, with the fear of being deported or jailed. Many of these journalists come with rich experience and good training, so if you are a journalist working for foreign media and visiting the country, working with them can be helpful. Just make sure you have the proper clearance for filming in public places by contacting the Director of Publications.
The most challenging aspect of reporting in Qatar, apart from a great degree of self-censorship, is this provision (translation below courtesy of law firm Al Tamimi & Co.) that targets journalists:
"Provisions on so-called 'content crimes' that make it illegal to publish 'false news.' These terms are not defined, making it unclear what content would land local journalists and social media users in trouble. Therefore news agencies, social media users and journalists must be careful to verify the source of the news before broadcasting it to the public in order to avoid contravening the law."
Yet, compared to the other of the Gulf Cooperation Council states, covering trafficking and forced labor is far easier in Qatar. Not because its cases outnumber the rest, but due to the spotlight on it as a host of FIFA World Cup 2022.
Finding and Pursuing Stories
Some ways to find stories include:
The Qatari government periodically releases figures from the Grievances Committee, which takes up cases on exit permits.
The US State Department's Trafficking in Persons Report culls details that are not otherwise publicly available due to the close collaboration between the governments, and mutual vested interests.
Earlier this year Qatar set up the National Committee for Combating Human Trafficking, which is supposed to release annual reports. However, there is no website yet available.
The Ministry of Administrative, Labor and Social Affairs maintains a blacklist of companies that are in violation of Qatari laws. Many of these violations may involve trafficking even if they are not categorized as such. The blacklist is not publicly available.
Trafficking cases, except for those involving female domestic workers, can be identified when there is a complaint from a group of workers. Such reporting is not available in local media, but can be found in media reports in countries of origin.
Some of the origin country embassies are more forthcoming (e.g. Philippines, Nepal) than others in sharing figures on trafficked, stranded and distressed workers.
It is important to understand what constitutes trafficking and forced labor to identify cases that come up in the country. Unions operating in countries of origin — such as SARTUC, GEFONT, BWI — can be used for identifying cases of trafficking. Contract substitution, working hours longer than contracted without overtime, deductions and curtailed mobility are all indicators of forced labor.
Tips on Coverage
You can find workers gathering on Friday, the only day off for lower-income workers, on the Corniche, in souqs (not Souq Waqif) near the Al Fardan exchange bus terminus, outside the Muntazah park and the Lulu mall in Al Khor.
Companies that provide accommodation for its lower-income migrant workers use facilities outside of the city. These accommodations — or labor camps — are between anywhere between 10 to 25 kilometers from the heart of the city.
Labour City, Asian Town and more remote areas of Sanaya (industrial area) are where you can find workers after hours or on weekends. These areas are fairly well-connected by the Mowasalat bus service. Taking a bus ride from the main terminus in the city to these areas would give you an opportunity to meet and interact with workers; the religious complexes on weekends are a good place to meet workers.
Keep in mind that workers living in these areas are ones with fairly decent employment. There are also camps off the grid — which are more difficult to access — in areas without water or drainage connection, and which depend on water tanks and septic tanks.
Here are some other tips to follow while visiting a camp:
Go with someone familiar with the area.
All of these areas (including the religious complex) are subject to extreme surveillance – including CCTV, plainclothes police and regular police patrol, so caution is advised.
If you are a female reporter, there is a good chance you will be stopped immediately upon arrival.
Don't carry heavy equipment that makes you an easy target. (Several visiting journalists have been detained in Qatar.)
Additional Reporting Tips
If a worker is willing to speak on record, make sure you get his/her informed consent, in a language he/she understands.
Respect and protect the privacy of workers. Revealing their faces or their Qatar ID number is best avoided.
One way of reporting a story without jeopardizing the worker's safety is to report from the perspective of his/her family and embassy.
You can access the detention centre if you have the permission either as a social worker or family member.