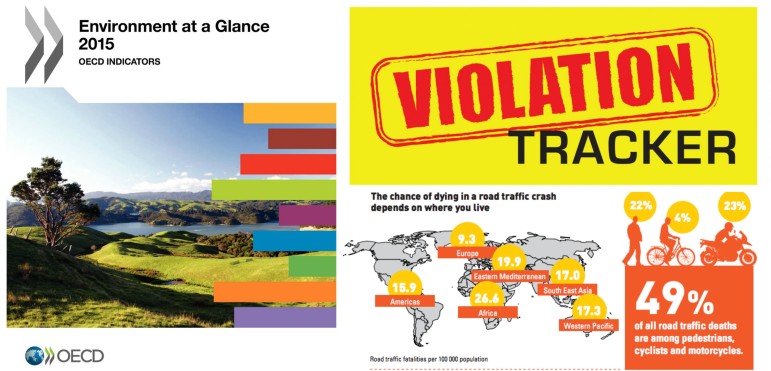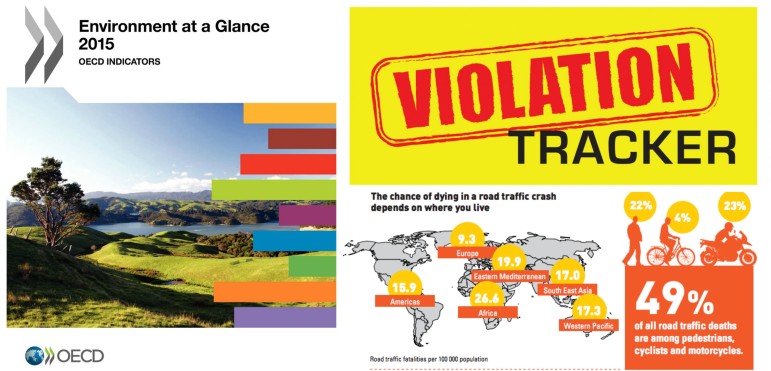 Research Desk: Violation Tracker, Road Safety, Biz Regs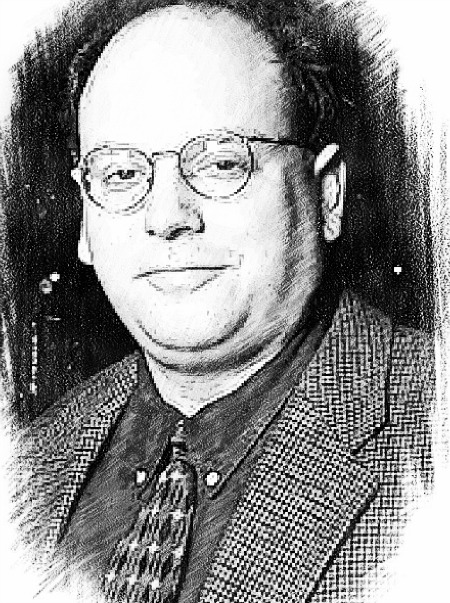 We're back with another Research Desk post. We've curated a collection of two new research databases and 13 new or updated research reports. All the resources listed and linked to below are free to access and use.
Reference and Research Databases
Source: Corporate Research Project/Good Jobs First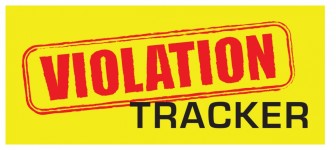 "Violation Tracker, a database that in its initial form covers all environmental, health and safety cases with penalties of $5,000 or more brought since the beginning of 2010 by 13 federal regulatory agencies [in the United States], including those they referred to the Justice Department. Additional violation categories (bribery, price-fixing, financial offenses, wage & hour infractions, etc.) will be added in the future." Useful for background multinational companies to find their records in the U.S.
---
Source: National Consortium for the Study of Terrorism and Responses to Terrorism (START)
START "has launched the Big Allied and Dangerous (BAAD) online platform. The innovative new tool features updated, vetted and sourced narratives, and relationship information and social network data on 50 of the most notorious terrorist organizations in the world since 1998, with additional network information on more than 100 organizations.
"The data allow analysts, scholars and the public to investigate trends in organizational attributes and how these correlate with issues such as lethality, target selection, and use of CBRN weapons. The social network data also characterizes relationships between violent non-state organizations as well as relationships between countries and violent non-state organizations."
---
New Research Reports
Environment at a Glance
Source: OECD
"Environment at a Glance 2015 updates key environmental indicators and relevant socio-economic and sectoral indicators to track OECD country progress on major environmental issues and inform policy development and evaluation. This year's edition includes increased coverage of environmentally related taxation, ODA and R&D expenditure."
Resources
Download by Section, Access Graphics, Read Online, Purchase Print Version
---
Doing Business 2016
Source: The World Bank Group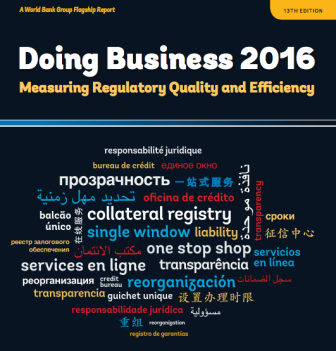 Doing Business 2016: Measuring Regulatory Quality and Efficiency is part of a series of annual reports measuring regulations that enhance or constrain business activity. It presents indicators on business regulations and protection of property rights that can be compared across 189 economies—from Afghanistan to Zimbabwe—and over time.
Among the areas measured: the ease of doing business: starting a business, dealing with construction permits, getting electricity, registering property, getting credit, protecting minority investors, paying taxes, trading across borders, enforcing contracts and resolving insolvency. Doing Business also measures labor market regulation, which is not included in this year's ranking.
Resources
Doing Business Web Site
Access reports, resources, archive, and graphics.
Historical "Doing Business" Data Sets and Trends Interactive Database
---
Global Status Report on Road Safety 2015
Source: World Health Organization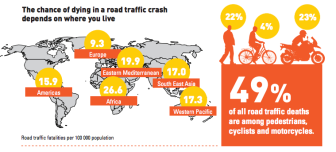 "The Global Status Report on Road Safety 2015, reflecting information from 180 countries, indicates that worldwide the total number of road traffic deaths has plateaued at 1.25 million per year, with the highest road traffic fatality rates in low-income countries. In the last three years, 17 countries have aligned at least one of their laws with best practice on seat-belts, drink–driving, speed, motorcycle helmets or child restraints. "
Along with the full text report are data visualization, several infographics, country profiles, and data tables.
Resources
---
Reports and Briefings from U.S. Congressional Research Service
Cargo Preferences for U.S.-Flag Shipping
Designation of Global 'Too Big To Fail' Firms
Reports and Briefings from European Parliament Research Library
Global Terrorism: Trends in 2014/2015
Understanding Definitions of Terrorism
Understanding Fisheries Technical Rules: An illustrated Guide for Non-Experts
Civil Drones in the European Union   
Reports and Briefings from UK House of Lords and House of Commons Libraries
ISIS/Daesh: The Military Response in Iraq and Syria
Global Action on Climate Change
---
Gary Price (gprice@mediasourceinc.com) is director of GIJN's Resource Center and a librarian, writer, consultant, and frequent conference speaker. He is the author of INFOdocket (@infodocket) for Library Journal, and was a co-founder and senior editor at ResourceShelf and DocuTicker. He previously served as contributing editor to Search Engine Land and director of Online Information Services at Ask.com.