The 7th global investigative journalism conference in Kiev was the place for so many new presentations on tools and methods. Inside you will find links to many.
Look here for an overview of a lot of the material.
Besides this overview, Serena Tinari has gathered this list with more hints:
Tracking business
Overview of ways to track companies around the world and methods for actually using and finding what you need.
Paul Radu (OCCRP), Justin Arenstein.
Manual: 'Follow the money, a Guide to tracking corruption'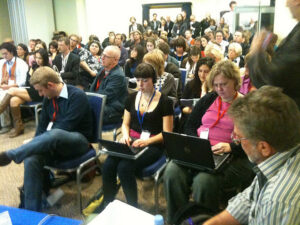 www.investigativedashboard.org/
You can ask for help by contacting the Investigative Dashboard Desk:
http://tracker.datatracker.org/.
Hacks and hackers http://hackshackers.com/
Tame your Documents with DocumentCloud
Aron Pilhofer (New York Times) and Mark Horvit (IRE) presented this
amazing project and tool, already used by over 4000 newsrooms.
The project was born in 2009, the beta version launched in 2010. It is still
a 'work in progress' but good enough to be used and adopted Worldwide.
Example of an investigation done using DocumentCloud:
http://www.commercialappeal.com/withers-exposed/
—
Finding private information
Marcus Lindenmann (www.recherche-info.de) presented his funny investigation, published on a computer newspaper
(only in german: http://www.heise.de/ct/artikel/Datenschutz-Fallrueckzieher-
1153312.html).
In order to show how many fingerprints we leave on the web, he has chosen a high ranked representant of a world known Internet company.
You might expect such a person to be competent and clever enough in his
Internet behavior. Well, you'd be wrong. The case study has shown that even
him, he had spread a terrific amount of private, even intimate information and
photos on the web. About himself, his family, his private and professional
present and past activity. Tips and tools:
Isearch (web search launcher, free)
The nick names search engine
If you got to know which nick name a person uses on the web, with this you might find out in which social networks he/she is active.
Search for people on the web:
Photos and searches
Firefox plug-in to search for photos
http://www.xoxosoma.com/code/firefusk/
Save a web page as it is in that moment:
Download and convert a video from Youtube
http://youtubedownload.altervista.org/
Face recognition: Picasa makes it better.
Search in your own hard disk:
http://www.copernic.com/en/products/desktop-search/
Staying Safe
How to be totally safe on the web & break country barriers of restricted content without hacking and without leaving any fingerprints.
Paul Myers:
From which IP are you surfing:
Surf through other proxies:
If you need to work undercover, here you get a quick new identity:
Who is surfing?
http://leader.ru/secure/who.html
Tor Project: