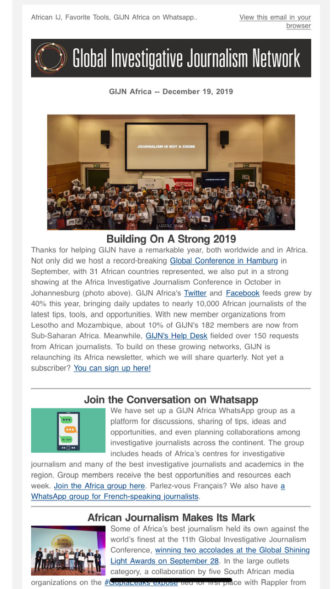 The GIJN Africa Bulletin is a monthly product from our newsletter stable, which includes a global newsletter and more than half a dozen editions in other languages.
Published in English, it is free and distributed to journalists across Africa and around the world. Click here to subscribe.
Here are past issues of the GIJN Africa Bulletin, starting with the latest edition:
September 13, 2023: GIJC23 Convenes, AIJC2023, NGO Investigations, Fellowships.
August 02, 2023: Ending Impunity, GIJC23, GIJN Election, AI in Africa.
July 05, 2023: GIJC23 Schedule, Translations, Human Trafficking, Top Stories.
June 08, 2023: GSLA African Finalists, AIJC Call for Input, Opportunities, Tips, Stories.
May 10, 2023: Press Freedom, GIJN on Africa, Collaborations, Coming Events.
April 12, 2023: LGBTQ Issues, GIJC23, JournalismAI, Student IJs, Top Stories.
March 15, 2023: Women IJs, Sexual Abuse, AIJC2023, GIJC23, Elections.
February 15, 2023: African IJ Impact, How They Did It, Investigative Webinars.
January 18, 2023: Organized Crime Guide, Investigative Newsletters, 2023 Opportunities.
December 19, 2022: Global Conference Fellowships, & More; Africa's Best of '22.
November 17, 2022: AIJC2022 Resources, Climate Reporting, Top Stories.
October 19, 2022: Africa's IJ Conference, Insights from African IJs, Story Pitching.
September 14, 2022: Student Opportunities, Collaborations, Diversifying Sources.
August 3, 2022: Journo Jobs, AIJC Update, Virtual Training, Translations.
July 6, 2022: Fellowships, Data Journalism, Stories of the Month.
June 13, 2022: AIJC Update, Virtual IJ, Global Opportunities.
May 11, 2022: Press Freedom, Awards, Webinars, Collaborations.
April 13, 2022: Positive Strides, African Webinars, Russia & China, New Grants.
March 16, 2022: Online Tools Webinar, Covering Conflict, New Grants.
February 16, 2022: New Initiatives, Whistleblowers, Jobs.
January 13, 2022: Top African Stories 2021, New Africa Members, Translations, Safety.
November 23, 2021: Watch GIJC21 & AIJC2021, Support IJ in Africa, Global Opportunities.
October 11, 2021: #AIJC2021 Kicks Off, Africa's Pandora Papers, Story Pitching.
September 1, 2021: Africa's Investigative Buzz, Scholarships, Data Journalism.
August 4, 2021: AIJC Call for Ideas, New Reporting Guides, RTI Gains.
July 7, 2021: GIJC Fellowships, Investigative Jobs, Media Innovation.
June 9, 2021: Webinars for Africa, Investigative Podcasts, GIJN Content for Africa.
May 12, 2021: Investigative Africa, Windhoek +30, How GIJN Can Help.
April 14, 2021: AIJC Seeks Partners, e-books, Distribution Tips.
March 3, 2021: Investigating Africa, Global Opportunities, New Africa Stories.
February 3, 2021: IJ Centers to Watch, GIJN's Africa Members, Internet Shutdowns.
January 8, 2021: Top Stories of 2020, African IJ in '21, New Resources.
December 2, 2020: African Languages, Investigative Impact, Resources for 2021.
November 4, 2020: New Africa Member, Top Sessions at #AIJC2020, Africa Outreach.
October 19, 2020: Media Survival, #AIJC2020 Highlights, Podcast Revolution.
September 23, 2020: GIJN Africa, FinCEN Files, AIJC2020, Africa's Best Journalism.
August 27, 2020: African IJ Calendar, New Initiatives, Top Guides for Africa.
July 21, 2020: African IJ Conference, Open Source Digging, Tips & Tools.
June 10, 2020: Investigative Tools, Jobs & Grants, Next for gijnAfrica.
May 13, 2020: Africa COVID-19 Webinar, Tips & Tools, Grants & Awards.
April 15, 2020: Africa Landing Page, Translations, Journalism Funding in Africa.
December 19, 2019: Building On A Strong 2019, African Journalism Makes Mark, An African Muckraker's Favorite Tools.
To read past issues of our global bulletin, go to the main newsletter section.
We also offer regular social media feeds each day on our Facebook and Twitter platforms, through which you can get to know all the news stories, tips and tools, and other opportunities for investigative and data journalists in sub-Saharan Africa.