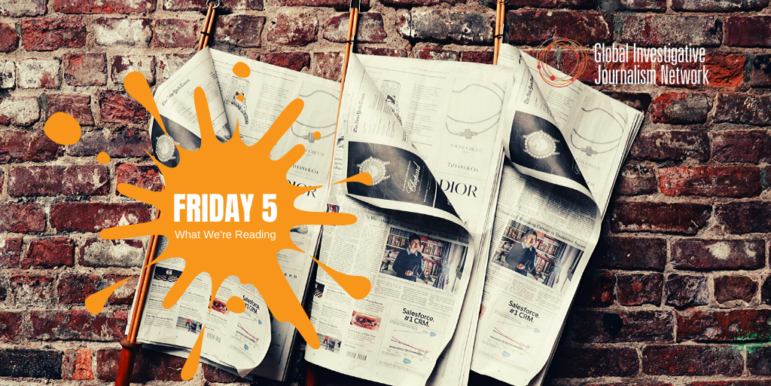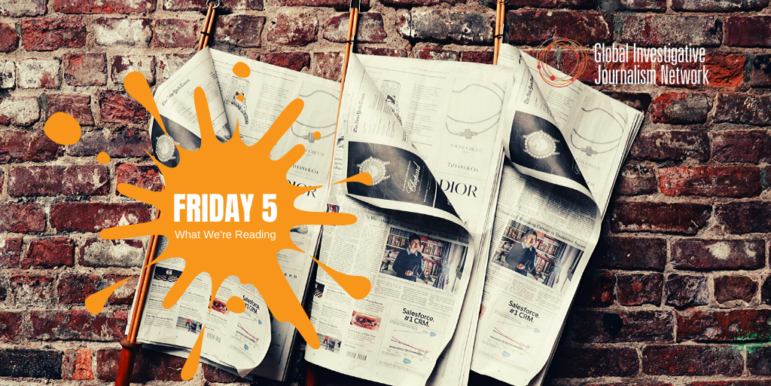 What We're Reading: Drawing the Line Between Journalism and Activism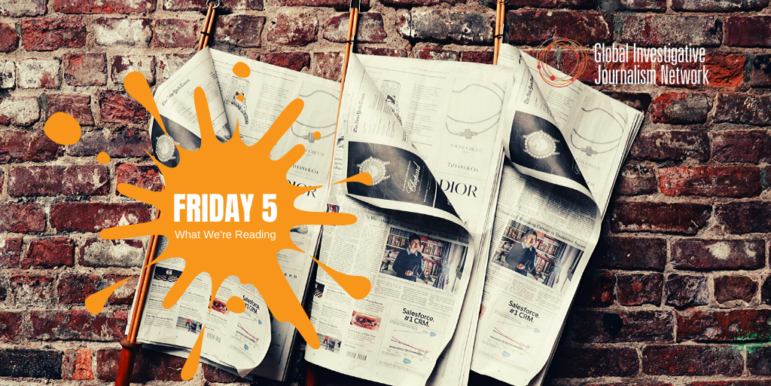 This week's Friday 5, where we round up our favorite reads from around the online world in English, includes a piece from the UK-based Bureau for Investigative Journalism which spells out its tenets around journalism and activism, the much-debated New York Times' media column with Ben Smith, and the free (!) online video course with investigative journalist David A. Fahrenthold.
Drawing the Line Between Impact and Activism (TBIJ)
When does journalism become activism, and should we cross that line? Miriam Wells, the impact editor at the UK-based Bureau for Investigative Journalism, wrote up what the TBIJ team has been mulling over lately. They came up with some basic tenets around the issue:
1. Quality reporting exposes wrongdoing and failings; it provides evidence and data; it challenges accepted narratives and it engenders empathy.

2. Social change is non-linear and complex; it involves a patchwork of different people, groups, events, moments, movements, and institutions at different times in different ways.

3. The role our journalism plays in that change is providing evidence, offering alternative viewpoints and bringing empathy that people can use to inform their actions and decisions, across all parts of that patchwork.
If you'd like to read more around the issue, check out this recent piece from Eva Belmonte, director of another GIJN member group, the Madrid-based investigative and data journalism nonprofit Civio. Belmonte says that "sometimes publishing a story is not enough," and has written up Civio's "rules for advocacy."
Why the Success of The New York Times May Be Bad News for Journalism (New York Times)
The inaugural column of The New York Times' new media columnist, Ben Smith, has stirred up a lot of responses (like this one from Joshua Benton at Nieman Lab, which also rounds up a bunch of those responses). The gist of the piece is this: Smith, the former editor of BuzzFeed, has declared that The Times has become a behemoth crowding out the competition. He notes that the company has more digital subscribers than The Wall Street Journal, The Washington Post, and the 250 local Gannett papers combined; that it employs 1,700 journalists; that the starting salary for most reporters is a whopping $104,600; and that it's in talks to acquire the podcast studio Serial Productions. He quotes Jim VandeHei, founder of Axios, who predicts that The Times "is going to basically be a monopoly" and that as it gets bigger, "the niche will get nichier, and nothing else will survive."
Investigative Journalism in the Open: Taught by David Fahrenthold (CUNY)
Check out this free (no money!) online video lecture by The Washington Post's David A. Fahrenthold, hosted by the Craig Newmark Graduate School of Journalism at City University of New York. Fahrenthold is a Post reporter who won a Pulitzer Prize in 2017 for his coverage of US President Donald Trump's business interests. The 10-part series includes case studies and reporting techniques he's used over the years. Here's a bonus quote that every journalist will relate to: "There is nothing in journalism that is as exhilarating as being lied to. That is the sound of after 50 feet of digging your shovel hits the top of the treasure chest."
How They Did It: 2020 Goldsmith Prize Finalists (Shorenstein Center)
The Shorenstein Center on Media, Politics and Public Policy at the Harvard Kennedy School has launched a series of stories behind the stories of the six finalists of the Goldsmith Prize for Investigative Reporting. You can read how Craig Whitlock uncovered the Afghanistan Papers for The Washington Post; how Christina Jewett reported the "Hidden Harm" series for Kaiser Health News, revealing a hidden federal government database with millions of medical device malfunction and injury reports; and reporting tips from Shane Dixon Kavanaugh of The Oregonian, who exposed dozens of cases of Saudi nationals fleeing the United States and Canada after they were charged with serious crimes.
How to Create a Good About Us Page (Trusting News)
The good people over at Trusting News, a project of the Reynolds Journalism Institute and the American Press Institute, recently put out a tweet that gathered their advice on how to create a good About Us page. The four parts include gathering your content, starting with a content audit; sharing your history, mission and values; showing your ethics policies, including how you handle corrections, financial and political independence, the use of unnamed sources, and conflicts of interest; and how to make it easy to contact you, such as making sure it is clear how to submit a news tip or a correction request, and how to contact a department or an individual journalist. Subscribe to their newsletter here.
---

Tanya Pampalone, GIJN's managing editor, rounded up this week's Friday 5. Tanya is the former executive editor of South Africa's Mail & Guardian and former managing editor of Maverick (now Daily Maverick). She is a contributor to Unbias the News: Why Diversity Matters for Journalism and Southern African Muckraking: 150 Years of Investigative Journalism Which Has Shaped the Region.