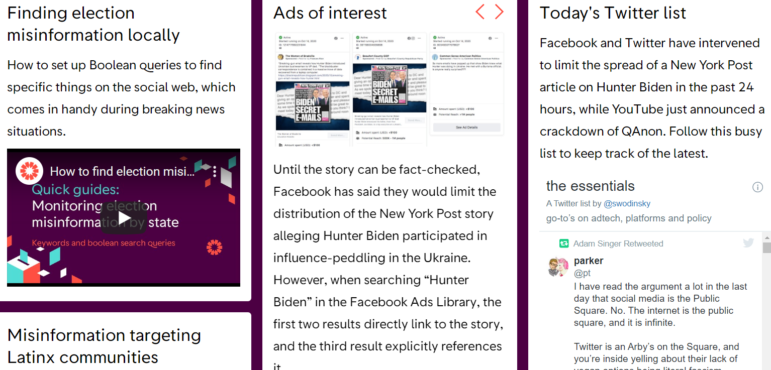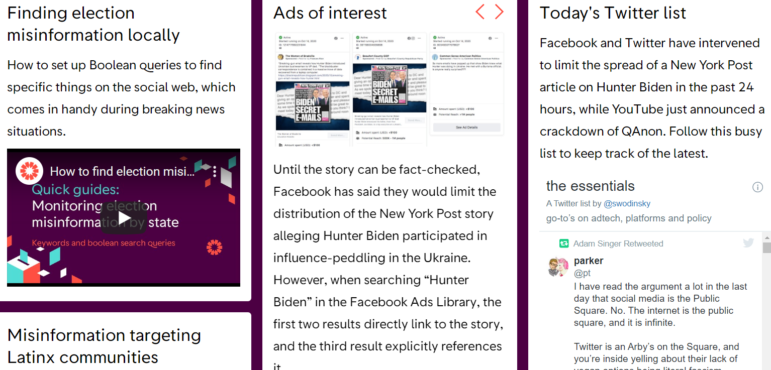 Tools for Spotting Bots, Working Tough Sources, and Combatting Fresh Disinformation from #gijnElectionWatchdog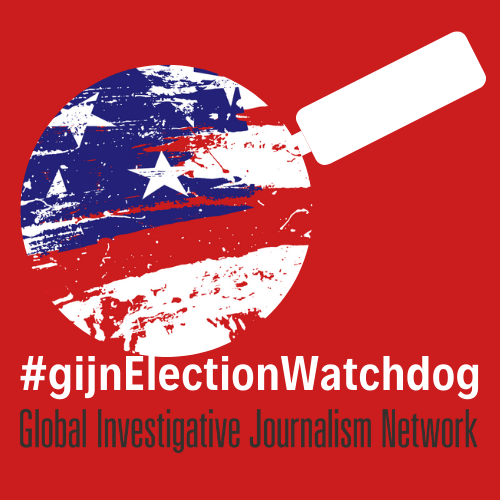 In week five of GIJN's project to arm US reporters with tools for the toughest election stories, #gijnElectionWatchdog shared a live dashboard to combat election disinformation efforts as they arise, a tool to spot Twitter bots, a free cybersecurity toolkit for reporters, and tips both on finding tough campaign contacts and approaching potential sources in the Trump organization.
Here are highlights from our daily Twitter feed:
Spotting election bots:

In an election reporting course for the

Poynter Institute

, PolitiFact reporter

Daniel Funke

showed how the

accountanalysis app

can evaluate election-related Twitter accounts, including how to spot automated "bots." For instance, its "Daily Rhythm" feature flags accounts that post tweets between 1 a.m. and 5 a.m., when humans are typically asleep.

Politwoops

finds politicians' deleted Tweets. Funke suggests trying

Google search filetype:PDF and site:.gov for agency documents, and inurl:staff or inurl:team to find source email addresses. 
Election timeline tool:

Cut through 11th hour election noise with event timelines.

Northwestern University Knight Lab's

updated, super-easy

TimelineJS tool

lets reporters build graphs to show days-to-November 3 milestones and growing threats, and can import almost any media.

Election reporting cyber attacks shield:

Reporters covering the contentious 2020 US election are especially vulnerable to cyber attacks. With support from

Craig Newmark Philanthropies

, the

Global Cyber Alliance

has released a free

Cybersecurity Toolkit for Journalists

, which helps

reporters — especially independent journalists, and those relying on their own devices — defend their devices, data, and online presence. 

Live disinformation dashboard:

Here is one tab to keep open in your browser daily in the days leading up to November 3:

First Draft

has

released a live dashboard

, showing the hottest daily US election messages and images of disinformation concern. Their team will also provide reporters with context and tips on how to handle misleading viral claims.  
Cold-calling Trump staff:

Here are tips from two reporters who earned Pulitzer Prizes for reporting on Trump. The Washington Post's 

David Fahrenthold

offered these tips on reaching out to potential Trump organization sources: Expect only about a 5% response rate — and that only half of these will be helpful — but reach out to dozens of employees and ex-employees to give yourself a chance at those few contacts. Keep your emails polite and general, as they could be tweeted out in an effort to embarrass the reporter. Invite public input via Twitter, so audiences can see the work is fair. For home visits to Trump ex-employees, the New York Times'

Russ Buettner

told GIJN that arriving with

any

stuffed folder under your arm can give sources visual reassurance that your whole story does not rely on their information.
---

Rowan Philp is a reporter for GIJN. He was formerly chief reporter for South Africa's Sunday Times. As a foreign correspondent, he has reported on news, politics, corruption, and conflict from more than two dozen countries around the world.