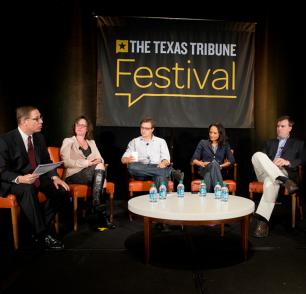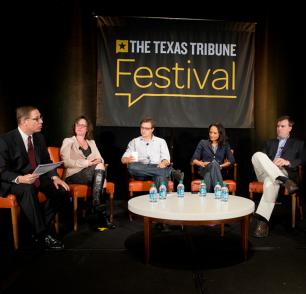 Sustainability: Tips on Holding Live Events That Support Journalism
Live events have evolved from an added revenue stream for media companies to a whole new style of storytelling.
Just as an article or a gallery of photos can shine a light on an issue for the public, so can these in-person gatherings.
Some media organizations are putting on full-fledged festivals in the same vein as South by Southwest and TED. These gatherings include panels of experts, one-on-one conversations with major newsmakers and presentations that explore ground-breaking topics. In other words, they're an entirely new way of informing and providing information — undoubtedly journalistic functions.
And it's not just established news organizations that are going the live route. Startups and nonprofits that have only been around for a few years are making live content an integral part of their business.
There's Zocalo Public Square, an affiliate of Arizona State University, which partners with institutions and public agencies to present free public events and conferences in cities across the U.S. Zocalo means "public square" in Spanish and the founders behind the project consider it to be an ideas exchange around such topics as gentrification and transit. A video archive shows the type of thinkers the media organization brings together.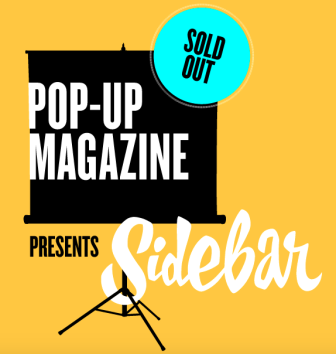 Pop Up Magazine's bread and butter is live events. Staff host an event around a theme — sometimes partnering with others — and speakers take to a stage to talk, act out a scene or get their message across in another format. The experience is described as a magazine coming to life. None of it is recorded because the emphasis is on the storytelling for those physically there. California Sunday, by the same people, is a more traditional, written-down spinoff project.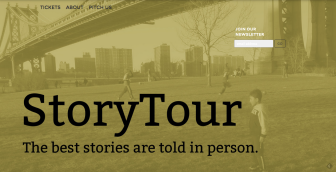 And StoryTour, based in New York, also refers to itself as an "in-person magazine." Storytellers, like tour guides, lead groups to hidden parts of the city and then take part in "on-the-scene-storytelling." Rather than using a stage or more traditional venue they travel to the source.
For these brands, live content is part performance art, part journalism. It's also a way to get a different sort of audience excited and involved, rather than one that would just sit down to read.
One company that's been recognized as a leader in the area of live content and events is the Texas Tribune. Events are right up there with data visualizations and other alternative forms of content that staff regularly employ.
John Jordan, editorial administrator, says if there is one part of the Tribune's business for peers to emulate, it's the events side of the house.
"It's such a big part of who we are now," he says.
Not only does the nonprofit earn steady money from events, but the gatherings also advance the outlet's editorial mission and increase brand awareness. In this crowded digital marketplace, it's a way to step out from behind the computer, stand out and add value and intelligent, thoughtful discussion.
Here are seven key takeaways from the Tribune's focus on events, from Jordan:
1. Hold not one or two, but three different kinds of events.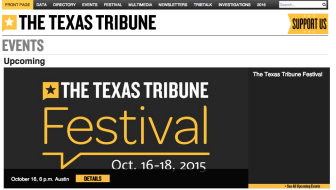 The "big kahuna," as Jordan calls it, is the annual Texas Tribune Festival, which is a weekend's worth of sessions modeled after a long-running festival by The New Yorker. Last year alone 1,000 people came and paid anywhere from US$50 to US$250 apiece to attend.
Besides the festival, the Tribune's other event types are free for attendees, and there's a sponsorship model at play. The Tribune has a tiered membership model as well, and, in some cases, upper level donors get reserved seating at special events and schmoozefests.
The other two types of events are day-long symposia on a topic, often done in partnership with a university or academic institution, and one-on-one or one-on-two conversations with a newsmaker at the nearby Austin Club. Generally this involves editor-in-chief and co-founder Evan Smith in the interviewer role talking with a politician or other knowledgeable figure in the evening. Lunchtime discussions also take place, similarly, with newsmakers.
2. Establish a balance of caring about production value but not getting too hung up on it.
Putting on events costs money, and there are many technical details to consider. Jordan says his organization tries to be professional, to hold events in desirable settings and to ensure the sound and production quality are high. At the end of the day, though, the content is the most critical factor, and the audience will forgive occasional technical hiccups.
3. Put on events with regularity to become skilled at executing them.
At this point the Tribune puts on 30 evening one-on-one conversations annually, and the idea festival will be taking place for the fifth time in October. It's only by doing this all the time has the staff become adept at what it takes to excel, Jordan says. Also the public is used to seeing that the Tribune constantly has live events and realizes how serious it is about it. Consequently, even though live content is centered on state politics, which can be divisive, the nonprofit's events stay civil without arguments or the type of heckling and outbursts that might happen at campaign gatherings.
4. The hosts and facilitators are key.
Smith, as mentioned, serves as the host for the lion's share of the Tribune's regular live events. According to Jordan, the editor-in-chief becomes almost like a talk show host, leading the direction of the conversation and ensuring that it stays on track and newsworthy. He doesn't try to skewer the guest but to make it a meaty interview, in which revelations are made and the discussion stays on policy and Texas lawmaking. At the annual festival, many of the reporters who regularly cover issue being addressed ask the questions to get the panels going. This adds editorial heft and ensures that what's talked about constitutes journalistic-style content.
5. Livestreaming an event ensures that the content has legs and can live on.
Jordan said all material is archived to include anyone interested in hearing what transpired. This is especially significant, given that the Tribune purports to cover the entire state and those residents from other parts of Texas might not be able to physically get there. Considering how much content it's accrued from past events, the nonprofit is also working to turn the insights and footage into a podcast.
6. Above all, live experiences must tie back to the larger journalistic mission.
That way, it's more than just a one-off moneymaker, but rather a contributing force in the bigger pursuit. Jordan says, for the Tribune, the objective from the start has been to foster a smarter, better Texas. "Regardless of your politics, our philosophy is 'everyone benefits,'" he says. "They can come to the Tribune for a variety of information and substantive conversation."
An event, a data visualization, a photo story or a more standard article all seek to achieve this.
7. Don't underestimate the immense value of putting citizens and lawmakers in the same room.
Jordan shares an example about a female citizen who reached out to him about attending a live event featuring the head of the Housing and Urban Development agency. Even though the event was full, Jordan let the woman come so that she personally could ask her set of questions to Secretary Julian Castro, which were complex enough that it would have been difficult for Jordan or someone else to relay. The woman showed up early enough to get to ask the first question of Castro, along with a cogent follow-up. Then, after the event, she met other citizens and activists as interested in the topic as her.
This is an experience not likely possible without an event like the Tribune's, Jordan says.
"We've managed to create this ecosystem," he says, of the events. "It's incredibly valuable for citizens. And it comes down to the access, access, access to lawmakers that we provide."
---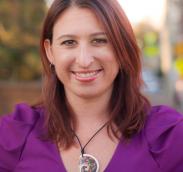 Dena Levitz just served as the first journalism fellow for D.C.-based startup hub 1776. In that role, she spent the past six months traveling all over the globe interviewing startup founders and analyzing innovation ecosystems and entrepreneurship trends. She is an award-winning journalist who has worked as a staff writer for the Augusta Chronicle and for the Washington Examiner. @thatsledes
This post originally appeared on IJNet.org. IJNet helps professional, citizen and aspiring journalists find training, improve their skills and make connections. IJNet is produced by the International Center for Journalists in seven languages – Arabic, Chinese, English, Persian, Portuguese, Russian and Spanish – with a global team of professional editors. Subscribe to IJNet's free, weekly newsletter. You can also follow IJNet on Twitter or like IJNet on Facebook.