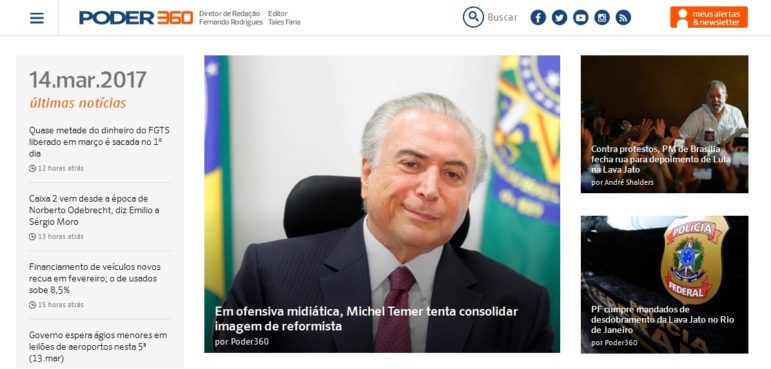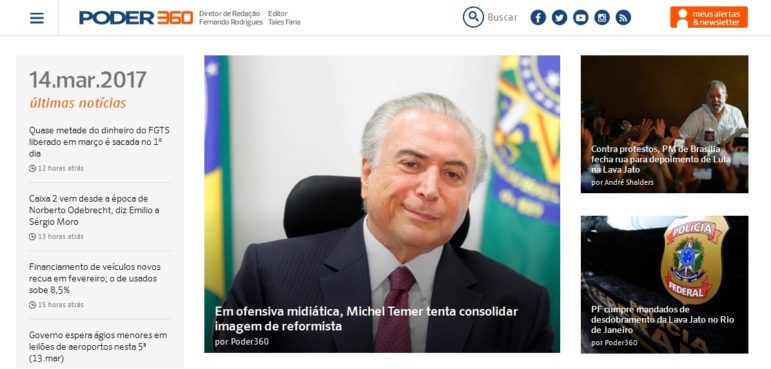 When he was laid off from Folha de S. Paulo in 2014, political reporter and columnist Fernando Rodrigues did not stop his behind-the-scenes coverage of power in Brasilia. He continued to write for his blog, which he had kept for 14 years, and to participate in a radio show. Shortly thereafter, he launched his own company, an innovative startup that has been growing, making profits and hiring journalists.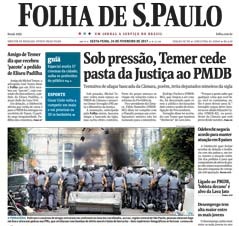 Despite being one of the leaders of the Brazilian market, Folha de S. Paulo, like other newspapers around the world, felt the consequences of decreasing advertising revenues and circulation. The success in selling digital subscriptions and advertising did not compensate for the loss of revenue from the print edition, which led to the newspaper making several staff cuts, including that of Fernando Rodrigues, one of its stars in political coverage.
After leaving the newspaper, Rodrigues launched a paid newsletter aimed at corporate clients interested in closely following the coverage of power in Brasília, Drive Premium.
"As soon as I launched my website at UOL in 2000, I noticed that there was a lack of a more objective organization of the news coverage of power and politics in the federal capital. I started doing a weekly post called 'Drive Político da Semana' (The Political Drive of the Week). There was a very loyal audience," Rodrigues said in an interview with the Knight Center. "When I left Folha, I started to think about how to strengthen my online activity, and it was a leap to transform 'Drive Político da Semana' into a newsletter, Drive."
Rodrigues recently broke his ties with the largest internet site in Brazil, UOL, where he maintained his blog, and with the radio station where he made daily appearances. He began to dedicate himself entirely to his company, which already employs more than 20 journalists.
Drive subscribers receive three daily issues of behind-the-scenes policy news, analysis, and projections on topics such as congressional votes and Supreme Court decisions. The initiative is similar to the Playbook newsletter from Politico, one of the leading references in U.S. political journalism.
Rodrigues did not disclose the number of newsletter subscribers, but states that it is sufficient to cover all costs of the business. "We have a space of our own, a team that is not so modest, all our journalists have received new and integrated equipment — we have a great deal of concern with reporter technology and productivity. All of this is paid for by subscriptions."
The success of the operation allows Rodrigues to keep a newsroom with more than 20 professionals under his baton and to overcome one of the main obstacles of new news ventures: financial sustainability. With an adapted team and the revenues from Drive, the journalist decided to leave the blog hosted on site UOL to launch Poder360 in November 2016.
"I consider my participation in UOL, which has been constantly evolving, to today's Poder360. That is, I have continuously covered Brasilia as a journalist, online, for 17 years. It is the oldest political news site in operation in the country," Rodrigues said.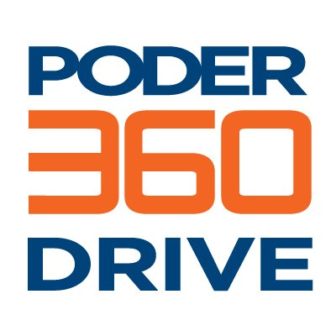 Not being hosted by a site with an already-consolidated audience can be seen by many as a risky move. Rodrigues' bet, however, is that "providing an information and analysis service honestly, with the highest quality and integrity" – as stated in the editorial policy of Poder360 – will always yield an audience.
"We should not go into an 'arms race for clicks.' Our business is quality journalism. If we fulfill our mission, our product will appeal to millions of Brazilians who are eager for independent, serious, extensive and informative coverage of power and politics," he said, agreeing that the audience of the new site does not reach the same levels as those he had at UOL. "But it's the old story: if you build a good product, readers will come."
In less than two months, Poder360's coverage has already had national repercussions, such as an interview with the Minister of Science, Gilberto Kassab, which revealed plans to limit fixed broadband data in the country.
With the operation financed by Drive's premium customers, who pay to have exclusive news and reviews in advance, Poder360 seeks to become the leading journalistic site for covering power in the country, like Politico in Washington.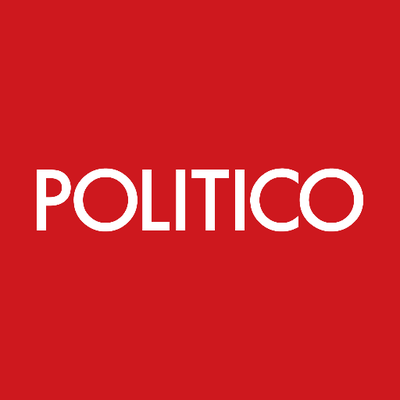 "I'm always impressed with Politico, which works with approximately 300 people," Rodrigues said. "And Axios, which started with almost 50 people. This is all in the United States, a country where the presence of the State is less important than in Brazil for the lives of citizens. Until now, we have not had a journalistic site with national scope, covering power, based in Brasilia. It is a unique situation for countries of this size."
Rodrigues attributes the success of his products to the variety of coverage from his team, which acts seriously to report on the main areas of the country and all the characters and institutions of public interest.
"Brazil has 28 ministries, 513 deputies, 81 senators, the Supreme Court, other higher courts, a dozen regulatory agencies, and more than 20,000 civil servants commissioned in Brasilia. There is no way to make journalistic coverage of this without being in the city in a serious way," he explained. "Drive scoops a lot and is proud of it. It's impressive how we are ahead of traditional media – and our readers value it."
While a good part of the media industry goes in circles to define a business model capable of banking its content production on the internet, Rodrigues does not give signs of insecurity in his vision of how to continue improving Drive and sustaining Poder360. He does not intend to implement a paywall or any other type of charge for access, but to continue investing in cutting-edge journalism to attract the patronage of brands that want to associate with a product of excellence.
According to the Rodrigues, there is no conflict of interest in being financed by corporate clients. "My team has no relationship with the commercial department, which is in São Paulo," he said. "Reporters work hard and know what's relevant, we have a very clear editorial policy."
Taking advantage of a more qualified audience that values good content and exclusive news has proven a viable path. "I do not want to say that I'm not worried about the audience," Rodrigues said. "But it's about being very clear that in our model, which has already started paying off with Drive. We have the time and conditions to build an outlet that will appeal to a certain audience which is not necessarily the complete bulk of news consumers."
Despite the success of his venture, Rodrigues takes care to point out the challenges of building a new business and stresses that Brazil is not a friendly country for this. For those who wish to follow this path, he gave only one piece of advice: to assemble a team of energetic people who are passionate about journalism, who believe that their role is vital for the proper functioning of society.
"Good journalism never dies," he said. "The Brazilian reader has never been so interested in matters related to power and politics. For Poder360 and Drive, it is worth it."
---
This story, originally posted on Journalism in the Americas blog, is part of a special project by the Knight Center that is made possible through the support of Open Society Foundations. The "Innovative Journalism" series covers digital news media trends and best practices in Latin America and the Caribbean. The story is cross-posted here with permission.
Fernando Rodrigues helped launch GIJN in 2003, has spoken at many of its conferences, and currently serves on the GIJN Board of Directors as its Latin America representative.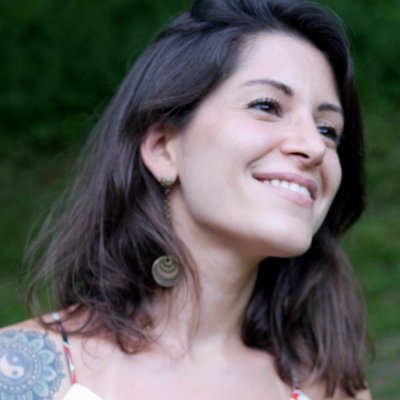 Natália Mazotte is a Brazilian journalist from Rio de Janeiro with a background in social and technological issues related to the creation and sharing of knowledge. She writes for the Knight Center for Journalism in the Americas at the University of Texas, Austin, and works for the Brazilian NGO Ibase. She is a fellow in the Graduate Programme of Culture and Communication of Federal University of Rio de Janeiro.