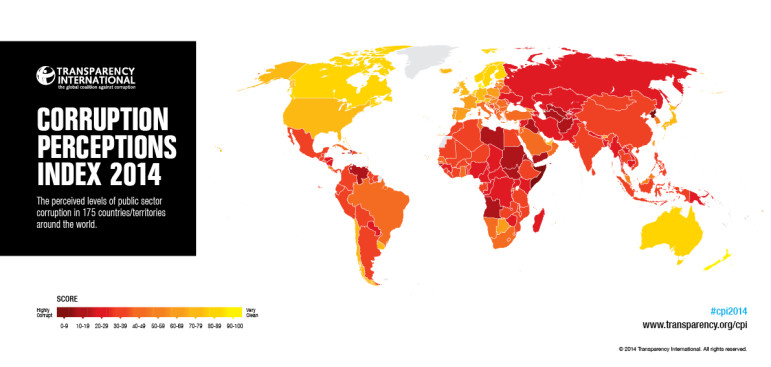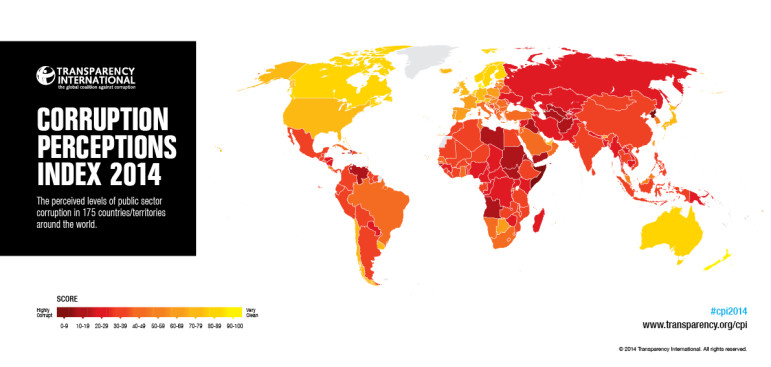 New corruption rankings were released this week by Transparency International, and they find the world steeped in corrupt practices, regardless of economic growth. More than two thirds of the 175 countries scored under 50, on a scale from 0 (highly corrupt) to 100 (very clean). Denmark grabbed the top rank with 92, while North Korea and Somalia notched last, with an 8 score.
The biggest drops came from Turkey (-5), Angola, China, Malawi and Rwanda (all -4). The biggest improvers: Côte d´Ivoire, Egypt, Saint Vincent and the Grenadines (+5), Afghanistan, Jordan, Mali and Swaziland (+4).
This is the 20th edition of the Corruption Perceptions Index. You can find the full index here.
The CPI is based on a survey of expert opinion on public sector corruption. "Countries' scores can be helped by open government where the public can hold leaders to account," TI reports, "while a poor score is a sign of prevalent bribery, lack of punishment for corruption and public institutions that don't respond to citizens' needs."