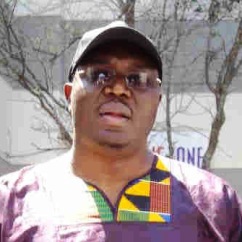 Mzilikazi wa Afrika is A multi-award winning journalist working for the Sunday Times investigations unit in Johannesburg, South Africa. He is also the reigning chairperson of the Forum for African Investigative Reporters (FAIR), an investigative journalism organisation with members from 36 different African countries.
Mzilikazi is one of the doyens of South African investigative journalism with a career dating back to 1995, when he started as a freelance reporter for the Witbank News in Mpumalanga Province.
Mzilikazi made international headlines when he was arrested at work in August 2010 just three days after the Sunday Times exposed national police commissioner in a R1.7-billion lease scandal. He was the co-author of the story. Mzilikazi successfully sued the minister of police FOR wrongful arrest. In the settlement letter the minister admitted that his arrest was "wrongful and illegal."
Over the years, he and his colleagues at the Sunday Times investigations unit have uncovered and exposed a number of dodgy deals and corrupt politicians, including the government's controversial arms deal saga that landed former ANC chief whip Tony Yengeni in jail and SAPS leases which forced the president to fire his public works minister, Gwen Mahlangu-Nkabinde, and national police commissioner Bheki Cele.
The unit also forced the president to fire Dina Pule, who was a minister of communications, after she was exposed of dishing out government deals and favour for her boyfriend, a married father of three. Pule also flew her boyfriend around the world at taxpayers' expense.
The Bushbuckridge-born scribe was awarded two international scholarships to study in the UK and USA in recognition of his outstanding achievements in the field of journalism. He currently is working on his memoir simply titled Nothing Left to Steal, to be published in August 2014 by Penguin Publishers.
As a candidate for the new board in GIJN, he says:
The Global Investigative Journalism Network (GIJN) is not just "a group of independent journalism organizations that support the training and sharing of information among journalists in investigative" but a powerful collective of men and women who have taken an oath to keep any government, politicians, businessmen and institutions in check and accountable for their words and action.

Global Investigative Journalism Network has been the voice of the voiceless, since it was created in 2003, and gave hope to the hopeless nationals and community by training and empowering soldiers (investigative journalists) and preparing them for the war against corruption, maladministration and human rights abuse.

Nelson Mandela, the late South African former president and struggle icon, made a profound statement when he said: "A critical, independent and investigative press is the lifeblood of any democracy. The press must be free from state interference. It must have the economic strength to stand up to the blandishments of government officials. It must have sufficient independence from vested interests to be bold and inquiring without fear or favour. It must enjoy the protection of the constitution, so that it can protect our rights as citizens."

In some parts of Africa, journalists – especially investigative journalists – are being harassed, intimidated, arrested and worst, some of them, killed almost everyday on their line of duty.

It is organizations like Global Investigative Journalism Network that gives journalists like myself and a thousand others, in this continent, courage we need not to throw in the towel, when things are hard; and a shoulder to lean on, knowing that you have friends and colleagues who are with you, will stand by you, in good times and bad times as long as you still remain in the field of investigative journalism and working with integrity and ethics.

The Forum for African Investigative Reporters (FAIR), of which I am the current chairperson, was born after Justin Arenstein, Jacque Pauw, Jessica Bezuidenhout, Ken Opala from Kenya and I were invited to the GIJN conference in Denmark and we were inspired to create a similar platform for African investigative journalists.

It would be an honour for me to be appointed on the board, as I would be one of the ambassadors of GIJN in the continent and a blessing for FAIR, as one of the organisation that represents investigative journalists in Africa.

I have been an investigative journalist for most of my adult life and my achievement in this field speaks for itself.

Investigative journalist or helping and mentoring up and coming journalists is what I do and stand for; I have been a role model to most journalism students and have delivered lectures, and still do, at different universities and investigative journalism conferences.

My vote and voice within GIJN will represent my colleagues from the continent.