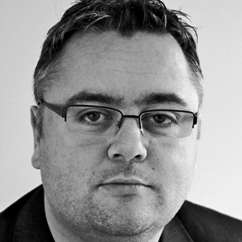 Kjetil Stormark (43) is executive director and editor-in-chief of Hate Speech International (HSI), an independent news room and reporting initiative monitoring and investigating hate speech, hate crimes and extremism. HSI has particular emphasis on Europe, the Middle East and North Africa.

Kjetil Stormark has more than 25 years of experience in investigative journalism and documentary projects. He is a former editor-in-chief and managing editor of several newspapers. Stormark has covered organized crime, intelligence, defence, emergency readiness, terrorism and other forms of politically motivated violence as well as politics and international affairs.
Stormark has also been a PR consultant and director of media strategy and crisis communication in a PR consulting firm. He served as press counselor to the Norwegian Permanent Mission to the United Nations in New York, when Norway was a member of the Security Council in 2001-2002. Stormark is educated in journalism and political science.
He has published two books about the the 2011 terror attacks in Norway and is working on his third. Stormark has won numerous awards for his reporting.
As a candidate for the new board in GIJN, he says:
GIJN needs a strategy for how to facilitate and promote further growth. It is important that GIJN remains a truly global movement, with a high credibility on all continents.

GIJN should also become a more visible voice in the public debate on issues related to the work our different members do to promote good governance, democracy, freedom of speech and the free access to information. GIJN should also try to influence policy makers in matters important to many GIJN members.

Another goal in the next couple of years, should be to develop a secure web infrastructure and market place where different GIJN members can exchange ideas, experiences and knowledge between the Global Investigative Journalism Conferences (GIJC). This is particularly a need related to the development of specific projects which are not that easy to discuss openly on the Global List.