Position: Spanish Editor, Global Investigative Journalism Network
This job post is now closed
Deadline: May 25, 2020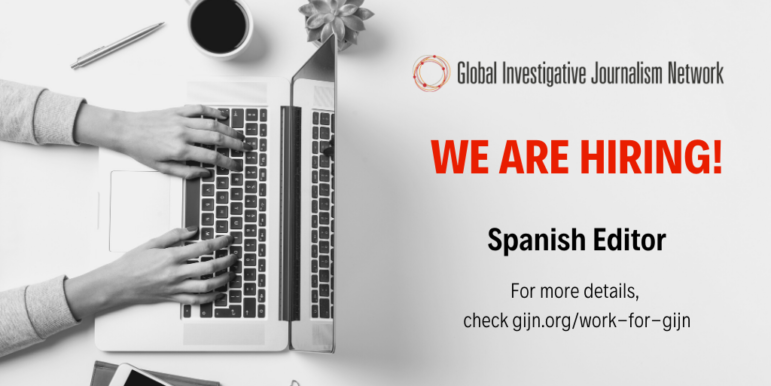 GIJN, a fast-growing nonprofit, is looking for a Spanish Editor. Applicants must have a solid understanding of investigative and data journalism, with strong skills in managing social media. The position is aimed at strengthening and building networks and organizations of investigative journalists in the Spanish-speaking world. While initially half-time, this position has the potential to become full-time.
GIJN is an association of 184 organizations in 77 countries dedicated to spreading and advancing investigative journalism around the world. This is a unique chance to be at the center of the global hub servicing the world's investigative journalists at a time of unprecedented opportunities and challenges. You'll work with a dynamic international team, helping to spread tips, tools, case studies and resources about quality investigative and data journalism around the world.
GIJN publishes daily in seven languages on multiple platforms with the latest on investigative and data journalism. Our regional editors work on 20 different platforms, among them Facebook, Twitter, YouTube, WhatsApp, and WeChat. Our regional feeds include GIJN Africa, GIJN Arabic, GIJN Bangla, GIJN Chinese, GIJN en français, GIJN in Russian and GIJN en español.
GIJN is a distributed nonprofit, and this is a remote position: the successful candidate can be based anywhere with a strong broadband connection.
GIJN is staffed by an extraordinary multicultural team based in 12 countries. You'll work in a collaborative network that is having impact every day on the front lines of journalism.
Responsibilities and Duties:
Aggregate, produce, and distribute content relevant to Spanish-speaking investigative journalists worldwide.
Obtain content from GIJN's various platforms and from Spanish-language sources, including information on such topics as investigative tools, techniques and methodology, award-winning stories, fellowships and grants, and conferences and training.
Distribute content via social media, a GIJN en español webpage on GIJN.org, and other media as appropriate.
Find creative solutions to content distribution across social platforms.
Produce and edit the GIJN en español newsletter.
Coordinate, translate and edit translated stories and Resource Center material
Facilitate and moderate discussion among GIJN followers on social media.
Conduct outreach and assist in developing the field of investigative journalism in the Spanish-speaking world.
Produce webinars, and as time permits, help on other GIJN tasks, such as conference preparation, training workshops, and fundraising.
Respond to research queries from GIJN members and others.
Serve as GIJN's representative at conferences and other events and to the broader Spanish-speaking journalism community.
Knowledge, Skills and Experience:
Excellent Spanish writing and editing skills.
Proven record in managing social media platforms.
Knowledge of WordPress and Canva is helpful.
At least seven years of experience in journalism.
A solid understanding of investigative and data journalism.
Strong organizational and time-management skills, and the ability to work remotely in a global, cross-cultural team.
Clear and comprehensive English
The successful candidate also will be self-motivated with good communication skills and an ability to meet deadlines.
Ability to work flexibly in line with organizational needs and to effectively share knowledge, ideas and skills across the GIJN team.
Location: Flexible. GIJN is a virtual nonprofit. You'll need good, dependable broadband.
Salary: We're a nonprofit but we pay a living wage. Salary will depend on your experience and location.
Note: GIJN is a strong believer in diversity and welcomes applicants regardless of race, color, creed, religion, gender, sexual orientation, national origin, ancestry, citizenship status, or disability.
Check out GIJN's other available positions here.