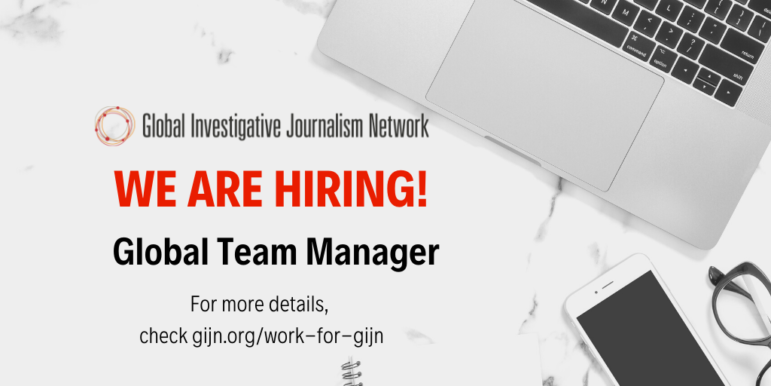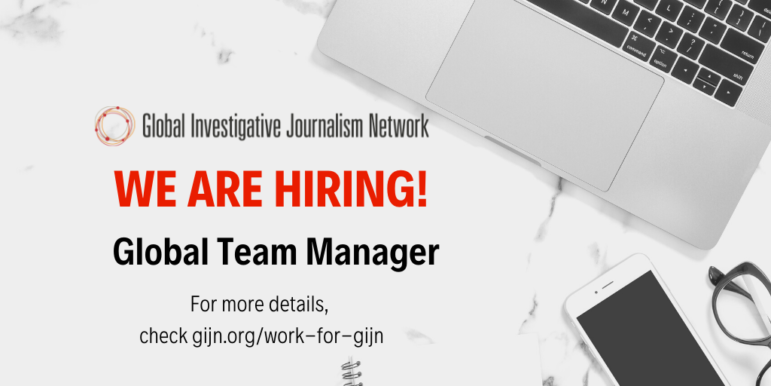 Position: Global Team Manager
Global Investigative Journalism Network
This job is now closed.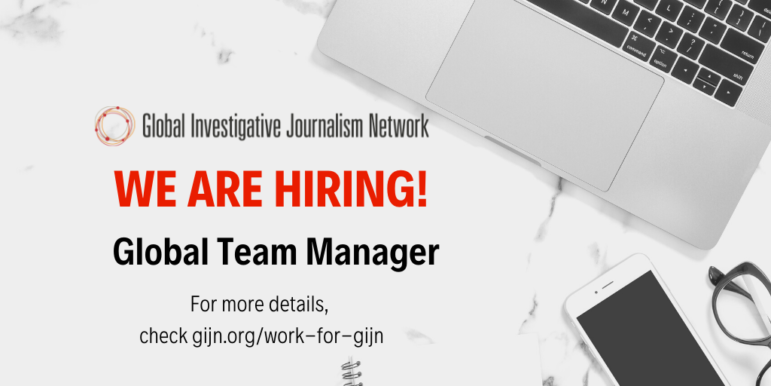 GIJN, a dynamic journalism nonprofit, is looking for a proven manager to supervise and coach its extraordinary multinational team of regional editors. Duties include managing 13 regional editors and being their main point of contact for their day-to-day work.
Based in a dozen countries, GIJN's regional editors act as our representatives around the world. They provide training and resources, build networks, consult on reporting, and serve as critical hubs connecting regions like Francophone Africa and South Asia to journalists in Europe and the Americas. Through social media, they reach 350,000 followers in 13 languages each day. Our regional editors work on a dozen different platforms, among them WordPress, Mailchimp, Facebook, Twitter, LinkedIn, YouTube, WhatsApp, Telegram, and WeChat.
This position is aimed at strengthening our regional editors program by providing the team with feedback, learning opportunities, training, and coaching. Working closely with other GIJN staff, the manager helps our regional editors expand their outreach to journalism and related communities. The position is full-time and is part of the GIJN management team.
GIJN is an association of 227 organizations in 88 countries dedicated to strengthening and advancing investigative journalism around the world. This is a unique chance to be at the center of the global hub servicing the world's investigative journalists at a time of unprecedented opportunities and challenges. You'll work with a committed international team, helping to spread worldwide the latest tools and techniques about quality investigative and data journalism.
Applicants must have a good understanding of investigative journalism, and a passion for innovation and the sustainability of the craft. A proven background in managing diverse teams is a must. Experience managing remote or distributed teams is a plus, as is a working knowledge of social media.
GIJN is a distributed nonprofit, and this is a remote position: the successful candidate can be based anywhere with a strong broadband connection.
GIJN is staffed by a unique multicultural team based in more than 20 countries. You'll work in a collaborative network that is having impact every day on the front lines of journalism. This position reports to the GIJN Executive Director and Deputy Director.
Responsibilities and Duties:
Support and manage GIJN's 13 regional editors;
Ensure that regional editors have regular communication and feedback about their work;
Provide oversight of the regional editors' work, including social media messaging, with special attention to content quality control;
Develop key performance indicators for the regional editors;
Provide support for their networking and outreach activities;
Provide mentoring and identify opportunities for the editors' professional development;
Work alongside other GIJN Managers on tasks related to the editors' scope of work;
Assist with other GIJN tasks as needed, such as our conferences.
Knowledge, Skills and Experience:
Proven record of team management in multicultural settings;
A strong track record of successfully leading people in a journalism organization or company, or a related nonprofit organization;
At least 5 years of experience in managerial roles;
Experience in journalism or online media;
Knowledge of investigative and data journalism;
Excellent communication and coaching skills;
Ability to work independently and responsibly in a decentralized organization;
Ability to work effectively in a cross-cultural environment and with partners from around the world;
Proven experience in coaching and relationship building skills that support, engage, and motivate;
Proven ability to establish and implement effective practices and systems;
Ability to work flexibly in line with organizational needs and to effectively share knowledge, ideas and skills across the GIJN team;
Fluency in English;
Working knowledge of social media;
Experience with analytic tools to measure audience engagement and social media is a plus.
Location: Flexible. GIJN is a virtual nonprofit. You'll need good, dependable broadband.
Salary: We're a nonprofit but we pay a living wage. Salary will depend on experience.
Note: GIJN is a strong believer in diversity and welcomes applicants regardless of race, color, creed, religion, gender, sexual orientation, national origin, ancestry, citizenship status, or disability.