Position: GIJN Africa Editor, Global Investigative Journalism Network
Deadline: June 24, 2019.This job is now closed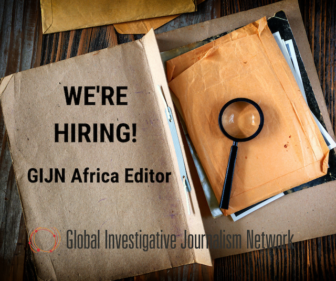 This is a half-time position with the nonprofit Global Investigative Journalism Network (GIJN), with potential to become full-time. Applicants must be based in sub-Saharan Africa, have a solid understanding of investigative and data journalism, be well-versed in social media and adept at working across multiple digital platforms.
The position reports to our Johannesburg-based managing editor, but the successful candidate can be based anywhere in the region with a strong broadband connection.
GIJN is an association of 177 organizations in 76 countries dedicated to spreading and advancing investigative journalism around the world. This position is aimed at strengthening and building networks and organizations of investigative journalists in sub-Saharan Africa.
Work duties:
Serve as GIJN's representative at regional conferences and other events in the broader African journalism community.
Build a vibrant investigative journalism network in the region through the development and support of investigative journalism in sub-Saharan Africa.
Aggregate and distribute content relevant to investigative journalists in sub-Saharan Africa — including information on investigative tools, techniques and methodology, award-winning and other enterprising stories, fellowships and grants, and conferences and training — using GIJN Africa's established social media feeds and newsletter.
Facilitate and moderate discussion among GIJN followers on social media.
Answer or refer research queries from GIJN members and the broader investigative journalism community in the region.
Assist with various GIJN tasks, as needed, including conference preparation and training workshops.
Requirements:
Must be based in a sub-Saharan African country (not North Africa).
Five to 10 years experience as a professional journalist and a solid understanding of investigative and data journalism.
Excellent writing skills and experience with social media.
Passionate about the practice and sustainability of investigative journalism in the region and dedicated to creating a vibrant network of African investigative journalists.
Outstanding communication and organizational skills, clear and comprehensive English and the ability to work remotely in a global, cross-cultural team.
The successful candidate will also be self-motivated, with an ability to meet deadlines and have experience working with multiple digital platforms.
Salary: Competitive with international NGOs and commensurate with experience.
Please use this form to apply: