Position: French-language Editor  (Éditeur francophone)
Applications are now closed for this position.
Global Investigative Journalism Network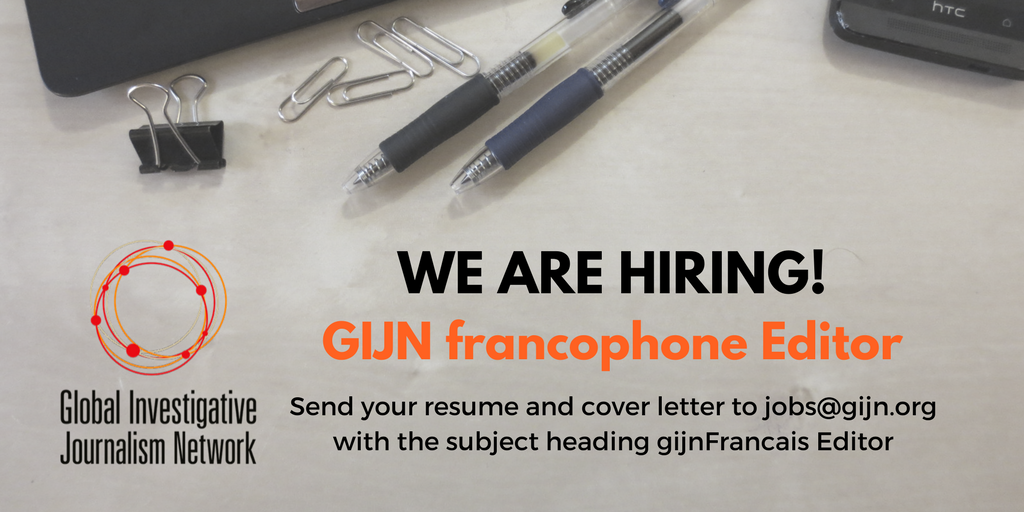 This is a half-time position with the nonprofit Global Investigative Journalism Network (GIJN). Applicants must have a solid understanding of investigative and data journalism, with strong skills in managing social media.
The position reports to our Johannesburg-based managing editor, but the successful candidate can be based anywhere with a strong broadband connection.
GIJN is an association of 163 member organizations in 72 countries dedicated to spreading and advancing investigative journalism around the world. This position is aimed at strengthening and building networks and organizations of investigative journalists in the French-speaking world.
While initially half-time, this position has the potential to become full-time.
Work duties:
Aggregate, produce, and distribute content relevant to French-speaking investigative journalists worldwide;
Obtain content from GIJN's various platforms and from French-language sources, including information on such topics as investigative tools, techniques and methodology, award-winning and other enterprising stories, fellowships and grants, and conferences and training.
Distribute content via social media, a gijnFrancophone webpage on GIJN.org, and other media as appropriate.
Facilitate and moderate discussion among GIJN followers on social media.
Conduct outreach and assist in developing investigative journalism in the French-speaking world.
As time permits, help on other GIJN tasks, such as conference preparation and training workshops.
Answer or refer research queries from GIJN members and others.
As time permits, serve as GIJN's representative at conferences and other events and to the broader French-speaking journalism community
Requirements:
Skill at running a successful social media campaign is essential.
Applicants should have at least three years of work as a professional journalist and a solid understanding of investigative and data journalism.
Strong organizational skills, clear and comprehensive English, and the ability to work remotely in a global, cross-cultural team.
The successful candidate also will be self-motivated with good communication skills and an ability to meet deadlines.
Salary: Competitive with international NGOs and commensurate with experience.
Send resume and cover letter to jobs@gijn.org with subject heading gijnFrancais Editor.
---
Position: (gijnFrançais Éditeur) ou je suggère GIJN Éditeur francophone
Global Investigative Journalism Network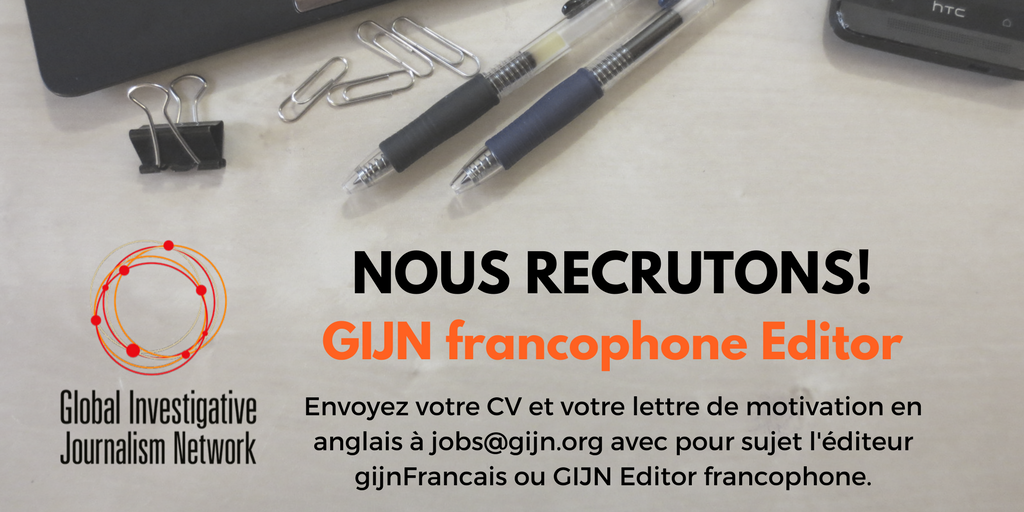 Ceci est un poste à mi-temps avec le Global Investigative Journalism Network (GIJN), un organisme sans but lucratif. Les candidats doivent avoir une solide compréhension de l'enquête et du journalisme de données, avec de solides compétences dans la gestion des médias sociaux.
Le poste relève de notre rédacteur en chef basé à Johannesburg, mais le candidat peut être basé n'importe où avec une connexion à large bande forte.
GIJN est une association de 163 organisations dans 72 pays dédiée à la diffusion et à la progression du journalisme d'enquête dans le monde entier. Cette position vise à renforcer et construire des réseaux et des organisations de journalistes d'enquête dans le monde francophone.
Bien qu'à temps partiel au départ, cette position a le potentiel de devenir à temps plein.
Tâches de travail:
Agréger, produire et distribuer du contenu pertinent à l'enquête francophone pour des journalistes du monde entier;
Obtenir du contenu des diverses plateformes de GIJN et de diverses sources francophones, des informations sur des sujets tels que les outils de journalisme d'enquête, les techniques et la méthodologie, les reportages primés et autres grandes enquêtes. Se tenir informé sur les bourses et les subventions, en plus de rester à l'affût des diverses conférences et des formations offertes.
Distribuer du contenu via les médias sociaux, une page Web de gijnFrancais sur GIJN.org, et d'autres médias, le cas échéant.
Faciliter et modérer la discussion parmi les adeptes du GIJN sur les médias sociaux.
Mener des activités de sensibilisation et aider à développer le journalisme d'enquête dans le monde francophone.
Si le temps le permet, aider sur d'autres tâches du GIJN, telles que la préparation de conférences et d'ateliers de formation.
Répondre aux questions de recherche des membres du GIJN ou faire du référencement.
Si le temps le permet, servir de représentant du GIJN lors de conférences et autres événements et à la communauté journalistique francophone
Exigences:
L'habileté à mener une campagne réussie sur les réseaux sociaux est essentielle.
Les candidats doivent avoir au moins trois ans de travail en tant que journaliste professionnel et bonne compréhension du journalisme d'enquête et de données.
Fortes compétences organisationnelles, anglais clair et complet, et capacité à travailler à distance dans une équipe mondiale et interculturelle.
Le candidat retenu sera également motivé avec de bonnes compétences en communication et une capacité à respecter les délais.
Salaire: Compétitif avec des ONG internationales et proportionnel à l'expérience. Envoyez votre CV et votre lettre de motivation en anglais à jobs@gijn.org avec pour sujet l'éditeur gijnFrancais ou GIJN Editor francophone.