Position: Business Manager (6-months maternity cover April to September 2020), Global Investigative Journalism Network
This job post is now closed.
Deadline: February 28, 2020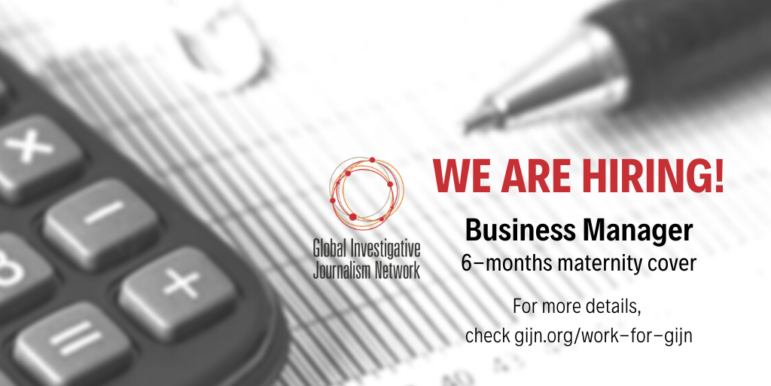 GIJN, a fast-growing nonprofit, is seeking an interim Business Manager to substitute for our valued staff member while she goes on maternity leave. The job centers on managing finances and providing administrative support to GIJN's staff and program work training the world's investigative journalists. The person will also develop and implement budgets, as well as prepare reports for donors and senior management. The position is for six months from April to September this year (2020). We will consider both part-time and full-time positions.
GIJN is a distributed company staffed by a multicultural team based in 11 countries. You'll work in a collaborative network that is having impact every day on the front lines of journalism.
Responsibilities and duties:
Coordinate day-to-day finance operations, liaising with outside accountant and management; this includes processing payables (payroll, contractors, others), reimbursements and invoicing.
Provide administrative support to management and other staff, including travel arrangements, and processing reimbursements.
Assist Executive Director and Development Director with financial reporting and budgeting.
Assist with conference budgeting and financials.
Support data gathering for audits, tax filings, distribution of 1099s, etc.
Support HR activities, including records of staff time off.
Knowledge, Skills and Experiences:
English proficiency;
Bachelor's degree with a minimum 3 years admin and/or accountancy experience (nonprofit experience preferred);
Bookkeeping experience strongly preferred (GIJN uses QuickBooks online);
Good interpersonal skills. Adept at communicating with staff and outside contacts with a variety of styles and needs. Able to show patience, clarity and sound judgment in these interactions.
Commitment to safeguarding confidential information;
Team player;
Knowledge of Microsoft Office Suite, QuickBooks, and GSuite;
Comfortable learning new digital tools (Asana, AirTable, Sync.com);
Knowledge of standard office practices and equipment; strong organizational skills.
Location: Preferred location is United States. But we will consider other locations if the person is the right fit.
Salary: We're a nonprofit but we pay a living wage. Salary will depend on your experience.
Note: GIJN is a strong believer in diversity and welcomes applicants regardless of race, color, creed, religion, gender, sexual orientation, national origin, ancestry, citizenship status, or disability.
To apply, fill in the embedded form below.