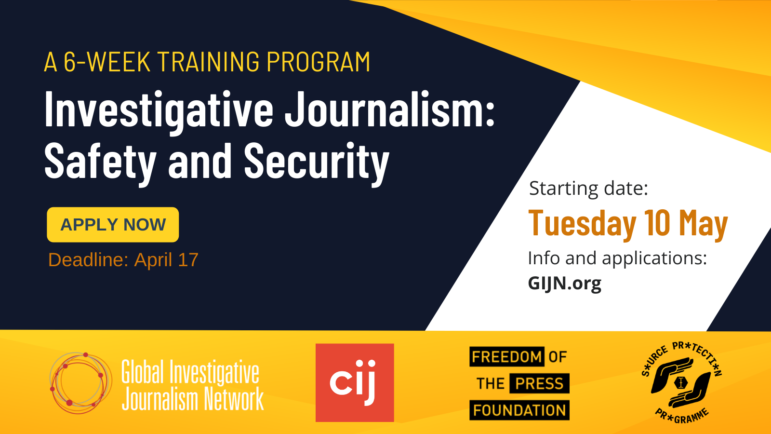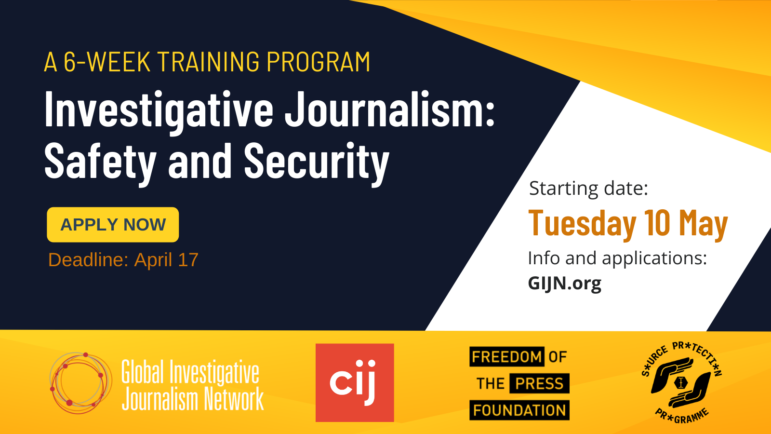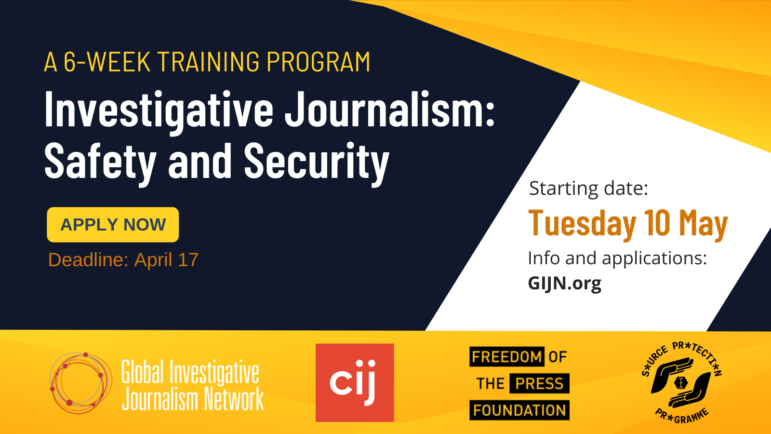 Co-sponsored by the Global Investigative Journalism Network and the Source Protection Programme (a joint initiative by The Centre for Investigative Journalism and The Freedom of the Press Foundation).
Deadline: April 17 at midnight EDT.
APPLICATIONS ARE NOW CLOSED.
Journalists are under attack, facing alarming levels of harassment, surveillance, legal persecution, and violence. At the same time, they are trying to keep themselves, their colleagues, and their sources safe. Our work, always risky, is particularly exposed in this age of digital spyware and spreading autocracy. What we need is more training in day-to-day protection in the cities, on watchdog beats, and during investigations. Journalists need to know when they are being surveilled and targeted. Journalists need to be safe.
GIJN has partnered with the London-based Centre for Investigative Journalism and the Freedom of the Press Foundation to offer a unique safety and security training program specifically tailored for investigative journalists and others in watchdog newsrooms. It will be delivered online through hands-on practical training sessions with some of the world's leading journalism safety trainers.
It is free, part-time, and limited to 30 participants.
Investigative Journalism: Safety and Security will take place each Tuesday for six consecutive weeks, starting on May 10, 2022. The course will be offered across two different time zones – at 9am EST and 12pm EST, with 15 participants per time slot. Journalists can apply to their preferred time slot by completing the form below.
If granted a place on the course, the applicants will commit to complete the Journalism Security Assessment Tool before the start of the course (takes about 1 hour) and attend all five sessions of the programme in full. The estimated time required is about 2.5 hours a week. Proficient English language skills are required.
There are 30 places on the course. Priority will be given to people within journalism organizations who have responsibility for the safety and security of colleagues – so that the training can be shared and implemented organizationally. There also will be places for individual watchdog journalists. In addition, selection will be based on the urgency of need, the quality of the application, and the level of work submitted. Applications are encouraged from journalists in North America, South America, Africa, Europe and the Middle East. A similar course will take place later in the year, which will be suitable for time zones in Asia-Pacific. Successful applicants will be contacted in late April. Unfortunately, due to capacity, we will only be in touch with applicants who have been selected for the course.
Topics covered in the training sessions:
– The Journalism Security Assessment Tool (JSAT) & Threat Assessment
– Introduction to Digital Security
– Digital Security in a Hostile Urban Environment
– Source Protection
– Operational Security & Counter Surveillance
The course will also include guest lectures from globally renowned journalists and office hours with the trainers to answer questions.
Core Trainers
– Harlo Holmes, Director of Digital Security, Freedom of the Press Foundation
– Fabio Natali, Head Information Security Trainer, The Centre for Investigative Journalism
– Runa Sandvik, Security Researcher
– Igor Ostrovskiy, Counter-Surveillance Specialist
The deadline is April 17th at midnight EDT. Applications for this course are now closed.