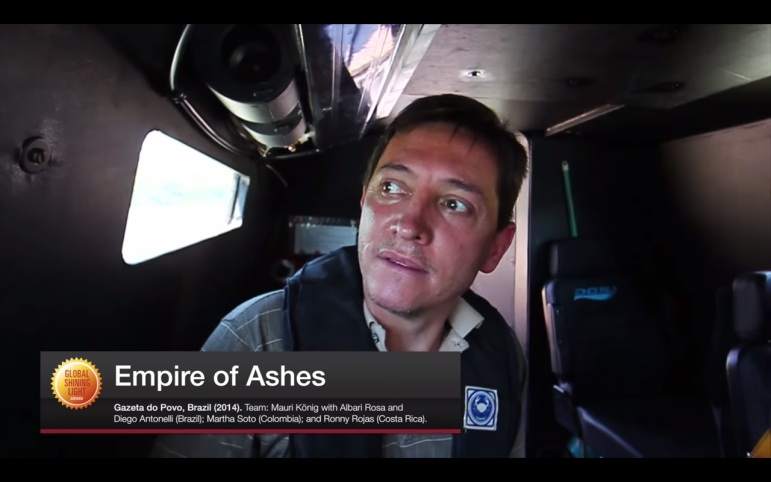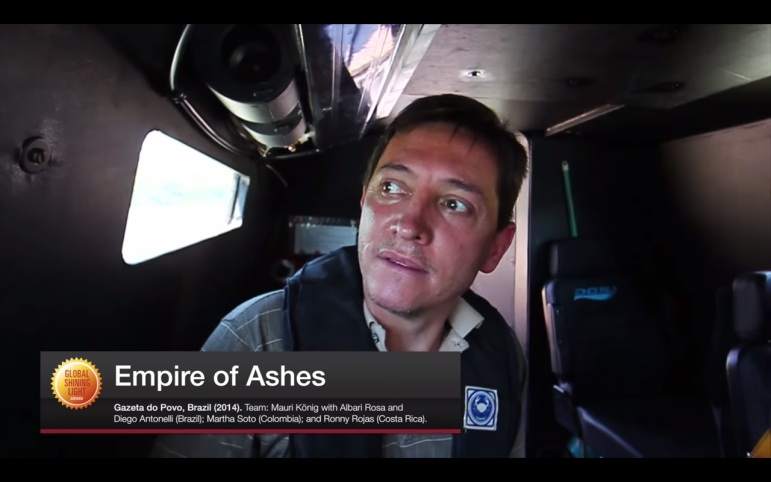 Inside "Empire of Ashes": Exposing Paraguay's President as a Smuggler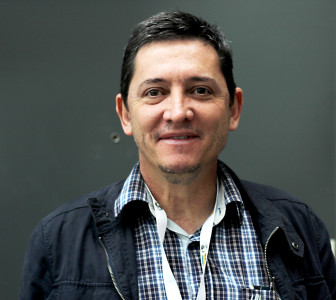 Mauri König is a Brazilian investigative reporter. Last October, at the Global Investigative Conference in Lillehammer, König shared first place in the Global Shining Light Awards for his investigation "Empire of Ashes" on tobacco smuggling in Latin America. In this interview, Konig shares his views on what it's like to uncover illicit interests involving the president of a country while working in a highly dangerous environment.
First of all, what do you think about your award?
I think that this award is important because we live, not only Brazil but in almost the whole world, in an economic crisis and a crisis of means of production, that relates to how news is published. This crisis is affecting many journalists who are suffering layoffs in newsrooms and are losing their jobs. This award is a way to remind other journalists that journalism is worth doing, that it is important to maintain the belief that good journalism will be recognized and has a space in the lives of the people. An award like this is important to keep up our spirits to make more journalism.
What was challenging about working on this investigation?
I worked on this investigation for five months, and a part of it involved fieldwork on the border between Brazil and Paraguay, on the most dangerous part of the Brazil border. I knew the border, I knew the issue relating to cigarettes smuggling. We had knowledge of the area where we were going to do the investigation as well as of the issue, and this helped us. But when you are in a dangerous zone like this, working on an underground issue relating to a business that does want to be exposed, it is certain that risks are going to occur.
We felt – my photographer and me — at least three times to be in danger or that our work was threatened. Once, for example, we were together with the federal police — the police in charge of security on the Brazil-Paraguay border — and we were receiving gunshots from across the border, from Paraguay. Another time, in another part of the border, the photographer and I were followed by two or three cars, certainly by security people for the cigarette smugglers. There was another moment in my city, called Curitiba, at the headquarters of the newspaper that published our reporting. I went on the street with another colleague to show how cigarettes, which leave Paraguay and land in Brazil, are sold on the streets in Brazil. When I went to a bus terminal I was attacked by two security guards who worked for the smugglers. One of the guys almost grabbed my camera and threatened to beat me; I had to call five or six newspaper colleagues who came to help me. There were risks all the time because we were working on the border day and night.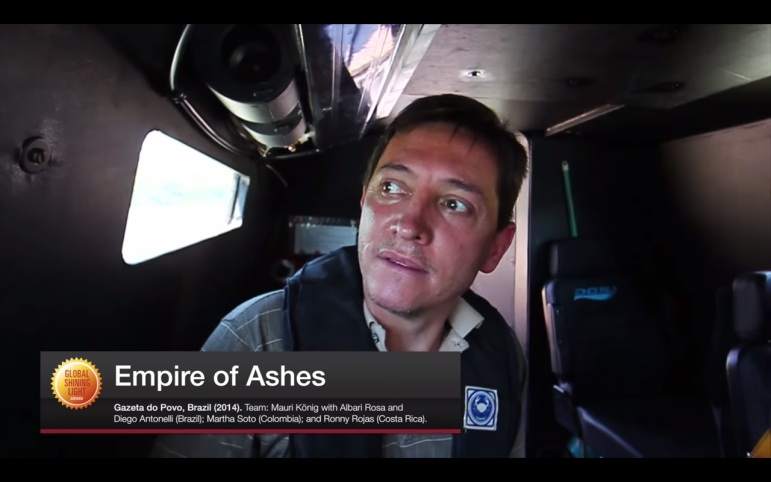 What are the challenges to work on investigation targeting politicians?
For many years, there's been suspicion that the president of Paraguay, Horatio Cartes, was involved in the production of cigarettes smuggled across Latin America, but nobody had proved it with documents. So we started with the support of IPYS, the Institute for Press and Society Institute, based in Peru, an organization that supports journalism. IPYS proposed a story on this issue and invited me to do the investigation, so we started.
After five months of investigation, I obtained the documents that proved that Cartes is the one who earns the largest profits by smuggling cigarettes from Paraguay to all of Latin America. I did a survey, for example, from 2010 to 2014, of all smuggled cigarettes seized in Brazil. I found out that in addition to the quantity of cigarettes confiscated, their origin was from 70 brands produced in Paraguay. I was looking for the owner of these brands, and I found out that Cartes owns two tobacco companies, one that produces five brands of cigarettes, and these five brands account for the 51% of all cigarettes seized in Brazil. In other words, Cartes' company company was responsible for half the cigarettes smuggled into Brazil.
Why is it important to cooperate with other journalists? 
At the beginning this investigation we had the participation of journalists from seven countries. But then many, for various reasons, could not follow the investigation, so it was left to me in Brazil, Martha Soto in Colombia, and Ronny Rojas in Costa Rica. I did most of the work but Ronny, for example, produced an infographic to find the data to understand the smuggling routes, because we found nine important routes leaving Paraguay and heading to Argentina, Bolivia, Mexico, Venezuela, Colombia…
I could not do a map like this. Ronny had the knowledge of handling and searching data about cigarette exports from Paraguay. We made a map of the Paraguayan exports, the air and sea routes, and the trail to President Cortes.
Martha Soto's participation was also important because she showed that in Colombia, for example, Cartes' cigarettes help, indirectly, to finance organized crime groups such as the FARC, the Revolutionary Armed Forces of Colombia.
What kind of impact and consequences did the investigation have in Brazil?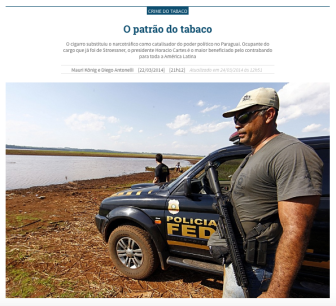 Two weeks after we published this report in my newspaper, there was a big operation in Brazil against the smuggling of cigarettes, in an area where I and my photographer were investigating. The traffic police in Brazil mobilized 160 police officers from various parts of Brazil in an operation on the border between Brazil and Paraguay, in a city that is called Mundo Nov. On the they the operation was launched, ten people who were involved in the smuggling went to prison.
It is difficult to say whether this was for this report or not, but maybe our report contributed to this. Six months later, the government of Brazil and President Dilma Rousseff passed a federal law extending prison terms for anyone who smuggles, and not just cigarettes but all types of trafficking.
I can't say that the new law was triggered because of this report, but we had an impact in the sense that it put the issue in the national debate and I think it somehow contributed to increase the penalties for those involved in smuggling in Brazil.
There was one other impact outside Brazil, because this work was done together: While I worked in Brazil, I was joined by fellow journalist Martha Soto in Colombia. She published some of the work in the newspaper "El Tiempo" in Bogota. We also worked with a colleague at the newspaper "La Nación" in Costa Rica. I did the most, but the other two were also involved, and after Martha published this story, on the same day, in his newspaper "El Tiempo" of Bogota, there was a mobilization of the governors, a portion of the governors of some states in Colombia, who planned to take legal action in international court. Then an international lawsuit was filed against the president of Paraguay.
But still, today, cigarettes are smuggled at the border, and the Paraguay companies continue to produce. This report put the issue on the public record, but the changes must be made by government authorities. Countries need to pressure the government of Paraguay to close the borders. In our report, I proved that Horacio Cartes, president of Paraguay, was violating the federal law (Customs Code) of his own country, Cartes told journalists that he only produces cigarettes, and has no responsibility where they might end up. But we checked the Customs Code of Paraguay, which is a federal law, and it states clearly that smuggling is not only what goes into Paraguay without paying taxes, but also what goes out without paying taxes. There is another article of the Customs Code, the federal law that says that those earning profits from smuggling must be held responsible. So the president of Paraguay knows his cigarettes are being smuggled, and says he has no responsibility. Of course he has!
---
Luigi Serenelli is a Berlin-based reporter and features writer with a background in foreign policy. His recent focus has been on immigration to Germany and Europe. His multimedia work includes stories of suburban tensions in Milan and social engagement in Scampia, a stronghold of the Neapolitan mafia. He works in Italian, English, and German.