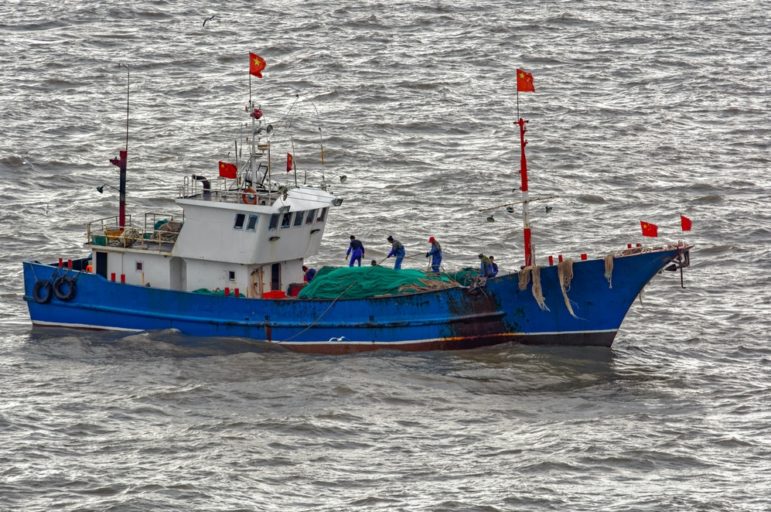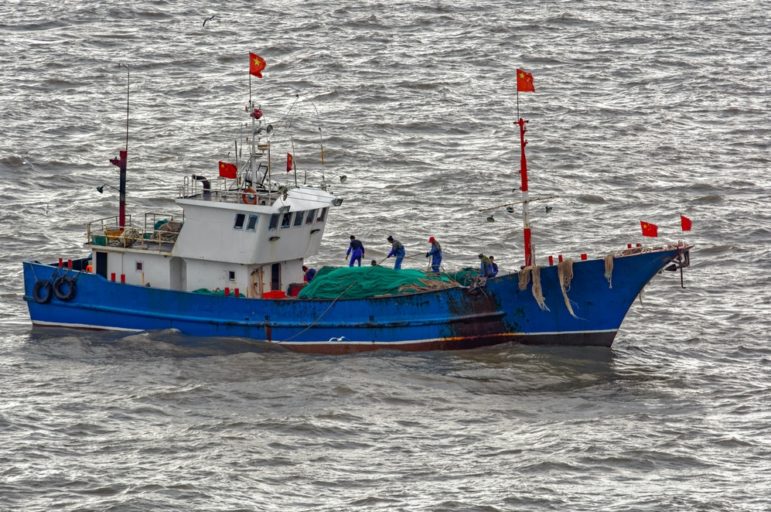 Chinese fishing trawlers working in the South China Sea. Image: Shutterstock
How an Award-Winning, Cross-Border Project Investigated on the Open Ocean
How do you investigate in a place as vast as the ocean?
The Environmental Reporting Collective — a network of journalists based in Asia — faced this exact challenge during the COVID-19 pandemic, when they published a series of stories on crimes in the global fishing industry. Fourteen newsrooms and a handful of independent journalists from 13 countries collaborated to dig up stories spanning the South China Sea and the oceans near Antarctica.
The investigation — Oceans Inc. — won the 2022 Society of Publishers in Asia Award for Excellence in the regional category. The judges lauded the "powerful personal narratives" of fishers and "deep reporting" on companies with dubious track records.
"The deaths of Indonesian fishers on Chinese fishing boats have been documented before, but this story took it a step further, with multiple reporters interviewing deckhands who have worked on 14 ships operated by the same company to show a pattern of abuse and negligence," the judges wrote.
Journalists dug deeper into human rights abuses and ecosystem destruction caused by the illegal, unreported, and unregulated fishing industry. GIJN spoke with some of the editors and reporters behind these stories to find out how they navigated their data, sources, and cross-border collaboration.
Creative Use of Data Collection
Philip Jacobson, from Mongabay, said he used satellite data from Global Fishing Watch for his Worked to Death story about labor abuses experienced by Indonesian workers on a Chinese company's boats.
"So one thing that became clear as we were interviewing these fishermen, was that sometime in the fall of 2019, the boats in the fleet stopped operating normally," he explains.
The fishers told Jacobson's team that the boats stopped fishing around that time. Jacobson used the vessel-monitoring portal to check if this was true.
"You could see the pattern of movement is very different," he says. "And then I got someone from Global Fishing Watch to review those images and confirm that, yes, this suggests that the boats are just drifting after September 2019."
"That told us maybe that the company was having financial problems, which is part of the story in other ways," he adds.
For Richa Syal, the journalist behind the Krilling for Oil story, using web-scraping tools was the first step in what was initially conceived as a fish product supply chain story. Syal, a data journalist, collected data from retailers like Amazon and Walmart to see the origin spread of fish oil products. When she plugged the data into a spreadsheet, she saw that many of the top products came from a krill — small crustaceans — fishery in the Antarctic.
"It was intended to be a positive story, and then when I dug in further into the fishery, despite it being known as the world's most sustainable fishery, it's actually incredibly overfished in a very unique way," says Syal.
Only one percent of the world's krill population is used for krill oil products, but Syal kept digging to figure out why, despite this fact, overfishing krill is still a serious problem.
"That one percent when you zoom into the Antarctic is exactly overlapping where penguins feed, where whales are foraging, where seals are," she explains. "So that crucial one percent is where the most fragile ecosystems are in the Antarctic. That raised a lot of alarm bells and I spoke to a number of researchers who were echoing the same thing."
Strategic Collaboration
Several journalists GIJN spoke with on the Oceans Inc. project mentioned the important role of advocates and experts in contextualizing the complex realities of the fishing industry.
Jacobson, who served as the coordinating editor and reporter for Worked to Death, mentioned the countless back-and-forth conversations with researchers who provided real-time analysis that informed further lines of inquiry.
At first, his strategy was to look at forced labor indicators on fishing boats run by a Chinese company that is reportedly the biggest supplier of sashimi-grade tuna to Japan. Jacobson checked for signs of labor isolation and confiscation of documents according to specific definitions of what those labor abuses look like in other industries.
"When I ran that by some experts on the indicators around fishing forced labor issues, they walked me through the nuances of that issue and I kind of realized that probably wasn't the best approach to take," he recounts.
The reporters also collaborated with the Environmental Justice Foundation, which provided them with transcripts of interviews with 11 Indonesian fishers who worked on an additional six boats belonging to this same Chinese company. This partnership widened the scope of the investigation's witness pool, and further confirmed what their reporting had already revealed, Jacobson says.
This cross-sector collaboration increased the pool of sources, which helped strengthen the facts in an accountability story that looked at serious human rights abuses by a powerful company.
"It's just more credible analysis, it strengthens the findings," Jacobson notes.
Challenging Assumptions, Seeking Out Unlikely Sources
Alicia Chen, coordinating editor for the Observational Hazards story, said that turning over unlikely stones often yields the best sources.
In the story, reporters described the vulnerability of observers whose jobs require them to report illegal fishing on boats at sea. The governments of countries such as Taiwan are under pressure to make stricter laws to protect both observers and the fish supply, which affects the ship captains' ability to make a profit. Chen talked about how reporters sought out a captain to get his side of the story.
"He was open to talk to us. He felt like he was also affected by the government when they tried to change the law," she recounts. "So they feel they are also victims, they need to earn, they need to gain enough profits to cover their costs."
While the captain didn't admit to illegal fishing, Chen was clear that his perspective is an important one.
"This lets people better understand the complexity of the issue," she says.
Similarly, understanding different cultural perspectives is key to good collaboration between colleagues on cross-border investigations.
The realities of an issue may be different in one country than another, especially when the subject is something as murky as the ocean, where borders, laws, and oversight are sometimes nebulous. Opposing narratives of who's right and who's wrong in a single investigative project isn't uncommon.
Lulu Ning Hui, the coordinating editor for Fishers on the Frontlines, told GIJN the best ways to stay on track and communicate respectfully with colleagues.
"We had a very regular call. I think if I can give a certain tip, it's that you really have to make a record of your calls," she says. "It's very possible that not everyone understands the conclusion of any communication, exactly the same."
Hui says that sharing the minutes of each meeting helps others prepare what's needed for the following one. Most importantly, Hui says that cross-border collaborations are also cross-cultural collaborations, and keeping that in mind helps to foster a positive working relationship.
"This may sound clichéd but, see each other as equals and be open and transparent about it. And you know, get ready to be challenged," she says.
"People don't agree with each other," she adds, "but that first step of journalists confronting each other with their established views is the first step of getting the story across."
Additional Resources
Asia's SOPA Awards Honor Stories on Fishing Crimes, Uzbek Taxpayer Abuses, and COVID Data Obstruction
Tips for Reporting on Human Trafficking and Forced Labor
---

Katarina Sabados is a Vancouver-based multimedia journalist currently covering supply chains at the Global Reporting Centre. Her reporting and research has appeared in NBC News, Canada's National Observer, The Tyee, The Toronto Star,  and OCCRP.