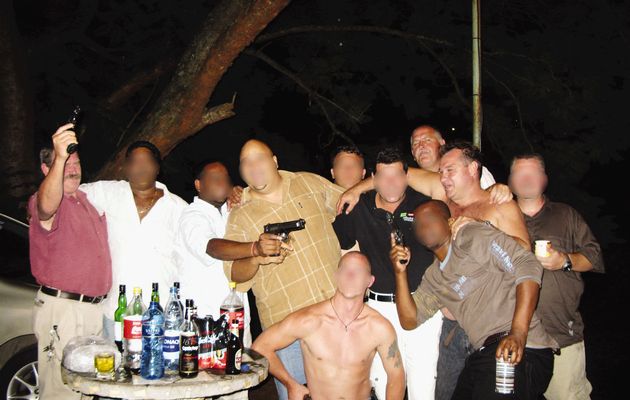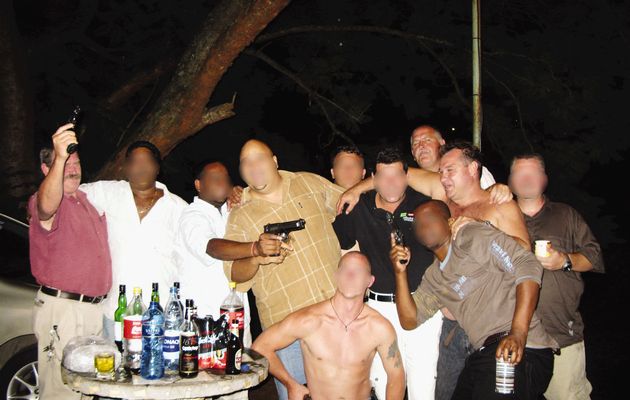 Members of a South African police organized crime unit celebrate just hours after killing five robbery suspects. Credit: "Shoot to Kill," Sunday Times (Johannesburg).
Gutsy Exposés, Undercover Work Win Top Honors at 2012 African Investigative Journalism Awards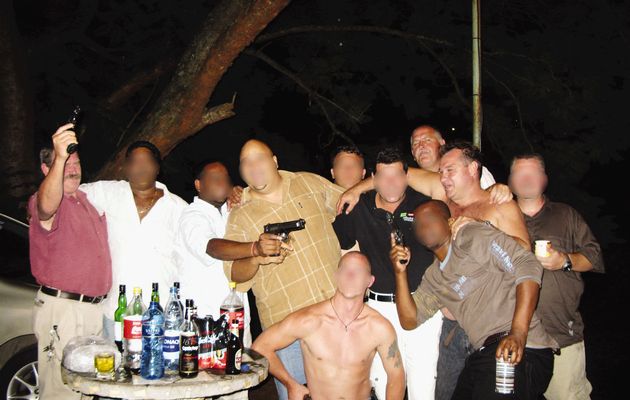 A South African police organized crime unit celebrates after killing five robbery suspects. Credit: Sunday Times
A courageous effort by the Sunday Times in South Africa into the operations of a police death squad won the top prize in the 2012 African Investigative Journalism Awards.
A team of three reporters – Stephan Hofstatter, Rob Rose, and Mzilikaza wa Afrika – was honored for Shoot to Kill: Inside a South African Police Death Squad. The judges found their series a powerful work of journalism on a dangerous topic, supported by official documents, access to key witnesses, and a compelling narrative.
The runner-up was Estacio Valois of the Zambezi Daily News for his work in uncovering government corruption in illegal logging in the Zambezi province of Mozambique. The story, Lideres coniventes no saque da Madeira na Zambézia (Leaders Connive in the Looting of Timber in Zambezia), presents a troubling, ground-level view of corruption, naming names and providing documentation.
Receiving honorable mentions were Solomon Adebayo of Radio Nigeria for a searing expose on a hospital's failings, Kassim Mohammed of Star FM in Kenya for a gutsy undercover investigation of gangs in the Nairobi community of Eastleigh, and Eric Mwambe, writing in Le Phare and L'Eveil, for his powerful story revealing horrific mining conditions in the Democratic Republic of Congo.
The awards were given out October 30 at the annual dinner of the Forum for African Investigative Journalists (FAIR), a professional association of African investigative editors and reporters, in conjunction with the 2012 Power Reporting Conference at Wits University.
Judges included editor and media consultant Gwen Ansell; Mark Lee Hunter of INSEAD and co-author of Story Based Enquiry; Tito Ndombi of Africa News and the Ifasic Journalism Training Institute in Kinshasa; veteran journalist and scholar Joe Hanlon from Mozambique; Brant Houston, Knight Chair of Investigative Reporting at the University of Illinois; and David Kaplan, director of the Global Investigative Journalism Network secretariat.
The judges noted that this year's top contenders formed "an impressive group" and that the quality of subjects and research has risen since the previous year. For the 2012 Awards, FAIR received 27 entries in English, 7 in French, and 2 in Portuguese. Reflecting the diversity of sub-Saharan Africa, stories in all three languages were honored by the judges.