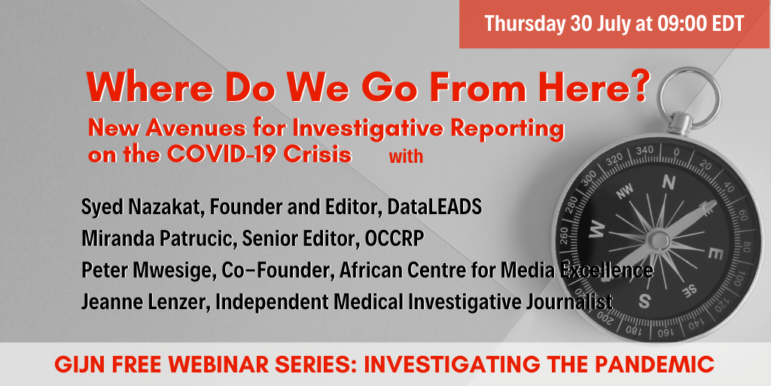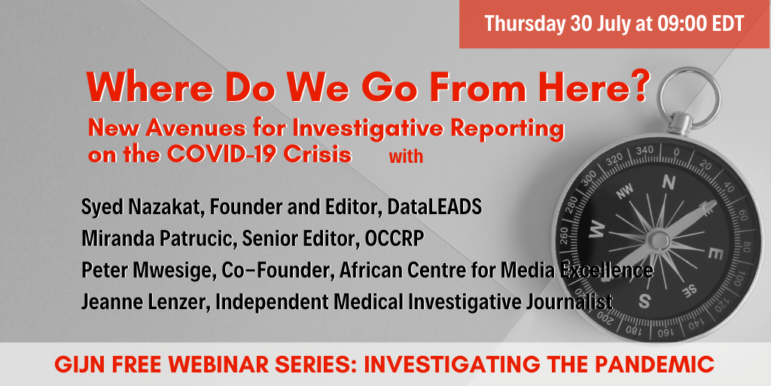 GIJN Webinar — Where Do We Go From Here? New Avenues for Investigative Reporting on the COVID-19 Crisis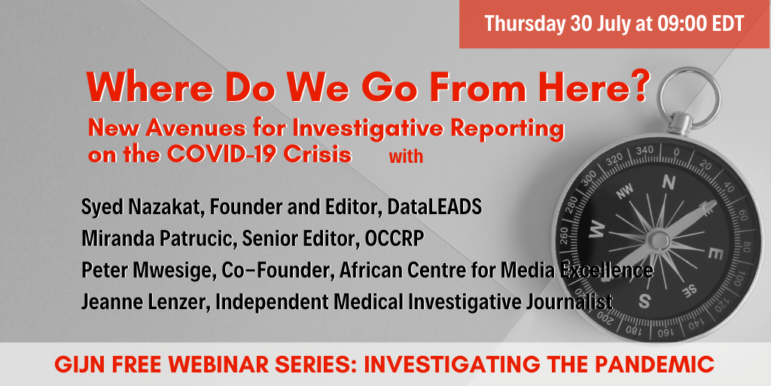 Editor's note: This webinar has now taken place. You can see the recording on GIJN's YouTube channel.
The global pandemic has led to more than half a million deaths, and many millions suffering from debilitating illness and economic devastation. It has exposed and amplified injustice, inequality and criminal activity around the world and has been marked by an unprecedented amount of disinformation. Unsurprisingly perhaps, debates about science, medicine and data of all kinds, central to an analysis of what is happening, are all too often highly partisan and unedifying. The pandemic also has accelerated the crisis in the news media industry itself just at a time when trustworthy news and watchdog reporting are so crucial to the public interest.
We are six months into the COVID-19 crisis, and this global pandemic is far from over. To mark this milestone, GIJN is pleased to offer its 18th webinar in our series Investigating the Pandemic. Where Do We Go From Here? – New Avenues for Investigative Reporting on the Pandemic will reflect on what investigative journalism has achieved so far and what challenges lie ahead.
Four senior journalists from India, Bosnia, Uganda and the United States will discuss groundbreaking investigative stories published or broadcast to date, analyze current coverage, and assess what needs further investigation.
Since the start of the pandemic, GIJN has produced nearly 40 free webinars in 7 languages, offering resources to journalists worldwide for investigating the COVID-19 crisis.
In September a new series of GIJN Online Events will start with a full program of webinars, workshops and resources focused on COVID-19 and other investigative areas. Thursday 3 September marks the start of a four-webinar series called "Digging into Disappearances: Organized Crime and Missing People," with sessions in English, French and Spanish. Watch our Twitter feed @gijn and newsletter for details on future events.