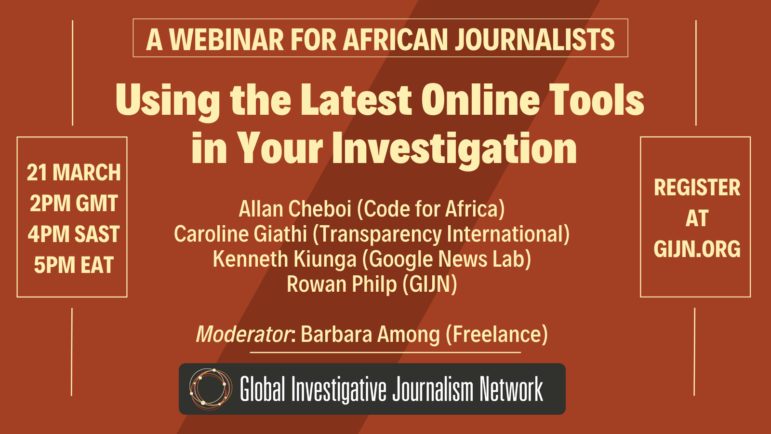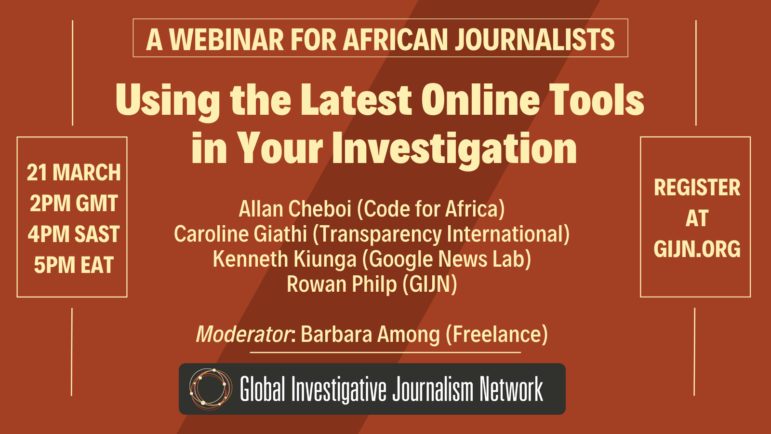 GIJN Webinar for African Journalists: Using the Latest Online Tools for Investigation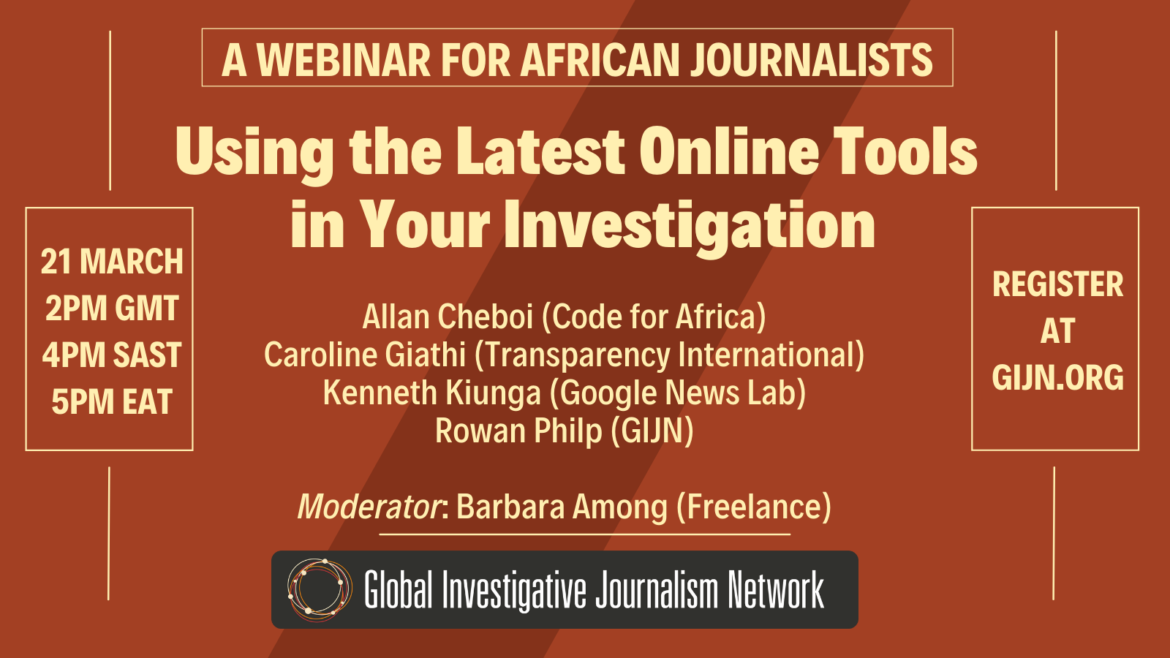 In Africa, the use of social media is growing exponentially and the internet is fast becoming the main source of news. The pressure on journalists across the continent to improve their skills in telling stories online has never been greater.
This is a great opportunity for African journalists, and a wide range of support and tools are readily available to help them. Global tech companies and groups are making their online tools more user-friendly, while their Africa-based counterparts are developing software that circumvents Africa's well-documented connectivity issues; although there have been improvements in recent years, Africa's population has just half the access to mobile internet connectivity as the rest of the world, according to GSMA, a research company. 
There are numerous tips and tools available, but what are the best resources for journalists in Africa? GIJN is pleased to host a webinar on some of the latest and most effective online tools for investigative reporting.
The webinar will take place on Monday 21 March at 3:00 pm in Lagos / 4:00 pm in Johannesburg / 5:00 pm in Nairobi.
In this online webinar, free of charge for journalists across Africa and beyond, we bring together four journalism experts from Google News Lab, Code for Africa, Transparency International Kenya's Media Tech Hub and GIJN, who will share their tips and advice about great online tools for journalists.
The experts will explain how to use tools to do forensic investigations and develop content; how to carry out data mining and analysis, where to find self-tutoring courses on reporting, editing and verifying complex stories; and suggest tools that reporters around the world use and admire.

Allan Cheboi is the Senior Investigations Manager at Code for Africa's iLAB & ANCIR. He manages a team of forensic data scientists/analysts and technologists who develop disinfo investigations tools and conducts network analysis investigations into disinformation and influence operations in Africa.

Caroline Giathi is the Deputy Programme Officer, Communications, for the public accountability thematic area at Transparency International, Kenya. Among her key roles, she works with investigative journalists through mentorship programmes via mediatechhub.ke to enhance their capacity to do watchdog journalism.

Kenneth Kiunga is a teaching fellow for Sub-Saharan Africa at Google News Lab. He is responsible for training journalists across Sub-Saharan Africa on digital tools and skills that will help content creators find and publish interesting stories. He also trains on fact-checking, data journalism and other Google tools available for journalists.


Rowan Philp is a reporter for GIJN and author of some of the organization's most popular tip sheets. He was formerly the chief reporter for South Africa's Sunday Times. As a foreign correspondent, he has reported on news, politics, corruption, and conflict from more than two dozen countries around the world.

The moderator is Barbara Among, a freelance investigative journalist from Uganda, with 15 years of experience. Her work has appeared in Nation Media Group outlets in Uganda and Kenya, The Guardian (UK), The Independent (UK), and Reuters News.
Date: Monday, 21 March 2022
Time:
14:00 (Accra, Monrovia, Freetown)
15:00 (Lagos, Yaounde, Kinshasa)
16:00 (Johannesburg, Harare, Tripoli)
17:00 (Kampala, Addis Ababa, Nairobi)
Watch our Twitter feed @gijnAfrica and monthly Africa newsletter for details on future events.