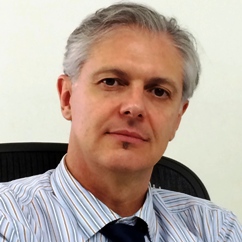 Fernando Rodrigues, 52, is a Brazilian journalist. He works for the news portal UOL (15 million daily unique visitors) since the year 2000. He has also worked for 27 years for the daily newspaper "Folha de S.Paulo" as a reporter and political columnist, based in Brasília, Brazil's capital. At "Folha", amongst other things, he has been economics editor in São Paulo and foreign correspondent in New York, Tokyo, and Washington, D.C.

Additionally, Rodrigues is a prime time (7:00 a.m.) daily political commentator for Jovem Pan, a leading radio station with a national audience of some 25 million listeners. He has been with Jovem Pan since 2006.
He also pioneered political investigative journalism on the internet in 2000 and started a political blog and web site for the news portal UOL. In 2002 he launched "Políticos do Brasil" (Politicians from Brasil), a website/database with information about Brazilian politicians –electoral information, personal data and list of personal assets. The web site has now more than 2 million records from Brazilian politicians.
Rodrigues has widely used data driven journalism techniques in Brazil in the past 15 years, helping to disseminate the usage of the new media platforms to produce quality reporting. He is a co-founder (2002) of Abraji, the Brazilian Association for Investigative Journalism, now one of the largest organizations of its kind in the world. Rodrigues also coordinates the campaign for enforcement of the Brazilian Right to Access Law.
In 2007/08, Rodrigues spent a year as an International Nieman Fellow at Harvard University. He is also a member of ICIJ, the International Consortium of Investigative Journalism.
Rodrigues has an MA in International Journalism from the City University of London 1987.
As a candidate for the new board in GIJN, he says:
I think GIJN has a mission to spread out the good journalistic techniques. I worked together with the network right from the beginning and I feel this is the right moment to make it more professional and capable of performing more in different countries at the same time.

I am an enthusiast of data driven journalism but also of good journalism in a broader sense. The media is going through a very disruptive time because of the rise of the internet and the near collapse of the old journalism business model that provided several platforms for investigative journalists to do their job in the past.

Since the changes in the journalism environment are global, I think GIJN has to play a major role in terms of training journalists, providing an extensive and reliable cross-boarder network for reporters to communicate with each other.

In 2013, I was involved with the organization of the Global Conference in Brazil. We had an audience of 1350 people from 93 countries in Rio. That conference made clear to me that we have an incredible demand to be filled. If chosen as a GIJN board member I expect to help the organization to face this challenge with many more events like the one we had in Brazil in 2013.