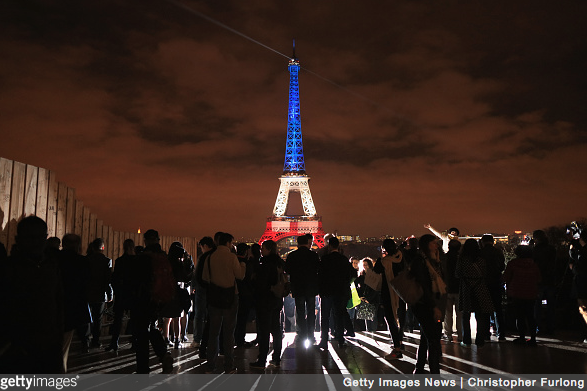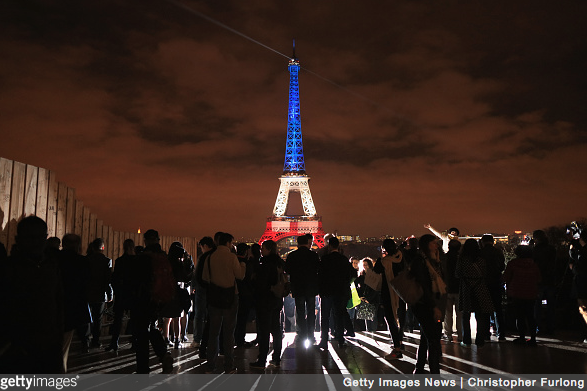 Friday, November 13, 2015 was a strangely balmy night in Paris, the kind that makes visitors fall in love with the city. People spilled out of the cafés, winding down the workweek over glasses of wine, their chatter and laughter creating a soft hubbub on the streets, as pedestrians sidestepped the crowds.
And then, in a few ghastly moments, everything changed. When the news first broke of automatic gunfire, there was a moment when some people, including me, thought that the idyllic evening had perhaps been shattered by a gang fight: unsettling, for sure, but outside our realm, and to be honest, our concern. Then came another attack, and another, and another, and another. Three teams of gunmen/suicide bombers rampaged through the 10th and 11th arrondissements, aiming their weapons at the sidewalk cafés, and into the packed auditorium of the Bataclan concert hall. They targeted the very heart of what people relish about Paris – the city's easy, flirty atmosphere tinged with flair, beauty and intelligence. In just two hours, in France's worst terror attack in history, 129 people lay dead; one more died later. And there was another casualty, too: the protective membrane that has long sealed us off from the realities just out of view, was punctured.
In the aftermath, Paris is a different place. "Changed" may be too strong a word, but the optic on our world has shifted. In a city usually swarming with tourists, many thousands of visitors have stayed away. Soldiers patrol the streets, rifles in hand. We instinctively open our bags before entering department stores, and spread our arms for magnetic wand searches. Inside, we take furtive glances around.
For those of us journalists living in Europe, those habits are not new, of course. Until now, however, many of us have largely used them in that other side of our reporting lives: In the field, rather than back home. Sure, there has been regular terror in Europe, including the Madrid train bombing in 2004, the London bombings in 2005, and on March 22, bombs in Brussels' airport and Metro system. Yet for years, many of us Europe-based correspondents have jetted in and out of gleaming airport hubs to far rawer datelines in Central Asia and the Middle East, covering this century's dominant narrative – hate and terror – before returning to our comfortable cities to catch our breath, and plan our next assignments. The two realities have allowed us to limit the risks, balancing them on a scale, and knowing that we could always opt to stay home, and stay safe.
But on November 13, the story finally made its way to our doorsteps. That might be why the Paris attacks felt deeply personal to so many, and why their impact in the news has been so amplified. As we swarmed into the Place de la République for huge vigils, the relatives of the dead, and the victims themselves, seemed like us, urban professionals who had been out having fun on a Friday night. A banner in the square under the Marianne statue, above the melted candles and withered bouquets, reads "même pas peur" – roughly translated as "we are not afraid" – a slogan that is surely as fitting for journalists as anyone else. The Paris attacks were not aimed at a particular nationality, allegiance, or even faith (several victims were Muslim). It targeted a way of life: ours. And unlike 9/11, or Syria, the attackers were not foreigners, sent by a far-off emir or conducting executions in the desert. They were born-and-raised Europeans, a few from the banlieues just a short train ride away, who looked their fellow Europeans in the eye and then shot them dead, before blowing themselves up.
With the dividing wall in our journalistic lives now breached, there is much to think about. We correspondents in Paris are left grappling with crucial questions about our work, sometimes within the press club for American and British correspondents, which now holds its monthly happy hour – on a Friday night – in one of the cafés where the gunmen murdered five people on November 13.
First question is how scattershot the reporting by English-speaking journalists is from the banlieues, where virtually none of us lives, and which many journalists probably visited just twice during 2015: after the Charlie Hebdo attacks in January, and in the aftermath of the November attacks. In the U.S., the erratic coverage has been made far worse in recent years as many news organizations have shut their Paris bureaus and let their stringers drift away.
Then there is the question of how we failed to grasp the major threats unfolding close by, even while we focused intently on the Syrian war thousands of miles away, and on the overwhelming migrant crisis it has spawned in Europe. After all, almost all the Paris attackers were known to police, either in France, or in Belgium, where most of them came from one tiny neighborhood.
Weeks after the attacks, TIME dispatched me to Brussels, a 90-minute train ride away, to try to understand how the devastating plot had been hatched under the noses of officials seemingly asleep on the job. I could stand in the office of the local mayor and look across the square into the apartment of some of the Paris attackers (all but one believed dead) before walking over and ringing their doorbells. It took Belgian police more than four months to corner that one fugitive attacker, on March 18, right in his neighborhood just a few blocks from the precinct. That was hardly the end of the story. Four days later, his accomplices blew themselves up in Brussels Airport and in a subway train, killing at least 31 people and injuring about 260 others. Once again, crowds of shaken residents huddled in a grand public square, grieving not only for the dead, but also for a lost insouciance – the high price paid for years of governments' slow-footedness. "It's like they were blind," one Belgian journalist told me, describing his country's officials. "They saw the screws on the Titanic, but not the whole ship."
That's easy to say, with hindsight. But the same might also be said for journalists, who had regularly quoted intelligence officials warning that a spectacular attack in Europe – somewhere, sometime – seemed likely. Now, those same officials are predicting an attack even bigger than Paris and Brussels. "It will have terrible consequences," one intelligence veteran tells me.
How we cover the next horrific attack will depend not only on our journalistic smarts. It will also rest on our editors' wavering appetites for the quiet lulls in between. With little demand from our news organizations to go deep inside communities, journalists often find themselves scrambling for sources, and understanding, when major news occurs – as it is sure to do again. The days of a big Paris foreign press corps might be gone forever. But if the attacks have proved anything, it is that Europe is no longer a place for frontline journalists simply to rest up before flying off to the next hotspot.
---
This story originally appeared on the website of the Overseas Press Club of America and is reprinted with permission.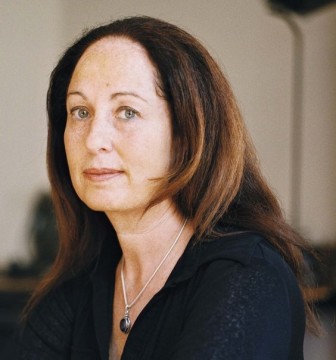 Based in Paris, Vivienne Walt is an award-winning foreign correspondent who has written for TIME Magazine since 2003 and is a roving correspondent for Fortune. A frequent speaker at GIJN conferences, she has reported from more than 30 countries, though wars, terrorism, revolutions and natural disasters. She is a board member of the Overseas Press Club of America. @vivwalt