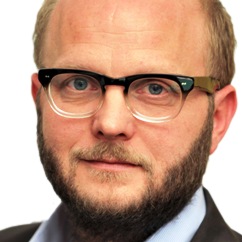 David Schraven (born 1970) leads the first investigative newsroom in Germany CORRECT!V as publisher.
After spending time at taz and Süddeutsche Zeitung he worked as a freelance journalist in the business and North Rhine-Westphalia departments of the Welt-group. While working as a guest journalist for Time Magazine, David was in New York on September 11th when the towers fell. He also founded the political blog "Ruhrbarone". Between 2010 and 2014 David was in charge of the "research" department at the Content Desk of Funke-Mediengruppe (WAZ/NRZ/WR/WP).
From 2007 till 2014 David was a member of the board of Netzwerk Recherche, Germany's association of investigative journalists. Since 2011 he has been responsible for its financial management. With more than 500 members, Netzwerk Recherche is one of the world's largest organizations for investigative journalists (and a GIJN member).
David received a number of awards. Among them the "Wächterpreis der Tagespresse" award for his investigation of the PFT-poison scandal at the Ruhr. He was awarded the Research Prize of the Swiss Wolfgang-Fichtner-Foundation for his work on fraud allegations against former state secretary Zülfiye Kaykin.
His graphic report on the German military's Afghanistan mission "Kriegszeiten" ("Wartimes") was nominated for the German Youth Literature Award. For overseeing the investigation on the downing flight MH17 he was awarded with Grimme Online Award.
David is a father of two sons. He lives in Bottrop, in the mining district of North Rhine-Westphalia.
As a candidate for the new board in GIJN, he says:
I would like to join the board of GIJN because I would like to strengthen this important organisation. I want to support its professional approach on a lot of issues.

GIJN should be able to

– initiate international cooperations, to follow the leads of international wrongdoers.

– start teaching online classes on new techniques and approaches in journalism, to get the most out of international cooperations.

– support international networking on a wide range of levels.

My aim as a member of the board of GIJN is to keep it open to a growing international community and to preserve its independence from governments and big companies, to reach the goals mentioned above.

Thank you very much for your support and your vote.