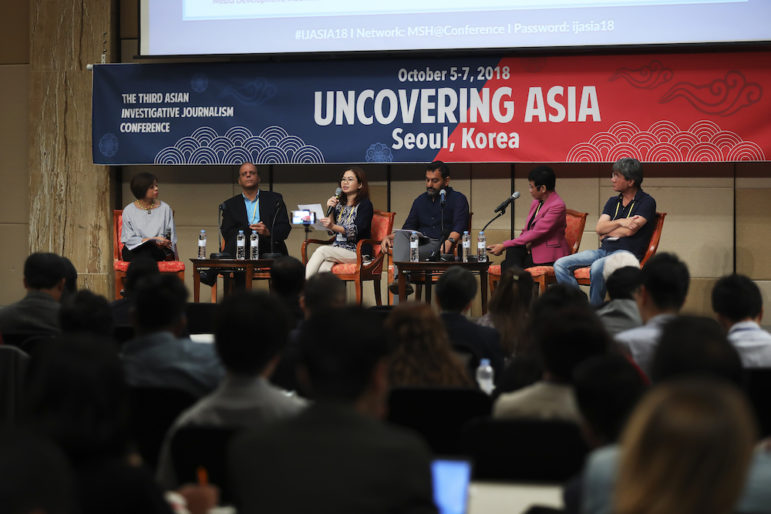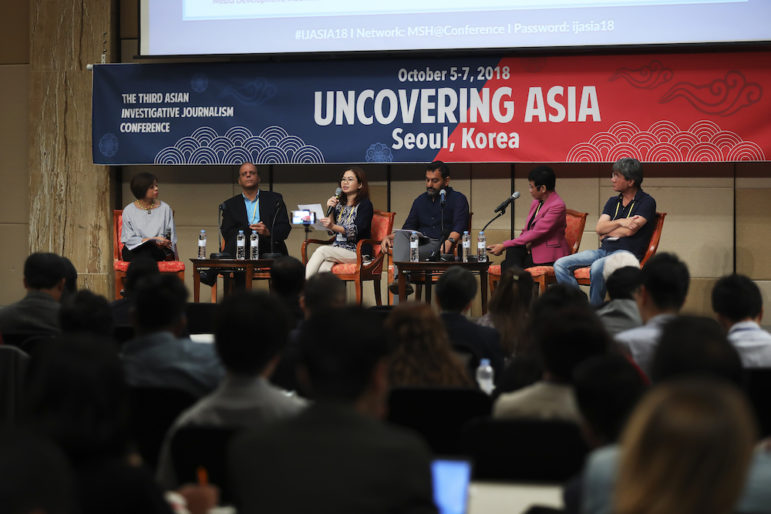 Nearly 440 investigative and data journalists from across Asia convened in Seoul this morning — the largest ever gathering of investigative journalists in the region. Uncovering Asia, the third Asian investigative journalism conference, completely sold out, with attendees from 48 countries, 127 speakers and more than 60 sessions.
"It's so great to see so many Asian muckrakers in one room," Sheila Coronel, academic dean of the Graduate School of Journalism at Columbia University, told the crowd at the Millennium Seoul Hilton. "It's an exciting time to be an investigative journalist, but it's also a very fraught time."
Coronel moderated the plenary panel, leading a discussion about the new landscape of threats, in the real as well as the virtual world. She introduced the five panelists from Pakistan, Indonesia, India, the Philippines and Malaysia as "shining lights of Asian journalism."
Zaffar Abbas, the editor of Pakistan's daily newspaper DAWN, spoke about a new threat in Pakistan and globally. It used to be, he said, that journalists would face government censorship, jail time and sometimes even death. Now he's noticing an attack not just on individual journalists but on the profession journalism itself. An atmosphere is being created "where people start to hate journalism, regarding it as evil, and that is where the real challenge lies."
In Malaysia, Steven Gan, co-founder and editor-in-chief of Malaysia's Malaysiakini, agreed. He spoke about how, several years ago, media companies were threatened, but the role of the journalist was not under attack. Now that's beginning to shift.
Eni Mulia, founder and executive director of the Indonesian Association for Media Development, spoke about the threat from within. With more than 47,000 media organizations and 100,000 journalists in Indonesia, Mulia is noticing how an increasing number of people with no media background are starting publications for their own business or political interest.
Sreenivasan Jain, managing editor of India's NDTV,  is seeing a similar phenomenon in India.
"The highest rated stations are propagandists of government and amplifiers of fake news," he said. "It's actually good business to be a crony media institution in India today. Media versus media is as big a problem as government versus media."
Shifting the Conversation
"Now let's talk about fighting back," Coronel said, bringing the conversation back to solutions. "There are many battles. What should our priorities be and what resources do we have in fighting these battles?"
Maria Ressa, CEO and executive editor of the Philippines' Rappler, discussed about how important it is to understand the role of social media giants, which have become the largest distributors of information. She talked about how journalists need to work with companies like Facebook, conduct their own digital forensics and constantly remind the tech giants how they are connected to the real — and not just the virtual — world.
Investigative reporters from the region will spend the next three days gleaning insights from their colleagues, gaining technological skills and collaborating across national borders.
After discussing the many ways that independent media is under siege in Asia and around the world, Ressa called for action. The time to fight is now, she said.
Gan ended the session with a sanguine reminder: "You can give your best to the world, and they can kick you in your teeth. Give your best to the world anyway."
---
Mariel Padilla is a data and investigative fellow at Columbia University's Graduate School of Journalism. Her work has been published in USA Today, Patch.com, FilAm Magazine, The Philippine Daily Inquirer and The Cincinnati Enquirer, where she contributed to the Pulitzer-prize winning project: "Seven Days of Heroin."