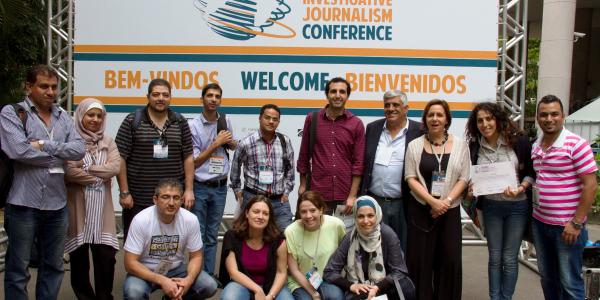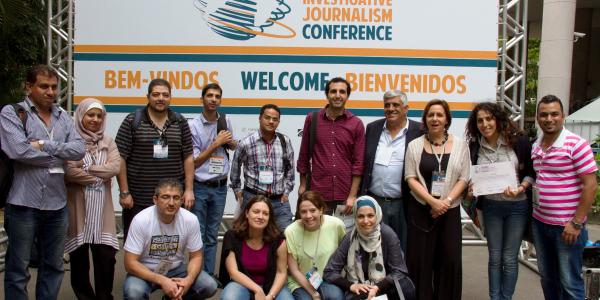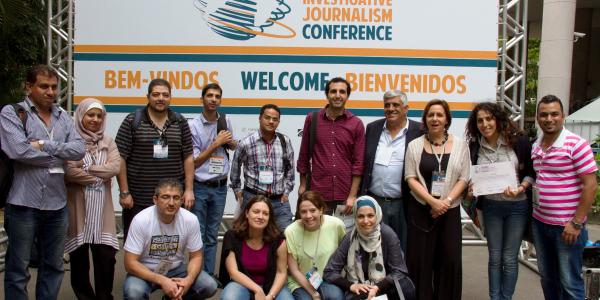 Journalists from across the Middle East and North Africa flocked to Rio for the Global Investigative Journalism Conference, joining more than than 1,300 colleagues from 92 countries.
Arab Reporters for Investigative Journalism (ARIJ), based in Amman, Jordan, was well represented, bringing its largest-ever delegation to the biennial global conference with 16 fellows and members. Since its humble beginnings in 2005, ARIJ has trained and supported hundreds of investigative reporters from Tunisia to Iraq in the vital skills needed to fight corruption, hold officials accountable, and encourage democracy.
At the Rio conference, ARIJ's speakers highlighted how rapidly investigative work is progressing in the region, despite the many obstacles posed to fact-based, public interest, accountability journalism. Among the panelists: Yahia Ali Ghanem (Egypt), who spoke on coping with stress; Hamoud Al-Mahmoud (Syria) and Hanene Zbiss (Tunisia) on covering societies in conflict; Maiadah Daood  (Iraq), on terrorism; and Musab Shawabkeh (Jordan) on his undercover investigations. ARIJ's executive director, Rana Sabbagh, spoke on a showcase panel on the state of investigative journalism in the Arab world.
Also at GIJC13 from ARIJ were its board chairman Daoud Kuttab (Palestine and Jordan) and board member Pia Thordsen (Denmark).
"One of the brightest stars in the GIJN universe is the extraordinary work being done by Arab Reporters for Investigative Journalism," said David E. Kaplan, executive director of the Global Investigative Journalism Network, one of three co-sponsors of the conference. "Against obstacles of every sort — dictatorships, military rule, civil wars and revolutions, onerous laws and censorship — ARIJ has made enormous progress in building a culture and tradition of investigative journalism across the Middle East and North Africa."
Other Arab countries represented at the conference included Lebanon, Qatar, Saudi Arabia, and Yemen.
---
A version of this story in Arabic is available on the ARIJ website.