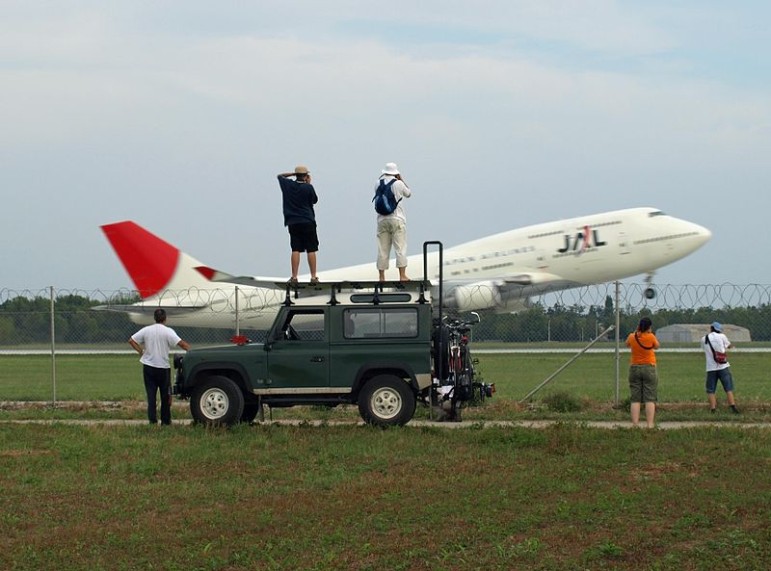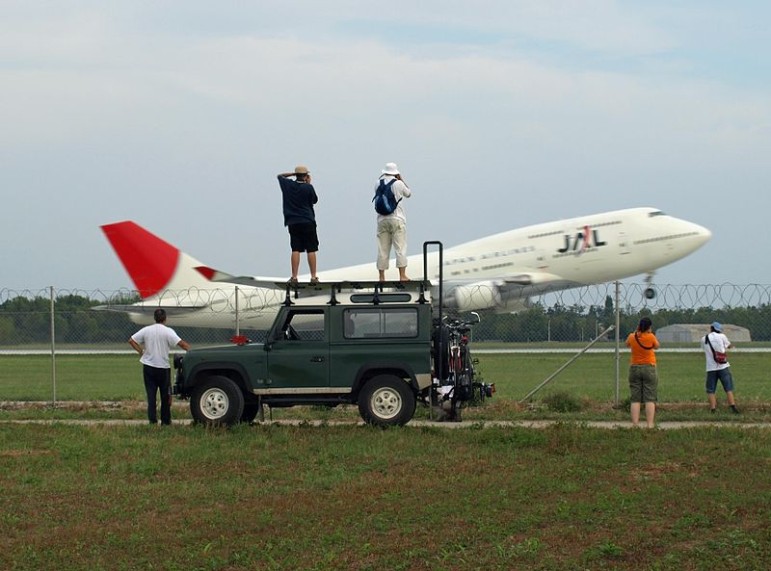 Planespotters with a 747 at Zagreb airport.
I became interested in planespotting some years ago, after viewing the clever video posted by the Tunisian blogger Astrubal, who put together planespotters' photographs of the Tunisian presidential plane's comings and goings.
Planespotters are hobbyists who have a passion for planes: they track, photograph and record aircraft takeoffs and landings, taking note of registration numbers and other markings. Some follow just particular types of aircraft, others just an airline or a national insignia. A lot of them take photographs of their sightings, and like other hobbyists, they post the photos online. The Open Directory Project lists nearly 60 websites that  collect planespotting pictures. Many of these sites have searchable databases, where one can search planes by make, airport sighted and, more importantly, by tail number.
Tail numbers are like license plates on cars: they're unique identifiers that are helpful for tracking where a plane has flown. With the help of planespotting sites, Astrubal  found out where the Tunisian presidential aircraft was seen between 2001 and 2007. He put the photos together in a video, superimposing them on a Google Earth map that indicated where the plane was sighted and when.  It was common knowledge in Tunisia that then President Zine el-Abidine Ben Ali hardly left the country, yet the presidential plane had flown to Paris, Milan, Geneva and other European capitals. As Foreign Policy reported, Tunisian bloggers recognized who the frequent flyer was: "First Lady Leila Ben Ali. She is an unabashed shopaholic, and it may be no coincidence that so many of these unofficial trips were to Europe's fashion capitals."
This was an innovative use of what's called "digital exhaust" – the information that people post online, whether these are videos, photographs, Twitter messages, etc. Individually these pieces of information may not mean much, but together, the data that they produce can be mined for meaning. In a society as closed as Ben Ali's Tunisia, where any damning information on the president and famously acquisitive wife was kept from the public, the planespotters helped open a window into the excesses of a desptic regime. (Wikileaks did that, too, for Tunisia, but that's another story.)
Planespotters have helped pry open other secrets as well. As the UK journalist Stephen Grey wrote in Ghost Planes, data from planespotting sites helped journalists piece together information on extraordinary renditions, where the CIA abducted suspected terrorists and  transported them to secret prisons around the world. Grey recounted how the publication in a Pakistani newspaper in 2001 of the tail number of an American used to transport a terror suspect to Yemen provided "the classic investigative fingerprint." Soon afterward, the Washington Post had a story on another rendition, with the tail number of Gulfstream V jet that was used to take an Al Qaeda suspect from Jakarta to Cairo.  Grey, Washington Post reporters and Swedish journalists traced the tail numbers to aircraft registries, which led to the names of the bogus companies that the CIA had set up to carry out the renditions.
"Across Europe there were spotters who spent every bit of their spare time sitting in the cold at the fence outside airports and keeping note of every movement of every plan," Grey wrote. "And they would also take pictures of each new plane and publish them on the Internet… The result was a series of sightings and snatched pictures of the CIA Gulfstream V [that moved prisoners around the world]."
Many of the spotters used scanners that allowed them to listen to air traffic transmissions as well as flight-tracking software that made their  data more reliable. In addition, journalists dug into  the flight plans published on Internet sites like Flight Explorer and FlightAware, which get their data from the Federal Aviation Authority in the U.S. Grey also had a secret source in air traffic control in an unnamed location who provided more information. Reporters matched the information from renditioned prisoners with the flight data. piecing together an account of the secret airline that the CIA had run to transport suspected terrorists to so-called black sites. (See this excerpt from Ghost Planes for more.)
For sure, the information from planespotters is spotty and not as reliable as that from aviation authorities  (the site landings.com links to aviation authorities worldwide). But where other information is scanty, unavailable or deliberately  hidden, planespotting sites become especially valuable. They're also easy to use. In Hong Kong, Next Magazine used planespotting sites to prove that the then chief executive, Donald Tsang, had flown to Japan gratis on a plane provided by controversial  Macau casino king Stanley Ho.
Tracing where planes go is not an idle hobby. In 2005,  the Wall Street Journal joined two databases: flight records and golf handicaps posted on the websites of golf associations. (Golf handicaps were then posted online to deter cheating.) Its reporters found that  corporate jets were being used "as airborne limousines to fly CEOs and other executives to golf dates or to vacation homes where they have golf-club memberships."  Last year, the Journal got through a freedom-of-information request the flight records of every aircraft  on the Federal Aviation Authority's database; it found corporate jets being flown to such places as Tahiti, where top Google executives went to watch the total eclipse of the sun. The Journal posted an interactive map that shows the flights of corporate jets from 2007  to 2010. Unfortunately, some companies have since asked the FAA to bar public access to the flight records of their corporate planes, making it harder for shareholders to track how company funds are being used (or misused).
Sheila Coronel is director of the Stabile Center for Investigative Journalism at Columbia University. This is reprinted from her blog, Watchdog Watcher.