Large bribes paid to public officials are difficult to track. Hardly ever are the bribes delivered in suitcases of cash  – although that has been known to happen. More often than not, bribes are paid through bank transfers made to "corporate vehicles" – companies, foundations and trusts – that have been set up to conceal illegally acquired wealth. As The Puppet Masters, a recent study by the World Bank, says, there's a whole industry of  "service providers" – law firms, notaries and secretarial companies – that exists mainly to help clients hide  illegally acquired assets by setting up companies and other structures that obscure their real ownership.
Here are some more inspired ways to commit grand corruption, drawn from cases found in The Puppet Masters database:
5. Receive payments through  "marketing advisers" and have your travel, accommodations, security services, personal shopping and your daughter's honeymoon paid for by the bribing company's travel agent. In 2010, BAE Systems, the British arms company, paid the U.S. Department of Justice $400 million, the largest ever criminal fine for international corruption, for payments it made over many years to members of the Saudi royal family. BAE had sold fighter jets to Saudi Arabia, but investigators alleged that to seal that deal, BAE, through a British Virgin Islands company, paid a network of marketing advisers who in turn set up offshore shell companies that transfered millions in illegal payments to bank accounts around the world. The Guardian, which has spent years investigating BAE, says s £1 billion was paid over a decade to Prince Bandar of Saudi Arabia, who was the country's longtime ambassador to the U.S.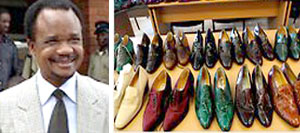 In addition, travel agent Peter Gardiner told investigators that BAE had given him a slush fund to pay for shopping sprees, chartered jets and luxury accommodation for the prince and his family, including his daughter's round-the-world honeymoon trip. BAE also presented the prince on his birthday a "top of the range, four-engine Airbus 340, worth £75m [that] was painted in the silver and blue colors of Bandar's favourite American football team, the Dallas Cowboys."
6. Buy a bank in the Caribbean and use it to launder stolen wealth. This is exactly what Pavel Lazerenko, the former prime minister of the Ukraine, did. Convicted in the U.S. of money laundering, Lazarenko bought the European Federal Credit Bank in Antigua in 1997 and used it to open correspondent accounts with U.S. banks and investment firms as well as banks in Lithuania, Liechtenstein, Switzerland and elsewhere. Some $100 million was alleged to have cycled through those accounts, which were used to launder illicit funds. Those accounts were in the names of shell companies that Lazarenko had set up.
7. Receive  payments for nonexistent services. Three U.S. telecommunications companies bribed officials of Haiti Telco, the Haitian state-owned phone company, in exchange for discounts on overseas phone calls. The scheme deprived Haiti Telco of revenues it would otherwise have made from those calls. As described in The Puppet Masters, the bribes were made through wire transfers and check payments to intermediary shell companies. The payments were invoiced by Haiti Telco as being made for consulting services, commissions and vendor payments, none of which actually existed. Instead, the money went to Haiti Telco officials and their relatives.
8. Get protection money from illegal gambling and hide it in a foundation. Philippine President Joseph Estrada received nearly $12 million in kickbacks from illegal gambling operators. The money was given to him regularly, in cash stashed in suitcases, according to testimony in his impeachment trial. Part of the funds were  deposited in the bank account of the  Erap Muslim Youth Foundation, which he had set up to help educate Muslims in the Southern Philippines.  The money, however, was not used for that purpose.
Ferdinand Marcos also set up foundations to launder ill-gotten wealth when he was president of the Philippines. So did the former Indonesian President Suharto, who set up the Supersemar Foundation, supposedly to provide scholarships for poor students. Instead, as a Jakart court ruled in 2009,  some of the funds were used to finance the businesses of Suharto's children and cronies, including the purchase of an airline for his son Tommy.
Sheila Coronel is director of the Stabile Center for Investigative Journalism at Columbia University. This is reprinted from her blog, Watchdog Watcher.