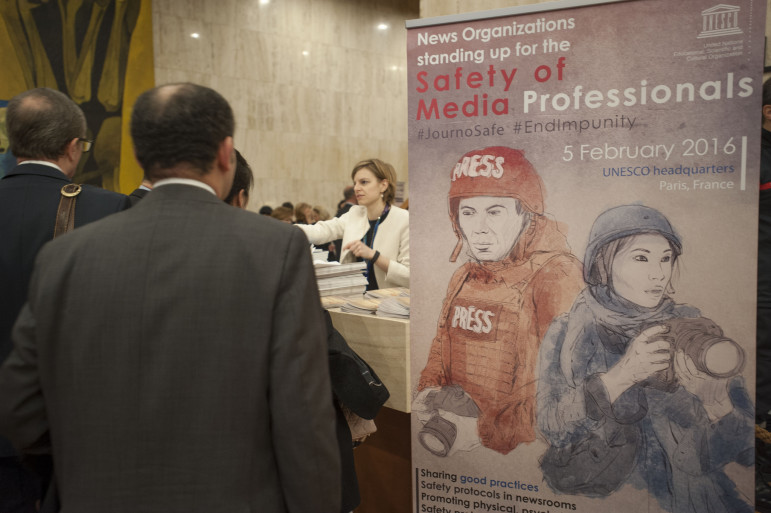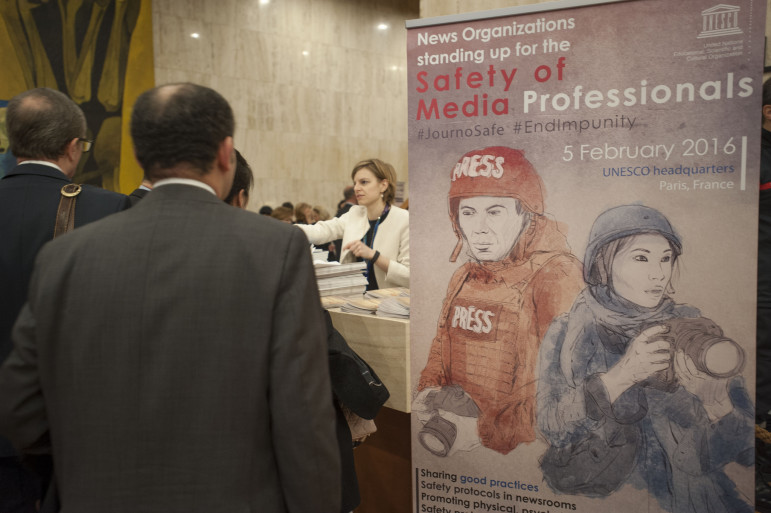 Photo: UNESCO/P. Chiang-Joo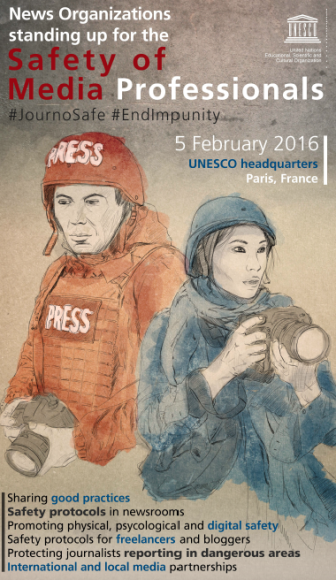 Editor's Note: The International Women's Media Foundation prepared this report, An Overview Of The Current Challenges To The Safety And Protection Of Journalists, in support of a UNESCO meeting last week, News Organizations Standing Up for the Safety of Media Professionals." GIJN is grateful to the IWMF for letting us excerpt the sections below, on safety practices and recommendations. The full report is available here.
---
Current Safety Practices and Guidelines, and the Gaps for Journalists' Safety
Recently, there has been a concerted effort to improve safety for journalists by media professionals across the world. Several media development organizations are dedicated solely to the issue of journalists' safety. Appendix A includes a consolidated list of organizations working on this issue, although it should be noted that many others are also engaged on this topic. Leading media professionals have collaborated to create guidelines and initiatives. This report does not seek to replicate those guidelines, but to briefly highlight them in order to illustrate what has been and is being done on the issue of journalists' safety and to shine a spotlight on areas where change is needed.
Two complementary safety guidelines were created and disseminated in 2015 by media professionals who are dedicated to journalists' safety: The Culture of Safety Task Group's Global Safety Principles and Practices for Freelance Journalists and News Organizations and the International Declaration on the Protection of Journalists for Nations and News Organizations. These guidelines follow the Organization for Safety and Cooperation in Europe (OSCE) Vilnius Recommendation on Safety of Journalists and the Resolution of the African Commission on Human and Peoples' Rights (ACHPR) on the Safety of Journalists and Media Practitioners in Africa, both published in 2011.
In addition, some media organizations have come together within national borders to develop safety measures. For example, Pakistani media leaders met in November 2015 to discuss journalists' safety nationally and produced a list of guidelines, which include having designated emergency contacts inside the newsroom, mandating first aid training for journalists, and holding security briefings before embarking on risky assignments.
What follows is a brief summary of these guidelines and the challenges that remain for implementing them. Media professionals are encouraged to review these guidelines at length and incorporate them into their organizational strategies.
I. Culture of Safety Global Safety Principles and Practices
The Culture of Safety's Global Safety Principles and Practices were unveiled in February 2015 specifically with freelance journalists in mind; however, aspects of the guidelines are incorporated by some media organizations for all employees. Seventy-seven organizations signed on and committed to practicing these guidelines. The guidelines provide recommendations for both freelance journalists and media organizations. Suggestions for journalists include safety measures such as completing hostile environment and first aid training and conducting thorough and regular risk assessments. It also includes limited guidelines for collaborating with news organizations. Recommendations for news organizations included guidelines for contracting in-country and freelance journalists, which included providing safety training and equipment, factoring into budgets additional costs freelancers may bear, giving freelance and local journalists fair recognition for their work, and taking equal responsibility for a freelance or local journalist's well-being when publishing their work.
The Culture of Safety group expanded its guidelines in October 2015 to propose additional initiatives related to journalists' safety. These initiatives included researching the possibility of a freelance insurance pool, sharing security information across media organizations, proposing safety training standards, increasing access to and awareness of security trainings for freelance journalists, and adopting anti-discrimination policies.
II. International Declaration on the Protection of Journalists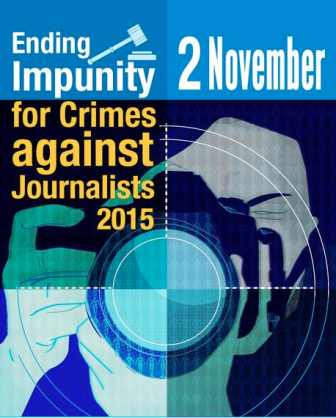 The International Declaration on the Protection of Journalists was released in December 2015 as a complement to the Global Safety Principles and Practices. The Declaration focused on the responsibilities of governments and relevant institutions to protect journalists and offered best practices for media organizations that highlight steps they and their staff can take to create safer conditions for media workers.
The Declaration reiterated that responsibilities of governments and relevant institutions should include treating crimes and threats against media professionals as human rights violations. The document emphasized the government's responsibility to ensure the safety of journalists. In addition, the Declaration detailed the rights of journalists and decried violations of those rights and interference with reporting. The Declaration stressed that nations should take appropriate measures to prevent violence against journalists and hold perpetrators of violence accountable for their crimes.
The Declaration also offered several recommendations for news organizations and journalists, including the recommendations that media organizations should adopt effective safety protocols for journalists; increase access to high-quality safety training, which includes digital safety, trauma, and environmental hazards; develop tools and procedures aimed at ensuring the physical, psychological, and digital safety of journalists; maintain credibility and independence of media and practice ethical journalistic standards; and put the Global Safety Principles and Practices into effect. In turn, journalists should understand international and national laws, as well as international human rights standards and principles. The Declaration also recommended dedicating attention and implementing appropriate measures to gender-specific safety concerns that affect women journalists.
III. Challenges and Barriers to Implementation of Best Practices
Despite strong and well-considered recommendations to improve journalists' safety, challenges remain. Because all of these guidelines are voluntary, news organizations, media professionals, and other stakeholders must work to encourage and adopt these practices.
As described above, media outlets often fail to apply the above practices in their work with freelance journalists. Media organizations may not know what security training freelancers have completed, so they cannot guarantee use of standard safety procedures and precautions. Organizations may not be willing or able to cover the additional costs for working with freelance journalists according to the practices listed above. In addition, some media organizations fear legal risks and obligations in taking responsibility for freelancer safety. To address these challenges, media organizations may want to consider more formal policies or guidelines when contracting freelancers.
IV. Security Policies and Protocols at News Media Organizations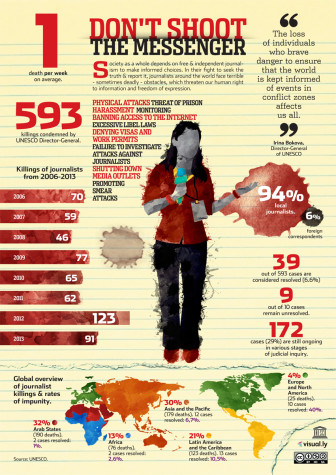 Most media organizations worldwide do not have an explicit set of policies for security. In many cases where policies exist, journalists are not aware of or have not been involved in either formulating or evaluating them.
However, many news organizations are working to improve their security policies to address a greater range of risks, including digital security threats. Some policies include the following protocols:
• Risk assessments conducted before assignments by regional managers, dedicated security advisors, and directors. These often include emergency communication protocols for when staff are in the field.
• A dedicated editorial safety team. This would be made up of a manager and a security advisor who devise security protocols for journalists who work in high risk environments.
• High-level editorial approval for risky assignments. Some organizations do not allow staff to pursue assignments deemed too dangerous.
• Provision of security equipment. Ensuring that journalists have appropriate tools to conduct their work and respond to emergencies, including satellite phones, medical kits, and body armor.
• Mandatory insurance. This may apply to staff journalists only. Many media development organizations and international task forces on journalists' safety have pressed for media organizations to not commission work from uninsured freelancers.
• Social media and digital policy. Some organizations may be unwittingly putting their reporters in danger by insisting on an active Twitter or Facebook presence despite the increased vulnerability to harassment online.
• Treatment of stress and trauma. Some of the bigger and better-funded organizations have set up confidential hotlines or provide therapist referrals for staff experiencing emotional stress from their work. These outlets are moving towards creating a newsroom culture that removes the stigma sometimes associated with seeking psychological help. Managers or counselors might debrief staff after difficult assignments and create a system where colleagues look after each other, know how to spot signs of emotion turmoil, and know when to encourage treatment and lend support. NGOs and journalist unions provide these services in some countries, but media owners and leaders must work to ensure the well-being of their staff.
Some news organizations engage in constant monitoring and revision of their safety policies, updating them regularly to address new needs. But many policies fall out of date, or are put on paper but not into practice. Many media organizations do not have policies in place on journalists' safety at all, or their policies are vague and do not make real commitments. In addition, while some media organizations have security policies that include specific best practices for women journalists, many fail to include risks with unique gendered components.
Organizational policy varies in its treatment of emergency situations and high risks encountered by its staff. Some organizations may temporarily or permanently relocate a journalist, reach out to appropriate groups or authorities to address the threats, or take action to promote public awareness of the problem.
V. Security Training
Training relevant to journalist security includes:
• Hostile environment, often conducted by ex-military personnel. This sometimes includes modules on civil unrest and war.
• Risk analysis and contingency planning.
• Situational awareness.
• Emergency first aid.
• Kidnapping and hostage negotiation.
• Natural disaster preparedness. (Response to earthquakes, epidemics, hurricanes, etc.)
• Digital security, including encryption methods and general cyber hygiene.
• Psychological and emotional self-care.
News organizations vary in the types of training they offer. Some organizations, like Reuters, have in-house hostile environment courses. Some do not offer training at all. Few provide comprehensive training, and even fewer offer refresher courses.
VI. Digital Security
While some news organizations have policies on digital security and offer training to secure communications, many organizations do not. In addition, there is scant legislation on a national or international level that adequately addresses digital harassment. In many cases, law enforcement agencies simply issue a report and take no further action.
Digital harassment is an increasingly frequent occurrence that has forced journalists to abandon stories or even the profession. This type of intimidation is especially acute for women journalists, who often face graphic rape and death threats that include personal details when they publish work online. Some large online companies such as Facebook, YouTube, Instagram, and Twitter widely used by journalists have clauses against harassment and cyberbullying in their Terms of Service. For instance, YouTube, Facebook, Instagram, and Twitter all advise victims of harassment to block and report the offending users, and report to law enforcement if the situation escalates. These measures are limited in scope, however, and do not contain guarantees that harassers will be punished. If they are removed, harassers may simply create different accounts or use new IP addresses. These measures do not include assistance for journalists encountering other types of online harassment, such as doxxing.
In addition, these policies do nothing to help protect journalists on sites such as Reddit or 4chan, which tolerate hostile postings, especially towards women, or in the comments section of online news sites.
Recommendations and Next Steps
The IWMF offers suggestions of next steps and guidelines for those invested in the issue of journalists' safety. We hope that this will lead to discussion of creative and concrete solutions during the upcoming conference.
I. Ending Impunity
The top concern cited in this paper is ending impunity for crimes against journalists. Gabriela Manuli of the Global Investigative Journalism Network (GIJN) stated, "This should be a top priority of civil society, professional organizations, governments, and multilateral institutions worldwide."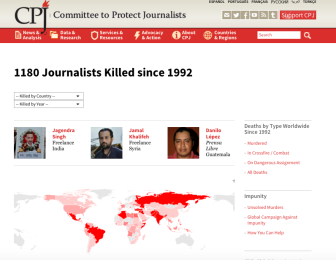 CPJ continues to update its Impunity Index each year, and UNESCO issues annual reports on impunity – alternating between its report on World Trends in Freedom of Expression and Media Development, and the Director-General's report to the International Programme for the Development of Communication. There is consensus in the industry that UN member states should adhere to laws and Security Resolutions that on paper protect freedom of speech, including Article 19 of the Universal Declaration of Human Rights, Security Council Resolution 1738, and Article 79 of Additional Protocol I of the Geneva Conventions; however, not all UN member states prioritize implementation of these laws.
Governments must make press freedom a priority. One idea circulating in the industry is to "name and shame" offending governments within the United Nations. Otherwise, they will continue to endanger journalists with impunity.
Member states with poor records of implementation should be pressured to create legislation or reforms that improve freedom of expression. Journalists and media development organizations are often limited in their ability to hold accountable governments that silence, threaten, or harass journalists. This may include partnering with unaffiliated legal professionals or media advocacy groups to support journalists who have been unfairly arrested or detained. In this way, the fight for press freedom by journalists is part of the fight for ensuring the conditions for safe journalism.
Professionals interviewed for this report recommended improving the track record and reporting mechanisms for countries reporting on journalists' safety, pushing for greater transparency in the treatment of and value of the press and focusing on diplomatic and political attention to the issue.
II. Protective Measures, Policies and Resources
News professionals must act to ensure greater responsiveness by states and the international community to the lack of protective measures for journalists and the crisis of impunity. They can cover instances of threats and violence against journalists in greater depth and volume, as well as engage in direct advocacy for raising awareness with those actors who have influence and power to make change.
When considering security protocols and policies and resources made available to journalists, organizations must consider the unique implications of attacks on female journalists. This might include providing medical kits for injuries inflicted during sexual assault, self defense training, and creation of a corporate culture where reporting sexual harassment or violence is encouraged.
III. Training and Access to Medical Resources
There is also a significant demand for digital security training, mental health resources, and access to emergency assistance, both physical and psychological. Media professionals must encourage news organizations to subsidize or cover hostile environment and first aid training for all journalists, including freelancers and local staff. In addition, news organizations must develop and deploy enhanced security protocols for journalists working in hostile environments or covering dangerous topics. Most journalists killed while reporting are local journalists covering crime, corruption, or business practices; media professionals recommend an increase in both physical and digital security training in country.
Media organizations need to do a better job addressing physical trauma on journalists working in dangerous environments and providing them with the support and medical resources they need.
Newsroom leadership should be more proactive in addressing the psychological wellbeing of journalists covering hostile and dangerous environments. Managers should advise staff and freelancers about access to affordable and appropriate counseling should they choose to seek it. Management should create a newsroom culture where colleagues are briefed about the signs of trauma and know how to act.
Newsroom managers should be sensitive to the fact that social and online media use can lead to harassment of journalists. Some journalists may limit their online activity or delete their online accounts to avoid such treatment.
IV. Equipment and Other Resources
Many freelancers and local journalists do not have access to health or equipment insurance or equipment such as body armor, medical supplies, and satellite telephones. News organizations should consider mandating comprehensive insurance for journalists working in dangerous places and make sure they have emergency contacts and protocols.
Organizations should also consider covering costs for protective measures like insurance and training. Organizations should also be encouraged to find creative solutions to promote journalists' safety. Many media development organizations offer assistance to help news organizations and individual journalists create processes and protocols, tool boxes, and training. Journalism schools should add instruction related to media law and security, especially focused on digital security, if these curricula do not exist already. In addition, journalists should become familiar with international laws and human rights standards, as well as national laws and the cultural, ethnic, religious, historical, and political contexts of the countries or regions in which they are working.
***********************************************************************
All professionals in the media and media support arena should be actively working to protect journalists. The media industry must take more responsibility for staff safety, especially for contract freelancers and support staff such as fixers, translators, and drivers. Media organizations should not send staff to potentially dangerous environments without proper insurance, equipment, training, and compensation. To ensure the best implementation of journalists' safety measures, media organizations must collaborate and share resources and best industry practices.
---

This report was written by Cassie Clark of the International Women's Media Foundation and edited by Judith Matloff of Columbia University and Alana Barton of the IWMF, with additional input from Elisa Lees Muñoz and Pilar Frank O'Leary of the IWMF.  Reprinted with permission from the IWMF.