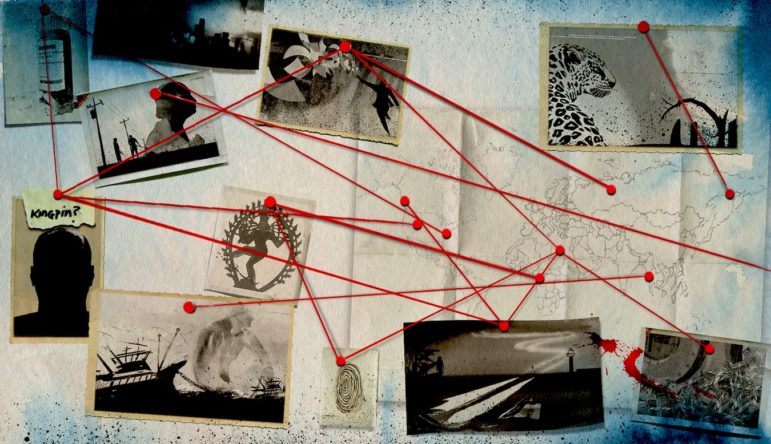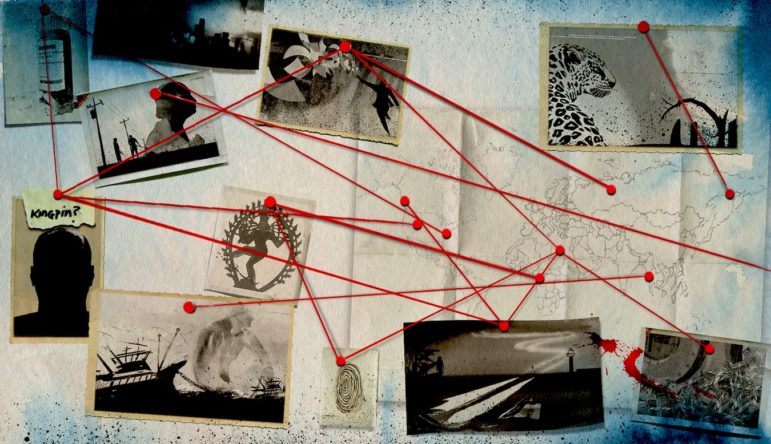 Understanding the Methods of Today's Organized Crime Is Key to Exposing It
The structure of organized crime has improved significantly, leaving investigative journalists to play catch up in reporting on the underworld, according to Paul Radu, co-founder of the Organized Crime and Corruption Reporting Project (OCCRP).
Speaking at the 12th Global Investigative Journalism Conference (#GIJC21) session on "The New Organized Crime," Radu said that today's criminal syndicates are able to take advantage of technology and replicate the appearance of legitimate businesses around the world. Radu was one of three experts on the panel who contributed to GIJN's new Reporter's Guide to Investigating Organized Crime, just launched during GIJC21.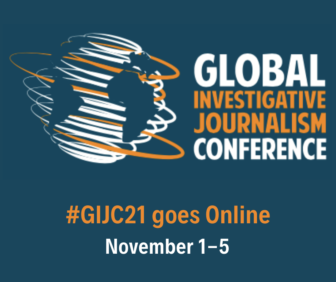 "If you look at organized crime, what you see is that they are well organized across continents for the past decades," he said. "Sometimes, we look back at trafficking networks and human smuggling networks that were started in the 70s, or in the 60s, and they are still going strong. What this means is that the criminals build infrastructure over a long period of time while journalists — our collaborative time of reporting has been built only in the past 15 years in a manner that really corresponds to the public's needs."
Citing examples of work by OCCRP, Radu said journalists have only started to understand the reach of organized criminals in the last five years. In deconstructing these illicit global networks that continue to undermine democracies and affect lives worldwide, he said journalists must understand that organized crime crosses not only physical but digital borders.
Also, these criminal groups do not constrain themselves to just one or two illicit activities but involve a broad spectrum of crimes. "You might see drug traffickers that used to do drug trafficking in the 80s being involved in large-scale money laundering and offering the services to other criminal groups," he explained. "So there are interconnections between groups that work with each other and do all sorts of crimes."
Criminal syndicates even have "angel investors" now, noted Radu, who wrote the criminal finance chapter of GIJN's organized crime reporting guide. That is a group of older, successful criminals who have begun to fund others' illicit activities for greater profit. "It is really important to understand the criminal services industry and the whole universe around crime and corruption," he noted.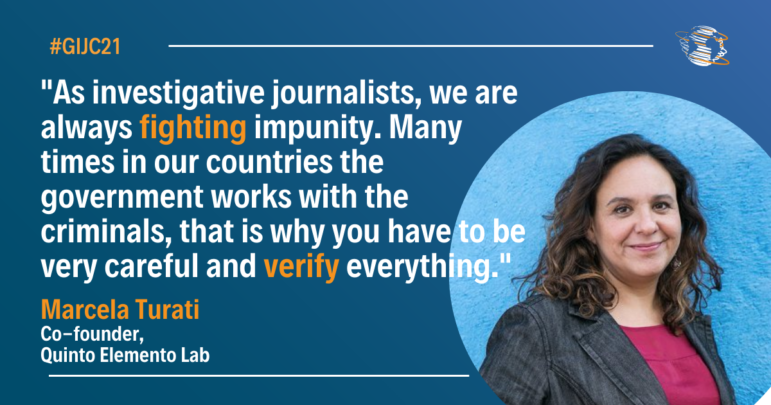 Similarly, Marcela Turati, co-founder of Quinto Elemento Lab, said organized crime groups seek to control the economy, natural resources, and the people in their sphere of influence. To maintain this control, she said, criminal organizations turn to making people "disappear." Turati, who has reported for two decades on missing people in  her native Mexico, wrote a chapter on disappearances for the organized crime reporting guide.
She said these crimes go on for so long because often government officials, including security agencies, too often act as accomplices. As a result, journalists who are investigating cases of disappearances must be thorough in gathering information, and careful with whom they rely on as sources.
Organized crime is not limited to activities that cause direct harm to people, either. It can also involve crimes against culture via trafficking of stolen art or looted artifacts.
Donna Yates, an associate professor at Maastricht University in the Netherlands, said illicit trading in these types of objects can cause social harm and obliterate culture, adding that the "plunder of cultural objects has been a hallmark of dominance and control for millennia."
Yates, who authored the GIJN guide's antiquities trafficking chapter, said the impact of this trade can be more subtle than other criminal activities. As a result, investigating these crimes requires more scrutiny to understand the full complexity of the subject matter.
"To be clear," she continued, "there is no black market in antiquities. There is no white market in antiquities. There is one antiquities market and it is a gray market."
She said the antiquities trade is an exploitative system that takes heritage objects from the hands of the many and places them in the hands of the few.
All three speakers noted common themes in their presentations. Criminal finance,  antiquities trafficking, and forced disappearances all make use of digital technology and  the criminal services industry — an array of front companies, money launderers, and brokers that support criminal enterprises around the globe. Understanding these methods and structures, they stressed, is crucial to exposing them and the harm they cause.