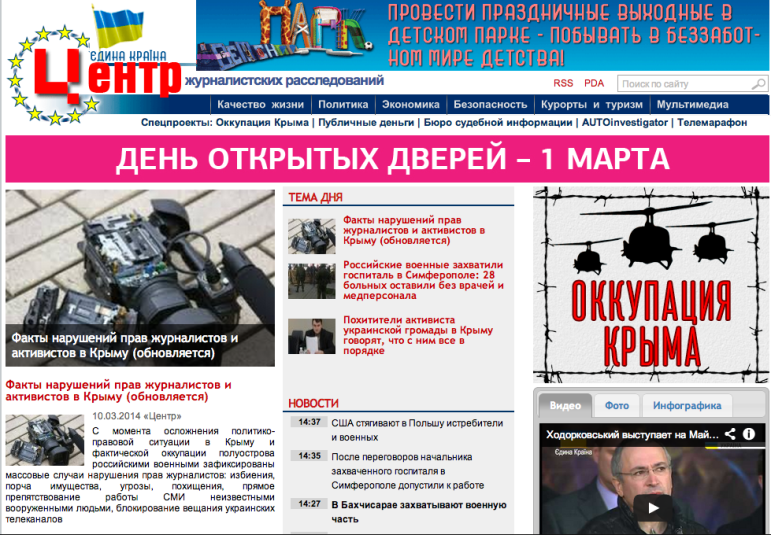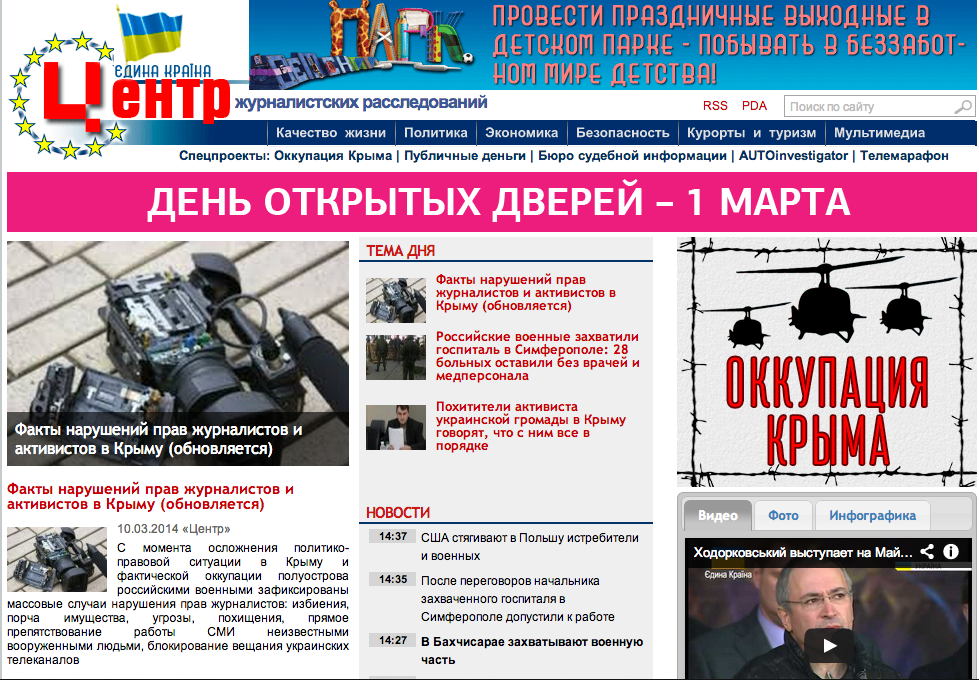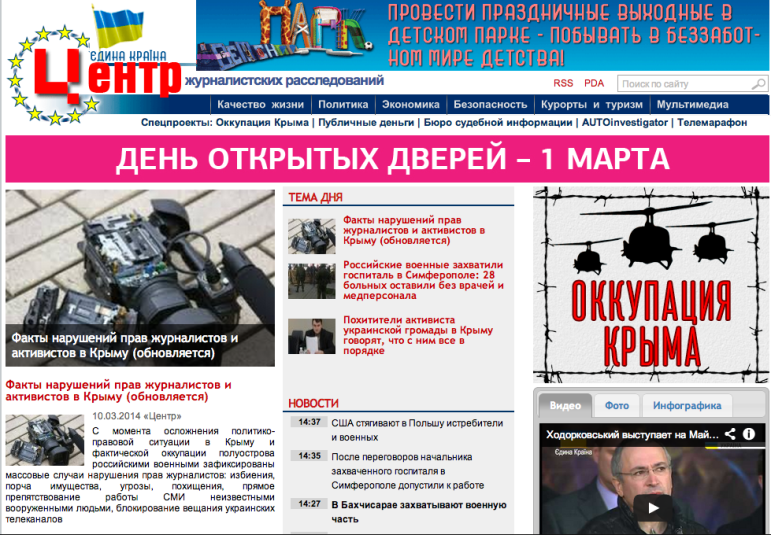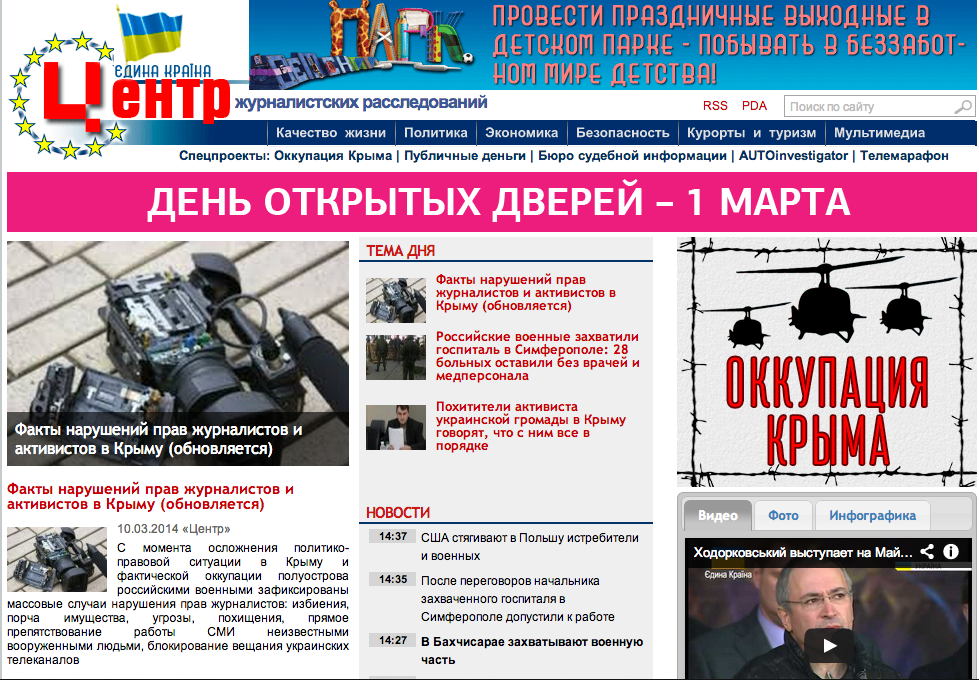 We have several reports on Ukraine today. First, some good news: GIJN's member in Crimea, the Crimean Center for Investigative Journalism, is back in its office after vigilantes seized it on March 2. Spurred by the attack, GIJN worked with the Internet Archive to back up its site, and now we've helped preserve seven more independent media sites in Ukraine. And then there's the bad news: attacks continue on the media there, chronicled in a harrowing list of incidents compiled by the Crimean Center.
Anna Lukinova, development director of the Crimean Center, reports for GIJN from Simferopol:
The Crimean Center for Investigative Journalism is fine. On 2 March, our office was captured but then it was released.
On 3 March, "Chernomorskaya" TV Channel, where our "National Security Issue" TV program has been broadcasted, was switched off analog broadcasting. By now, all Ukrainian TV channels were switched off analog in Crimea. So we are shifting to online. Currently we are launching daily online marathons from our TV studio, including our program and other own produced content, online broadcasts of events taking place in Crimea and other regions of Ukraine, interviews and discussions with experts and civil society leaders, online bridges etc. Our audience has increased by 375% and now it averages to 15,000 unique visitors per day.
Besides content production, we are also working to help foreign journalists coming to Crimea. We organized an international media center in our office and are providing all kinds of information and organization support, as well as legal counseling.
The situation regarding journalists' security is getting worse every day. The head of the Sevastopol Bureau of Investigative Journalism, Tatiana Rihtun, received a blow on her head and her camera was taken off by pro-Russian activists (so called "vigilantes"). Several foreign journalists were also beaten up and their equipment was seized (e.g., a team from Bulgaria lost all of their TV equipment). Yesterday several Ukrainian journalists and activists were stopped at a checkpoint organized by pro-Russian activists at the entrance to Crimea (near Krasnoperekopsk) and then then they disappeared. Now it has become known that they were in the police department in Sevastopol.
The Crimean Center has chronicled these and other incidents in a troubling, 11-day list of attacks and acts of harassment against the media in Crimea. "The situation with independent media in Crimea is very tough," says GIJN's representative in Kiev, Oleg Khomenok.
The initial attack on the Crimean Center's offices — by masked, armed men on March 2 — prompted GIJN to ask for help from the San Francisco-based Internet Archive, a nonprofit which works to preserve the online world. Using its Archive-It service, the Internet Archive backed up the center website's entire publishing history. The story helped draw global attention to the growing problem of attacks on Crimean media (including a segment on National Public Radio's On the Media, Calling for Backup).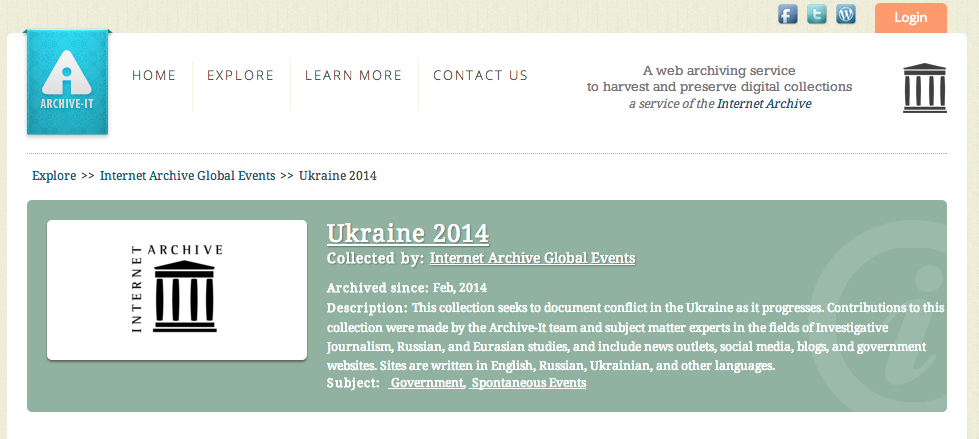 We are now pleased to announce that the Internet Archive has preserved the full sites of seven other Ukraine websites supporting independent journalism, including text, photos, and videos. Among them are a second investigative journalism center in Crimea and the newly formed YanokuvychLeaks project, a team of journalists in Kiev poring through more than 100,000 documents left behind by the Ukraine's fleeing ex-president. The Internet Archive's backup effort preserved 29 gigabytes of material from 400,000 URLs.
The groups include:
In addition to those sites, the Internet Archive, at the request of scholars, has preserved another seven sites from Ukraine, including key Twitter feeds and websites of the Ukrainian government:
"At its heart, the Internet Archive is both a demonstration of what society could do towards opening knowledge for all, and an ongoing invitation to collaborate in fulfilling that goal," explains Roger Macdonald, head of the Internet Archive's TV division. "We are honored to join the Global Investigative Journalism Network in helping them shine lights into the dark corners of ignorance where tyranny thrives."
We couldn't have said it better ourselves.
---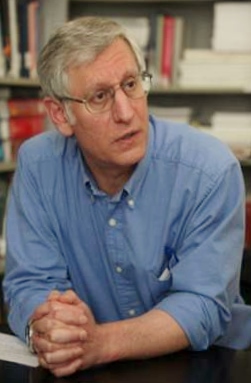 David E. Kaplan is executive director of the Global Investigative Journalism Network, which co-sponsors the biennial Global Investigative Journalism Conference. He is former director of the International Consortium of Investigative Journalists, a senior editor at the Center for Investigative Reporting, and chief investigative correspondent for U.S. News & World Report.