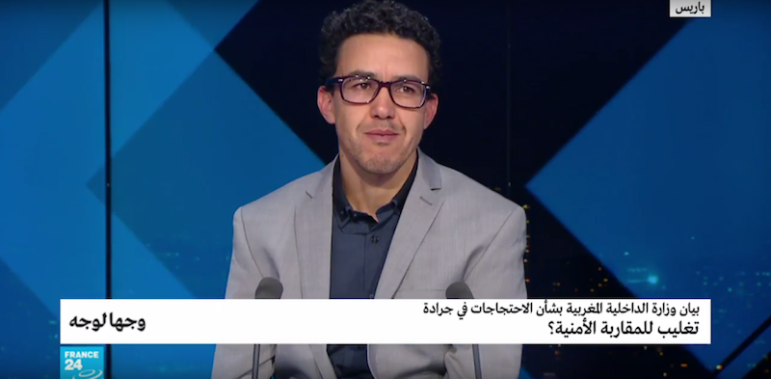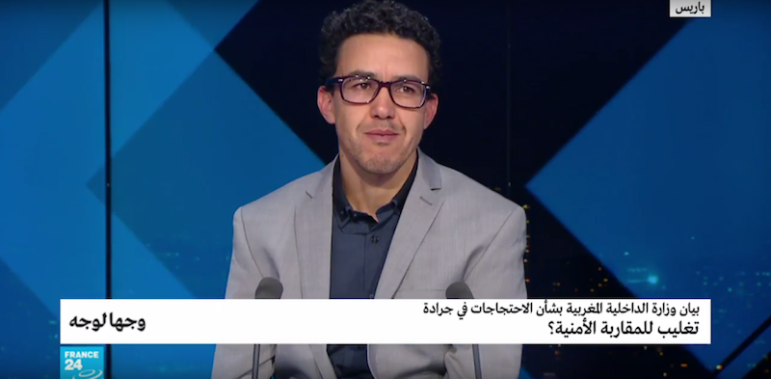 لصحفي الاستقصائي المغربي هشام منصوري خلال لقاء مع فرانس 24 عربية. الصورة: صمد آيت عيشة [/تعليق الصورة]
When the security software on Moroccan journalist Hicham Mansouri's computer alerted him that there had been a number of attempts to hack his email, he did what came naturally: he began investigating.
Little did he know that the 2015 incident would be followed by a bizarre effort by Moroccan police to sexually humiliate him and a female friend and 10 torturous months in jail after being arrested on trumped-up charges of operating a brothel and adultery, which is illegal in the North African nation. 
Efforts to prosecute or intimidate journalists are not unusual in Morocco and, Mansouri's story demonstrates, the government of King Mohammed VI can be both cruel and creative in its efforts to silence dissenting voices. The kingdom ranks 135th out of 180 countries on Reporters Without Borders' 2019 World Press Freedom Index, below nations like Afghanistan, Zimbabwe, and the Philippines. Morocco was also named in a 2018 report from Canada's Citizen Lab as a country where Pegasus spyware is used to track the mobile phones of civil society activists.
Mansouri himself, a co-founder of the Moroccan Association of Investigative Journalists, had already been beaten up by strangers in September 2014 after leaving a meeting at a hotel with the Moroccan historian and prominent dissident Maâti Monjib. Even today, after 10 months in jail on adultery charges, two hunger strikes, and three years in exile in France, Mansouri faces pending charges of threatening state security in Morocco. These stem from his involvement with StoryMaker, an app that helps citizen journalists create video reports based on events they witness.
Yet Mansouri remains undaunted. Now living in France, he blogs for the French online investigative and opinion site Mediapart and contributes to the Italian newspaper Caffe Dei Giornalisti as well as the online site of Maison des journalistes, a group that provides housing to journalists in exile. Mansouri spoke with Global Journalist's Gaëlle Fournier about his imprisonment, his continuing legal troubles, and life in exile. Below, an edited and translated version of their conversation:
Global Journalist: Tell us about your journalism career.
Hicham Mansouri: I worked for a regional newspaper called Machahid in [the southern coastal city of] Agadir and then for the non-governmental organizations Free Press Unlimited and International Media Support in Rabat.
In 2009, I participated in an investigative journalism program. With some colleagues, we decided to create a network of Moroccan investigative journalists. The association was recognized in 2011, two days after the Arab Spring began in Morocco. I was then program director of the association, but now the association has ceased its activities. The website of the AMJI [Moroccan Association for Investigative Journalism] was hacked and replaced by pornographic content. We were censored and received threats.
GJ: How would you describe the environment for the press in Morocco?
Mansouri: Freedom of the press is differentiated geographically. If you're living around Casablanca or [the capital] Rabat, more things are tolerated than they are in the countryside.
There are what is commonly called the three "red lines" in Morocco. These topics are likely to be censored: Islam, the monarchy, and the issue of Western Sahara [a territory claimed by Morocco].
All independent newspapers that have addressed these issues have been punished by the authorities. Editors have been put in jail … so they cease their activities. There is a lot of self-censorship.
Some journalists are even in trouble for translating foreign articles into Arabic. Not many people read newspapers in Morocco as there is a high illiteracy rate. The journalists who get in trouble are [often] the broadcasters.
GJ: You spent 10 months in jail after being arrested for adultery and operating a brothel. This came right after you began investigating the electronic surveillance of journalists and activists, including yourself.
Mansouri: I was working on an investigative piece about electronic surveillance when I got arrested by the police in 2015. I'm not a cybersecurity specialist, but thanks to software, I found the IP addresses [of the cyberattacker]. They were protected by malware and I decided to investigate. I tried to delete the two addresses but found that they could not be deleted.
I found this strange, so I contacted the creator of the [security] software who indeed told me that there was something wrong.
Three days later, I was arrested. It was around 10 a.m. on a morning back in 2015. I was seeing a female friend and five minutes after she arrived, the police broke down the door of my apartment and forced me to undress.
They also tried to undress the woman in order to stage a scene showing us engaged in adultery. The police filmed the entire thing from the beginning.
At trial, we asked the police video be shown as proof of what happened, but they refused. They only showed pictures they took of me, almost naked, on my bed. They also said they found a used condom on the bed.
I had been assaulted a few months prior to this, so I was really paranoid. I found out later that I had been watched by the police for a few months prior to my arrest.
GJ: You were later jailed on the adultery charge. Tell us about your time behind bars.
Mansouri: It was very hard. I felt the invisible hand of repression and it followed me everywhere.
The first day in jail, I was thrown in a cell with [serious] criminals, while I should have been assigned to what's called Block A, which is reserved for first-time offenders like me. I was sent to Block D, which the inmates call "the trash," the worst of all. The cell was overcrowded. I had to sleep on the floor in unsanitary conditions. Within a week I was infested with lice.
The worst was the violence I witnessed, including fights between inmates and self-harm. I even thought some of the fights were orchestrated to kill me.
I went on two hunger strikes, which eventually led the authorities to provide me with some books and newspapers and assign me to a block with inmates suspected of terrorism, who were watched by policemen.
I tried to survive and write about my memories in jail. This diary project is not so much about sharing my experience, it's about telling the stories of the inmates I met … who came back from Syria, were tortured, used drugs. However, my experience in jail is not unique. It is one all activists and journalists [jailed in Morocco] have to go through.
GJ: Even though you're in France, you still face trial in Morocco on "suspicion of endangering state security" along with six co-defendants. This charge was also brought against you in 2015 and the trial has been postponed 14 times.
Mansouri: It began with a citizen journalism project called StoryMaker, created in partnership with Free Press Unlimited and The Guardian. We are officially accused of falsifying videos and photos with this app, which we created to be a reporting tool for citizens.
The authorities told me that "investigation" is the work of the police, not the media. We are even accused of spying and diverting funds from state-owned media. There is no evidence for any of this.
Every time there is a hearing [in Rabat], the file is not even open and the trial is postponed to another date. It's like the sword of Damocles. Before, we used to defend our innocence. But now we just want that the matter be brought before a judge for a decision, whether it's for or against us.
GJ: Even after you were jailed, you did a major environmental investigation. What did you find?
Mansouri: In 2016, I did an investigation about Morocco importing 2,500 tons of toxic industrial waste from Italy. The toxic industrial waste was burnt to make cement in Morocco, something strictly forbidden in Europe.
Based on documents, it revealed the existence of indirect links between cement works owned by the king's holding company and an international environmental business tied to the Italian mafia. It was published by the news site Lakome2, whose founder is actually being prosecuted for "sympathizing with terrorism."
GJ: How did you decide when was the right time to leave Morocco?
Mansouri: I made the decision to leave my country when I was in jail. I did not tell anyone. The physical and psychological torture I experienced led to my exile. My first day in prison, I had tachycardia [abnormally fast heartbeat], and I was beaten by a prison guard. I really felt suicidal. I felt like I was suffocating, not able to speak, to cry, to scream. I was ready to do anything to leave this hell.
I decided to leave Morocco when I learned that the judge who sent me to jail [for adultery] was also the one who was going to work on the state security case. I know how he proceeds and it did not portend anything good.
When I learned this, I had been in jail for six months. It was a nightmare. It was as if I was in a bottomless pit. Everything was dark. I could not bear staying five more years in jail when I could have spent those years studying for a PhD.
GJ: What are your plans for the future?
Mansouri: Living in exile is far from being easy. You have to start from scratch.
I was mostly busy over the past two years with my asylum application, which was a real obstacle course.
I'm now working on an observation project on hate speech in several countries of the MENA (Middle East and North Africa) region like Jordan, Tunisia, Egypt for the NGO MENA Media Monitoring. We have published two reports so far. I continue to fight for what is happening in Morocco, I keep on testifying to show the truth. I'm publishing from time to time articles on my Mediapart blog. I'm also finishing my master's in political science.
---
This article first appeared on Global Journalist's website and is reproduced here with permission.

Gaëlle Fournier is a French journalist. She worked for media organizations based in France such as the radio station Radio France Internationale (RFI) and the production studios of the public national television broadcaster France Télévisions. In the United States, she served as a reporter for the fact-checking website PolitiFact and news outlets such as the newspaper The Columbia Missourian and the cable channel Newsy. She also worked as an assistant producer for Global Journalist, a weekly show broadcast on KBIA, a NPR affiliate. She is now doing her Master in Journalism at the Sciences Po School of Journalism, based in Paris.