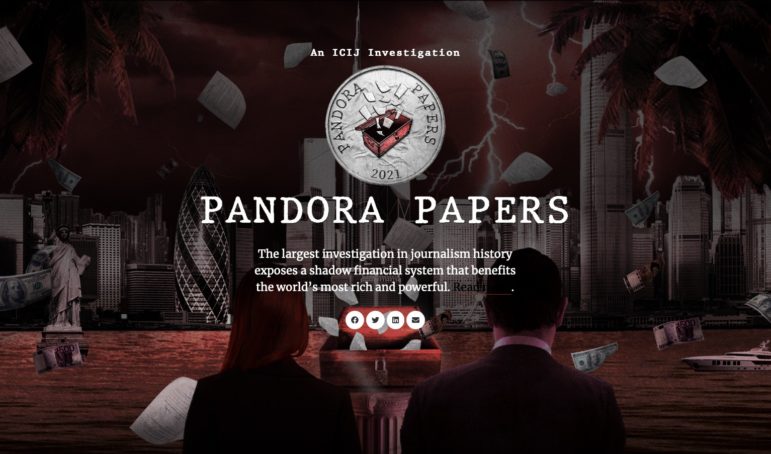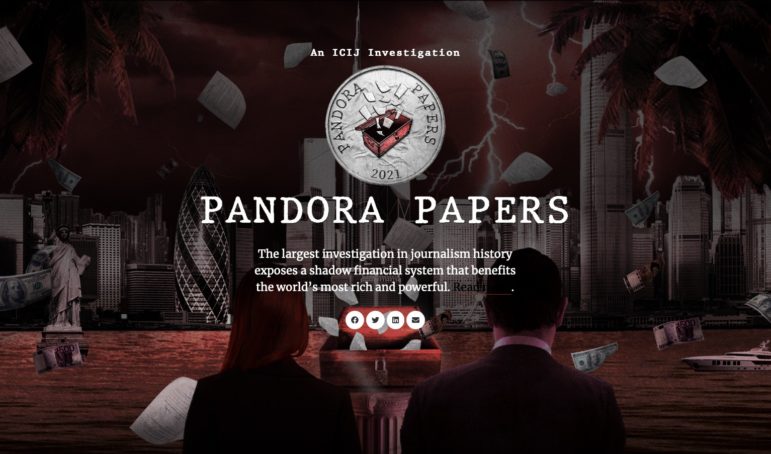 Data Journalism Top 10: Pandora Papers, Data Podcasts, and COVID-19 in Scottish Care Homes
Read this article in
This week's most popular data journalism tweets, as tracked by our NodeXL mapping, were dominated by the Pandora Papers, a global investigation based on one of the largest ever troves of leaked documents. Also surfacing for the week of September 27 to October 3: reporting on damage by a volcanic eruption in the Canary Islands, a collection of data journalism podcasts, and a roundup of German election results.
Pandora Papers
The Pandora Papers investigation — the largest-ever journalistic collaboration — was led by the International Consortium of Investigative Journalists (ICIJ) and involved more than 600 journalists from 150 media outlets (many of them are GIJN members). Dubbed an "offshore data tsunami" by the team, the leaks include 6.4 million documents, millions of images and emails, and almost 500,000 spreadsheets. Here's an explainer on the global effort and how it compares to previous leaks.
French Villas, and a Château, for Czech PM
A major revelation from the Pandora Papers concerned billionaire Czech Prime Minister Andrej Babiš, who faces a general election this week. The Czech Center for Investigative Journalism reported that Babiš used an offshore structure to purchase a number of properties, and even a castle, on the French Riviera. Reporters dug into the complicated scheme Babiš created and went to France to get a first-hand look.

King of Jordan's Lavish Homes
Another leader named in the papers is Jordan's King Abdullah II, who is reported to have spent millions on extravagant properties on both US coasts, using a web of offshore accounts to disguise his transactions. The Washington Post reported that the acquisitions were "part of an international buying spree." Abdullah also purchased lavish homes in the UK, bringing the total to more than $106 million, according to the Post.
Foreign Investment in Cambodia
In developing countries, foreign direct investment, or FDI, is often seen as a driver of economic growth and an opportunity to boost employment and create new jobs. But this comes at a cost. Kontinentalist, a site dedicated to telling data stories about Asia, analyzed information from Open Development Cambodia to find that as a result of foreign investment, particularly from China, people have been forced to leave their homes while ecosystems have been devastated by large developments.
Advancing Lava
A volcano erupting in the Canary Islands has devastated more than a thousand buildings as the lava continues to engulf everything in its path. Spanish newspaper El País analyzed satellite images and local land records to create a detailed, interactive map of the lava flow with information about the threat to individual houses, the extent of damage, and predictions about its advance.
https://twitter.com/kikollan/status/1443506187627028482
High-Rise Living in Spain
Almost two-thirds of the Spanish population live in flats, according to data from the Organization for Economic Co-operation and Development (OECD). Only in South Korea do more people live in collective housing. But why are Spanish cities built vertically? Online newspaper elDiario.es analyzed local housing data and published an interactive project looking at the architecture of cities across Spain. The map is color-coded, with pink representing the tallest buildings while green highlights those with the fewest floors.
https://twitter.com/raulsanchezglez/status/1443469518307799044
Data Journalism Podcasts
Data journalism shows are a relatively new phenomenon in the podcasting world, but there are plenty of good examples worth listening to. Andrea Abellán of DataJournalism.com picked six programs you can enjoy during your next podcast binge session. They include shows featuring experts in the fields of data visualization, data sonification, and storytelling with numbers.
German Election Results
Is it going to be the "traffic light coalition" or perhaps "the Jamaica coalition"? After the recent Bundestag election in Germany, the nation is waiting to find out which parties will join forces to form the next government and who will succeed Chancellor Angela Merkel. Regional paper Westdeutsche Allgemeine Zeitung published a detailed roundup of the election results, including voter turnout, allocation of seats, and a map with all constituencies.
Scottish Care Homes
An investigation by the BBC found that last spring, at the start of the coronavirus pandemic, nearly 200 Scottish care homes took in hospital patients who had not been tested for COVID-19. The move freed up hospital beds, but raised concerns that the virus was spread to highly vulnerable care home residents, many of whom are elderly. The reporting is based on data from Public Health Scotland, which BBC Scotland requested 11 months ago, and can be explored on this interactive dashboard.
The Impacts of Climate Change
Climate change, widely regarded as the single biggest threat to contemporary society, poses dangers so wide-reaching that many people struggle to grasp how it affects life on Earth. This project by the UK-based website Carbon Brief makes it a little easier to understand. The outlet compiled data from around 70 peer-reviewed climate studies to show how nature, societies, and ecosystems are projected to change at different temperature levels.
https://twitter.com/CarbonBrief/status/1443037312204611588
Thanks again to Marc Smith and Harald Meier of Connected Action for gathering the links and graphing them. The Top Ten #ddj list is curated weekly.

---

Peter Georgiev is GIJN's social media and engagement editor. Previously, he was part of NBC News' investigative unit in New York. He also worked as a correspondent for Bulgarian National Television and his reporting has been published by the Guardian, Deutsche Welle, and other international outlets.
For a look at NodeXL's mapping on #ddj and data journalism on Twitter, check out this map.