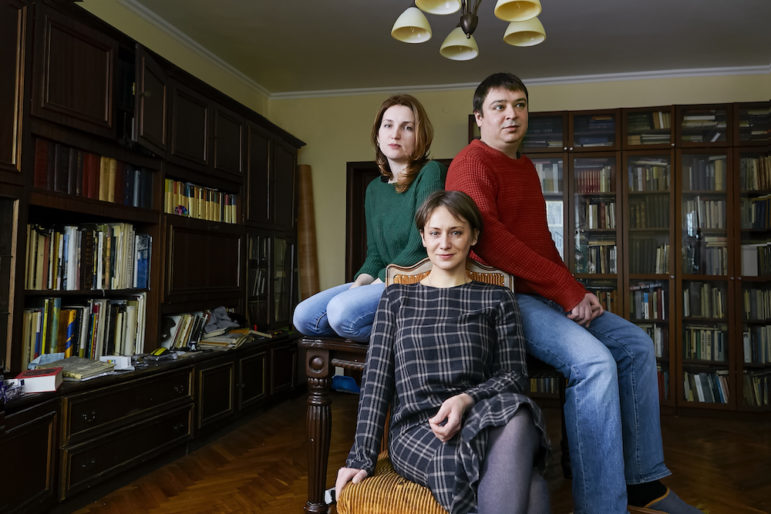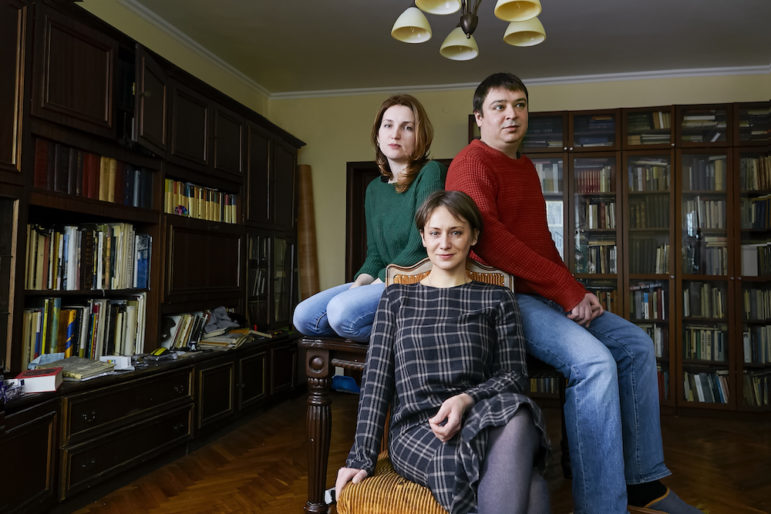 Tjr Bell club Karachinsky Malkova Kozhuhar
Two important news stories emerged in December on a topic that most mainstream Western media outlets have been reporting in minute detail for months: how Russia tried to influence the 2016 presidential elections in the United States.
One article alleged four men arrested on treason charges in Moscow in late 2016 passed information to the US about hacking – in other words, it identified possible high-level human assets controlled by US intelligence agencies at the heart of Kremlin cyber-operations. A second article a few days later brought to light the case of Konstantin Kozlovsky, an alleged Russian cyber-criminal who claimed in court he hacked the US elections. The reporting caused a flurry of interest in both Moscow and Washington and was picked up by dozens of media outlets.
But the two articles were not the work of a powerful US television network or an established Russian media outlet with high-level sources. They were produced by a tiny media startup with one foot in the US and the other in Russia.
The Bell, which has just six employees, is the brainchild of Elizaveta Osetinskaya, a prominent journalist who left Russia in 2016 to study at Stanford University after being pushed out of her role as editor-in-chief of RBC, a leading business news outlet. She says The Bell illustrates a growing trend in which Russian journalists and media managers are finding ways of building news organizations that are not financially dependent on rich businessmen vulnerable to Kremlin pressure.
"Something new and alive is beginning," says Osetinskaya in a phone interview from the University of California, Berkeley, where she is enrolled in an investigative reporting program. "Before, media was run with oligarch or private money… [but] now it is being run by people for whom media is an obsession."
Other startups similar to The Bell include Mediazona, a news website reporting on public justice and Russia's prison system that was set up in 2014 by members of the punk collective Pussy Riot; the immensely popular YouTube interviews done by Yuri Dud, a former sports journalist who shot to fame in 2017; and Riga-based news website Meduza, which was launched in 2014 by a group of Russian journalists who resigned from news site Lenta.ru after its chief editor was forced out.
The editors and journalists working on these projects are those "who don't see themselves working in 'big media' because it's all controlled by the state," according to Osetinskaya. They are people for whom media is "a genuine passion and a genuine love."
Pressure on independent journalism in Russia has been unrelenting in recent years, leaving few outlets untouched by what many characterize as a Kremlin-led proxy war to shut down critical reporting. Tactics appear to range from closing down whole organizations to pressuring businessmen owners to fire prominent editors. Osetinskaya says publications are targeted when they become successful: either when their journalism threatens powerful interests or their audience expands to give them significant influence over public opinion.
One of the most high-profile recent examples is RBC, which Osetinskaya herself transformed from a staid business publication into a hard-hitting news website attracting millions of visits a day. The newspaper's holding company was raided by law enforcement officials and, in May 2016, Osetinskaya was fired along with her two deputies, apparently after articles about the alleged business activities of President Vladimir Putin and his close family members were published. RBC was later sold to the owner of a pro-Kremlin tabloid. Other cases include the shuttering of news agency RIA Novosti in 2013 and the 2014 firing of editor-in-chief Galina Timchenko from popular news-website Lenta.ru.
The media landscape in Russia has also changed drastically because of a 2014 law limiting foreign ownership of media assets. Influential business newspaper Vedomosti was set-up in 1999 as a joint venture between The Financial Times and The Wall Street Journal, but the two foreign newspapers sold their stakes in 2015 and, last year, its respected editor-in-chief, Tatyana Lysova, was replaced by a former editor at state-owned Channel One, known for its relentless propaganda output.
Osetinskaya says it is pointless worrying whether The Bell could provoke the ire of the Kremlin, and says their small size means that – for the moment – they are under the radar. "If the regime wants to tighten the screws there are no obstacles," she says. "The state can ban any media: the question is will they do it and why."
Relocating organizations abroad has become one way in which Russian journalists try to continue their critical reporting. Osetinskaya rejects the label "émigré media," but The Bell is named after a famous 19th century journal, published in London and edited by revolutionary Alexander Herzen, which was deeply influential inside Russia despite being banned by the censors. And The Bell's model echoes that of news website Meduza, which has its office in the Latvian capital while most of its reporters work inside Russia.
Many new Russian media projects experiment with innovative formats – and the The Bell is no exception. The Bell delivers its news, for an audience interested in business and political developments, via a regular email: The Daily Ringtone. The idea of using a newsletter was suggested by a colleague of Osetinkskaya's at Stanford, and she took inspiration from US projects including The Skimm, a newsletter aimed at young women, and political news website Axios, which offers a range of different newsletters.
The advantage of the format is that it goes straight to the inboxes of readers, rather than requiring them to make the effort to visit a particular website. And Osetinskaya says it helps busy professionals by filtering out irrelevant information. Reading The Daily Ringtone allows people to "reduce information noise," according to Osetinskaya. "You don't have to know a lot of news: most of the 10,000 news stories that appear every day in no way impact your life."
The Bell's mailings (they currently have about 15,000 subscribers) are written in a chatty, explanatory style and spell out exactly why each news item is important. All their news is also duplicated on a Telegram channel. Osetinskaya says they focus on a selection of topics that are under-reported and crucial to understanding Russia. These include Russian money and business abroad, sanctions, whether the Kremlin will build an Iran-style economic policy, the destruction of the private banking sector, the appearance of young people — like it-girl turned presidential hopeful Ksenia Sobchak — in Kremlin politics and changes within the siloviki, the powerful security officials around Putin.
Though The Bell's editorial team is small, it is packed with prominent journalists, many of whom have already worked with Osetinskaya. The chief editor of the project is Irina Malkova, the former editor-in-chief of liberal news site Republic. Malkova brought several of her deputies with her to The Bell and Osetinskaya has also poached investigative journalist Svetlana Reiter from news agency Reuters. Reiter was The Bell reporter who wrote the Russian hacking articles.
Osetinskaya says she is currently concentrating on trying to find financing for the project, which has so far existed on donations from "friends and family." Funding independent media projects in Russia is an extremely complicated task because of the political risks and the difficulties of making it commercially viable.
"I can remember only two names of Russian donors who publicly finance national NGOs, including media: Mikhail Khodorkhovsky, a political exile living in Europe, and Dmitry Zimin, the first Russian cell-company founder," Russian journalist Roman Badanin wrote in a recent blog post. Badanin, a former chief editor of liberal TV channel Dozhd, has just left Russia to start the same Stanford fellowship that Osetinskaya completed last year.
But there have been some recent financing success stories: Mediazona, set-up by Pussy Riot, said in December that just two weeks after launching a crowdfunding campaign, they had collected 2.6 million roubles ($46,000) in one-off donations and almost 500,000 roubles in regular monthly commitments. Osetinskaya says she is looking for advertising for The Bell and would rather do without outside investors if possible. "I am trying to figure out how to make money out of this thing," she says.
Aside from the newsletters, The Bell is also producing a series of short video conversations led by Osetinskaya, who is apparently trying to re-invent herself as a YouTube interviewer. The project, called Русские норм! (Russians are normal!), is a series of interviews with successful Russian business people working both inside Russia and abroad, looking at how their careers have unfolded. These are scheduled to appear regularly, but the only interview published so far has been with Andrei Doronichev, the creator of the YouTube Mobile app and head of virtual reality at Google.
Living in the US has clearly coloured Osetinskaya's new project, her understanding of Russia, and how it should be reported on. Osetinskaya says she was "badly disappointed" at the quality of much Western journalism on Russia and Trump, which has been "overblown and exaggerated." The ignorance on display, she says, was driven by "not much expertise, the difficulties of getting information, clichés … and sources being mainly from one side." She also points out that international media outlets in Russia have been cutting staff in recent years, and influential Russians are more and more reluctant to talk to foreign reporters in a climate of rising nationalism and isolationism.
Partly in response, The Bell launched a weekly English-language website and newsletter in December, which is designed to provide non-Russian speakers with information on key economic and political developments. While the English newsletter has just over 500 subscribers at the moment, it has already been cited by major media outlets.
The Bell has a long way to go until it can rival the success — and notoriety — of its 19th-century revolutionary namesake. But subscriptions to the Russian newsletter are growing at 20 percent a month. Osetinskaya's professional record and the reputation of her colleagues means The Bell looks likely to have a bright future.
---
This post first appeared on The Calvert Journal website and is reproduced here with permission.

Howard Amos is senior editor at The Calvert Journal and an MA student at the UCL School of Slavonic and East European Studies in London. Prior to this he spent seven years as a journalist in Moscow, reporting from across the former Soviet Union. His work has been featured in The Guardian, The Associated Press, The Moscow Times and Newsweek.