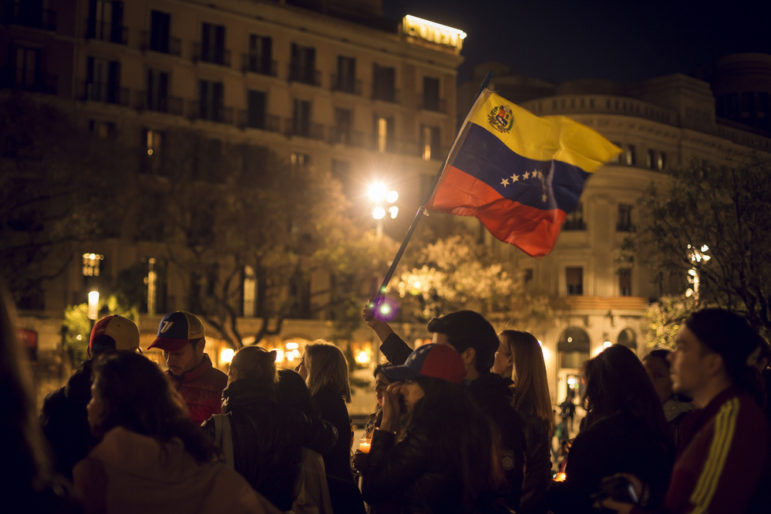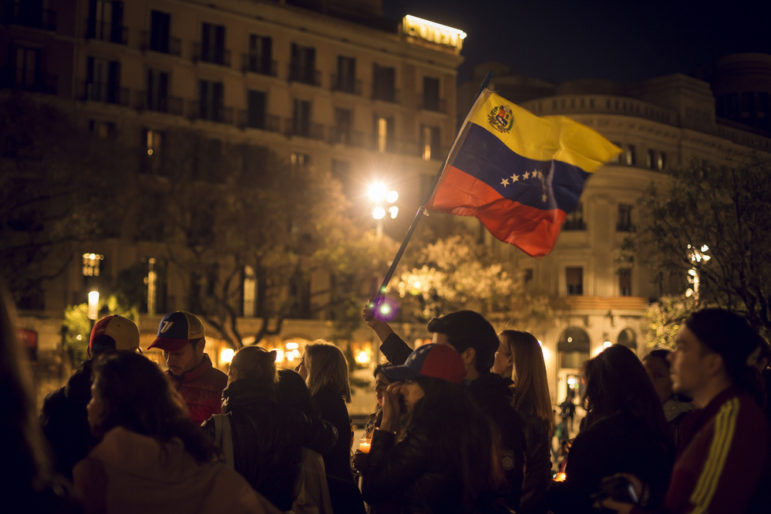 'Illuminate the Darkness': Creating an Independent News Site in Crisis-Hit Venezuela
Read this article in
"A tiny speck of information can illuminate the darkness." This is the driving force behind Efecto Cocuyo (in Spanish, "firefly effect"), an independent Venezuelan news site launched in 2015. The darkness in Venezuela relates to the country's ongoing economic and humanitarian crisis that took hold in 2014, as waves of anti-government protests were met with violence.
Co-founder Luz Mely Reyes saw the "space for good journalism" in Venezuela shrinking. A lack of funds, and control by the government, left newspapers without enough paper to print full editions, while media buyouts by government-supporting businessmen further suppressed freedom of expression, in particular coverage of the protests and the political opposition.
By contrast, public demand for information was rising. In February 2014, Reyes tweeted updates on a protest in which three people were killed, calling those nearby and on the ground for information. News sources were not giving her the coverage she needed. Within four days, her Twitter followers more than doubled from around 17,000 to 34,500.
Reyes has covered politics in Venezuela for more than 25 years. After senior roles at some of the country's biggest news outlets, including as politics editor at daily national newspaper Últimas Noticias and as editor-in-chief of Diario 2001, she was ready for a new professional challenge.
"There was an opportunity to do something as journalists who were not satisfied with the industry," she says. "Doing it digitally would be less expensive and allow us to create something small but impactful. It was a leap of faith. We didn't know what the impact of this tiny media outlet would be, we only wanted to do journalism and have the opportunity to do it in the way we believed."
The "dream" of Efecto Cocuyo began mid-2014, initially as a discussion in cafés with colleagues and friends Laura Weffer and Josefina Ruggiero, as well as three young journalists. An incubator program helped the team design an operational and business model and, in January 2015, Efecto Cocuyo was born, launching first on Twitter and gaining 18,000 followers in its first week. At the time of writing, it had more than 730,000.
Six years on, with a team of 25 across editorial and operations, and ongoing support from its original incubator partner, Efecto Cocuyo produces free, daily news from Venezuela and investigative reporting covering the economy, politics, health, and sport. Its fact-checking strand, Cocuyo Chequea, investigates viral WhatsApp chains and contentious social media posts shared for verification by its audience. From editorial to operations, its aim is "inform and educate," says Reyes, whether that's shaping how journalism is delivered and sustained, building closer relationships with communities, or developing the next generation of Venezuelan journalists.
Working with the Community
Early videos of crowdfunding and face-to-face audience-building efforts show the Efecto Cocuyo team on buses, in markets, and on the streets gathering donations and sharing the idea for the organization with the audiences the news site wants to serve and reach.
"Our audience is the people of Venezuela and we are devoted to working for the people," says Reyes.
Efecto Cocuyo's plans for forthcoming regional elections show how this focus drives its coverage: "An election isn't only about candidates; it's about what is happening with the people. What are they thinking and doing? Then compare that to what's being offered. [Covering] an election in Venezuela means giving space to people to say what they need and want."
People are politically "disenchanted" with parties and candidates at the moment, says Reyes: "I believe that people feel orphaned. We want to tell them, 'We are here to listen to you.'"
To get closer to communities, Efecto Cocuyo has developed different products, including "Guayoyo with Cocuyo." Guayoyo is the Venezuelan term for a light mid-morning or mid-afternoon coffee. Hosting these informal, face-to-face listening sessions with readers and communities helps the team find new stories and ground its reporting in its audience's experiences and needs.
A series of "guayoyo" sessions in collaboration with partners across the Americas formed an early part of Efecto Cocuyo's ongoing migration series, which covers the experiences and stories of millions of displaced Venezuelans who have migrated across the Americas. The project also served to challenge the state's narrative on migration and hold its actions to account. The state had denied that people were leaving Venezuela because of the crisis, says Reyes, who was presented with the International Press Freedom Award in 2018 and has been recently hired as a columnist by The Washington Post.
Challenges for Media in Venezuela
Venezuela is not an easy place to work as a journalist. It ranked 148th of 180 countries in the Reporters Without Borders' World Press Freedom Index 2021, with current President Nicolás Maduro accused of harassing and silencing independent media outlets and controlling news coverage. Criticism of his administration by the press has resulted in raided offices and suspended operations.
Violence against reporters has also increased since 2017, according to Reporters Without Borders. Journalists from Efecto Cocuyo were attacked and threatened for their work covering protests opposing Maduro's government in 2017.
"The situation has been getting worse. We have some colleagues who have had to leave the country and can't come back," says Reyes, referencing the case of journalist Roberto Deniz from investigative news site [and GIJN member organization] Armando.Info, who is currently in exile in Colombia. "They are living overseas because they were sued by people close to the government. You know that you will lose the case."
The country has been in crisis for seven years and journalists and media "suffer the same shortages because of the complex humanitarian situation," says Reyes. "It's difficult to work as a journalist right now in Venezuela, but there are a lot of journalists doing the job on the ground. They are very committed to what they are doing. So we try to combine the support of the people overseas with those working underground in Venezuela."
Being accountable to its audience and focusing on their voices and needs helps Efecto Cocuyo preserve its independence in a country where the state's influence on media freedom looms large.
To further protect its independence Efecto Cocuyo takes no funding from the Venezuelan government. Many of its funders are well-recognized international organizations supportive of independent journalism around the world.  Reyes can't talk openly about specific funders because there is a tendency for philanthropy to be criminalized in the country. While the team no longer relies on crowdfunding – advertising was introduced, with strict limits, in 2018 – it is designing a membership program, one it hopes will directly reflect Efecto Cocuyo's mission and the reality of life for many in Venezuela.
"We want to be an outlet with a social goal, which is a different approach [to established media in Venezuela] because we are not a nonprofit," says Reyes.
"We do not choose subscription models because we were founded to share information. There's not a culture of donating in Venezuela and, right now, Venezuelan people are focused on how to survive. We want to develop a model where people who are able to support us can so that they can support other Venezuelans."
"There's not a system of free competition in Venezuela where we simply offer a product to the market because we don't have freedom. We have to think and identify the needs of our audience to create our approach to membership."
The Next Chapter
Starting over as a media entrepreneur and building an organization from scratch has been one of the biggest challenges faced by Reyes and her co-founders in their careers.
"We had to create an organization that could be the space in which journalists do the best journalism they can do," says Reyes. "There are challenges not only in the form of sustainability and finding funds but also in reducing the gap between management teams and editorial. We always tried to avoid this before because we were focused on the thing we did best – our journalism."
It is through being an organization as well as a news outlet where Reyes believes Efecto Cocuyo can have the greatest impact on the future of journalism in Venezuela. Editorially it sees itself as a media organization with several distinct products, including units focused on migration and fact-checking, an annual festival, and an educational arm. Its Cocuyo School initiative, part of the project since its launch, trains young journalists in how to cover complex topics crucial for people in Venezuela using new tools and narratives, from crime to immigration reporting. It also helps mid-career journalists faced with "trying to adapt to digital mindsets, hoping to build new career opportunities for them, and retain their experience within Venezuelan journalism."
The team is aware of the challenges, not least from Venezuela's political and humanitarian situation. But it continues to dream, especially about plans to reach a regional audience beyond Venezuela. "We have been working very hard and we decided to do this, but we pay a price to do what we want to do," says Reyes. "We have the right to dream and the right to work for that dream."
This story was originally published by the Reuters Institute for the Study of Journalism and is reproduced here with permission.
Additional Resources
How Armando.info's Exiled Reporters Keep Reporting on Venezuela
Collaborations Help Strengthen Journalism in Venezuela
How To Start Up a Fact-Checking Group
---
Laura Oliver is a freelance journalist based in the UK. She has written for the Guardian, BBC, The Week, and others. She is a visiting lecturer in online journalism at City, University of London, and works as an audience strategy consultant for newsrooms. You can find her work here.