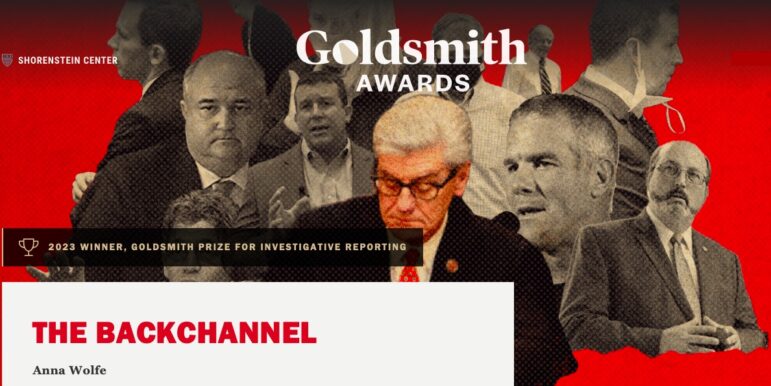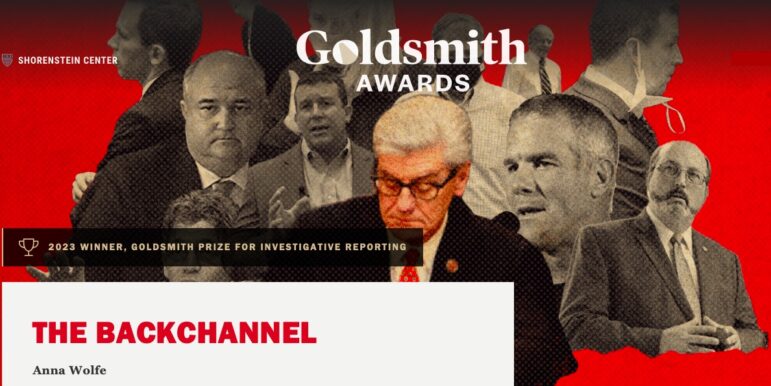 Image: Screenshot, Goldsmith Prize
How an Award-Winning Investigation Exposed a State Welfare Scandal
Read this article in
Editor's Note: This article profiles the winning story of the 2023 Goldsmith Prize for Investigative Journalism, which is given annually to US-based reporting that "has an impact on public policy in the United States at the national, regional or local level."
With not one, but two major investigative journalism awards now under her belt, Mississippi Today's star reporter Anna Wolfe would be a dream hire for any newspaper in the world. But the 28-year-old Washington State native and youngest-ever solo winner of the Goldsmith Prize has no desire to leave her adopted home.
"It's hard to describe Mississippi. William Faulkner says that you have to understand a place like Mississippi to understand the rest of the world," she tells GIJN. "It's a harbinger for what's happening in America. I like being at the forefront of that. And on the ground."
Certainly, her five-part investigative series, The Backchannel, which was recently awarded the 2023 Goldsmith Prize, has made waves across the country. Published in April 2022, the explosive investigation exposed corruption in Mississippi's dysfunctional welfare system, which deprived the poorest US state of millions of federal dollars that was intended to address widespread poverty. It is the largest documented public embezzlement scheme in the history of the state.
Mississippi as Microcosm
Wolfe's fastidious reporting unearthed compelling evidence in the form of damning text messages from former Mississippi Governor Phil Bryant's office, obtained from a source in the state government. From there, Wolfe exposed a web of nepotism and coercion connecting Bryant to retired NFL quarterback Brett Favre, among other powerful figures.
For Wolfe, the unfolding scandal has offered some answers to questions she started with as Mississippi's first, self-appointed poverty reporter: How is federal government funding being spent to lift families out of poverty? And what do these spending decisions say about the state's philosophy on helping the poor?
"People think that Mississippi is an outlier state," says Wolfe, describing the extreme policies and racial problems plaguing the Magnolia State. But Wolfe stresses that the issues that affect Mississippi are not unique to it, but rather serve as a microcosm for the US.
"You write Mississippi off, but we are the ones who had the case that just overturned Roe for the rest of the country," she notes. "One of the big stories out of the state in the last year has been the water crisis in Jackson — and that is an issue of aging infrastructure of old cities that is happening across the country."
"So you can look to other cities, and see that our problems are on the horizon for those cities as well," she adds.
Wolfe moved across the country to Jackson, Mississippi — the state's capital — from Tacoma, Washington while a journalism student more than a decade ago and never left. Her affection for her newfound home is evident.
"Jackson is a big little town," she explains. On a Friday night at Hal and Mal's, the city's iconic offbeat bar where she once waited tables, Wolfe and a friend discussed the city's diversity and shared a moment of civic pride.
"Our collective problems are all palpable in a moment like that. I just couldn't help but feel like we were all going through something together," Wolfe says. "And we still find joy. That is what Jackson is to me."
Startling Statistic, Missing Money?
Wolfe had an initial taste of the struggles of the state's impoverished while covering health at Jackson's daily newspaper, the Clarion Ledger. While there, it became clear to her how generational poverty deeply impacted the community; the state routinely scores among the lowest in several quality of life measurements and currently has the highest poverty rate in the nation. When she joined the nonprofit news site Mississippi Today in 2018, she decided her mission was to make poverty her beat.
"I think that my publication is unique in the way we don't have to fill up a newspaper every day, we're online. And so we're not under the same kind of constraints as others," she says. Having the bandwidth to go after a specific topic or story can be a real game changer in terms of being able to turn around work of real quality, Wolfe adds.
For Wolfe, her latest exposé built off of a surprising statistic that she came across while working at the Clarion Ledger. She had found that the state was approving less than 2% of the applications for cash assistance funded by a federal welfare program. So, Wolfe wondered, what was happening to the rest of the money — almost US$90 million — that comes in every year from Washington?
She sent out public records request after public records request to find out who was receiving this missing money and what they were doing with it. She hit roadblock after roadblock in response.
What she eventually discovered was "a concerted effort on the part of the state to disinvest in people in poverty and push the money instead to their political allies."
Sticking With the Story
Looking back over the story of the investigation, Wolfe says that one of the biggest lessons learned involved trusting her instincts.
"At one point really early on in the beginning, I was asking these very simple questions. But state agencies really made it seem like I was asking for the world," she recalls. She was constantly stonewalled, and many of the responses she did receive came from the state attorney general's office, and were written in impenetrable legalese. "It made it really difficult to get my bearings on even the basics of the program."
In total, Wolfe estimates she spent around 3,000 hours across three years investigating the story. Throughout, she developed sources at the welfare agency, and continued digging.
One break in the story came in 2020, when a state employee with whom Wolfe had been speaking took that information to the governor, who turned it over to the state auditor. Several arrests over embezzlement charges soon followed, and included among them was the former director of the state welfare agency.
Still, Wolfe knew that there was much more to the story. "I think one of the big goals for a lot of people looking at the story… was to examine the former governor's role in the scheme," she explains.
Evidence that the scandal started with Bryant, who left office in 2020, came in the form of thousands of text messages Wolfe acquired from a confidential source. These official records of correspondence from the governor — which were improperly withheld from Wolfe despite her freedom of information requests — turned out to be a journalistic jackpot. They showed damning evidence of Bryant's involvement in steering more than US$77 million in federal funds to personal interests.
Widespread Impact
When Wolfe's story finally broke, it sent shock waves through Mississippi as well as far beyond the state. State and federal auditors are currently peeling through the layers of possible corruption. And because a key figure associated with the scheme was a famous former pro athlete, her exposé about welfare and poverty also gained traction at national news outlets like the cable sports channel ESPN.
Just before the series was published, Bryant agreed to an interview with Wolfe upon learning she had obtained his correspondence, so he could "look her in the eyes" and avoid "crucifixion by innuendo." The interview itself lasted three hours, and throughout, Wolfe says Bryant made claims that contradicted his own text messages.
"Should I have caught some of that? Absolutely. Did I do anything wrong? No," Bryant told Wolfe. "I was the governor. I wish I had been able to catch it. The moment I did, I called in the state auditor." (To date, federal officials are still investigating and Bryant has not been charged with any criminal wrongdoing.)
Wolfe's hope is that the takeaways from the scandal will force better decisions about how to spend money for the average Mississippian.
"This scheme occurred over a four-year period, and was perpetuated by people who are now probably going to spend time in prison," Wolfe says. "But under the surface, this was allowed to happen because of the policies that are put in place that deprioritize the people who actually need the programs. And so the solution has to be reform that puts those people first."
Additional Resources
#NotebookGate: How Nigeria's Dataphyte Exposed Corruption in Government Contracts
Tips for Investigative Reporters from Winners of the Goldsmith Prize
How a Journalist Got 80,000 Instagrammers Interested in Procurement in Kazakhstan
---

Sarah Karacs is a freelance journalist based in Berlin. Until recently, she was a fellow with the European Journalism Observatory. Her work has been published by CNN, Der Spiegel, the New Statesman, and the South China Morning Post.