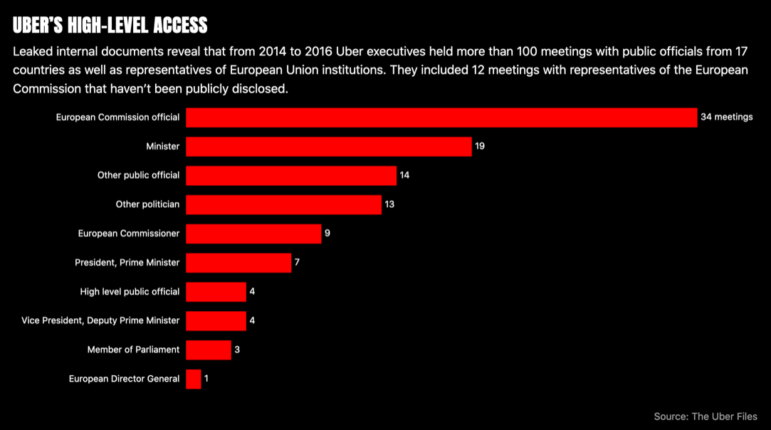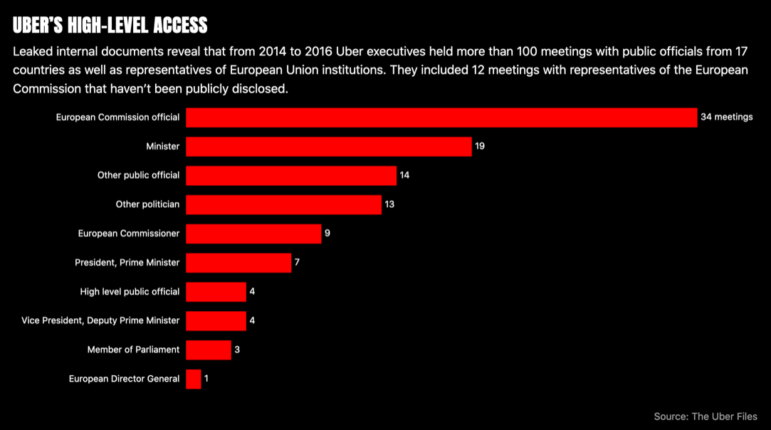 Data Journalism Top 10: Uber Files, A New Notre-Dame, Saudi Sportswashing, Boris Johnson's Legacy
Read this article in
Since it was founded in 2009, ride-hailing company Uber has worked hard to foster an image as an innovator. But the tech giant has been plagued by numerous controversies and conflicts with local authorities and taxi service providers. Now, an unprecedented leak of confidential files dubbed "the Uber Files" has led to a global investigation into the firm's practices. Also in this week's edition of the top 10 stories in data journalism, we feature a look at the dubious legacy of the UK's scandal-ridden leader Boris Johnson, reconstruction of the Notre-Dame de Paris cathedral, and the epidemic of US gun violence.
The Uber Files
An explosive leak of 124,000 emails, text messages, and internal Uber documents was received by the Guardian newspaper and shared with journalists at more than 40 media organizations through the International Consortium of Investigative Journalists (ICIJ). The massive data leak covers Uber's operations across 40 countries between 2013 and 2017, a crucial period for the company's expansion. The files reveal how Uber secretly lobbied governments around the world, gathered support from politicians, oligarchs and billionaires, and engaged in ethically questionable practices for competitive advantage.
Kremlin Propaganda
Since the start of the war in Ukraine, Russian President Vladimir Putin has used a range of false narratives to justify the invasion, chief among them the "denazification" of the country. That theme has echoed through the column inches of pro-Kremlin media publications. The New York Times examined nearly eight million articles about Ukraine from more than 8,000 Russian websites published since 2014, showing how references to Nazism spiked on the day Putin launched his attack.
The Toll of America's Gun Violence
A spate of horrifying mass shootings in the United States has served as a bleak reminder of the country's problem with gun violence. But an investigation by The Washington Post, using data from the country's Centers for Disease Control and Prevention and the FBI, shows how America's problem with guns extends beyond mass shootings. Reporters found deaths from homicide, suicide, and accidents are also contributing to the climbing toll of firearm deaths.
Golf Money
A Saudi-funded professional golf tour with lucrative appearance fees and prize money has sparked controversy in the sport and divided players. Some have branded the country's involvement "sportswashing," but according to the Financial Times, many top players have found the money "just too tempting." Journalists at the paper charted data to highlight how the payouts from the Saudi-backed LIV series compare to other major golfing competitions.
https://twitter.com/ftdata/status/1545604275883180034
Wall of Fire
Conflict reporters often struggle to convey the feeling of being on the frontlines and coming under repeat attacks from enemy forces. Independent Ukrainian outlet Texty used data and sound recordings to make an audiographic to illustrate what one minute of shelling can sound like when several Russian units are firing on a Ukrainian military position at the same time. 
Changing Congolese Coffee's Image
For years, Congolese coffee had an image problem. Inadequate pay and conditions impacted quality, and the situation was so bad that some farmers even uprooted their coffee plants. But a story published by InfoNile, a cross-border group of geojournalists working to uncover critical stories on water, uses data to explore how cooperatives are bringing positive change, what is behind this rebirth, and what it means for the local economy and communities.
Motorists Feel the Pinch
With global fuel prices on the rise, tax cuts on petrol and diesel have been introduced as special measures in countries like Germany. The move is designed to give drivers some relief as economic burdens mount, but research from public broadcaster ZDF shows the "tank discount" is more beneficial to the rich than the poor.
The Future of Notre-Dame
In 2019, fire almost destroyed the iconic Notre-Dame cathedral in Paris. Restoration efforts began soon after and a plan was announced to redesign the surroundings of the cathedral as well. The winning project includes a forecourt that will occasionally be filled with a thin layer of water to reflect the cathedral's spires, a park, and 131 newly planted trees. The newspaper Le Parisien offers a detailed look with this interactive piece examining how the city has turned tragedy into opportunity.
https://twitter.com/flohelaine/status/1546127260343832577
Boris Johnson (Finally) Resigns
After a record number of ministerial resignations in the space of a few days, UK Prime Minister and Conservative leader Boris Johnson was forced to step down as head of his party. Johnson has been involved in a series of scandals related to parties during the country's coronavirus lockdown, but he plans to stay on as a "caretaker" prime minister for now. The UK will likely have a new leader later this year. To assess his legacy, the Guardian published a series of charts to summarize his short and tumultuous premiership.
https://twitter.com/GuardianVisuals/status/1545054197187432449
Rise of TikTok
With more than one billion monthly active users, TikTok has become one of the most popular social media platforms across the globe. But the growing reach of the China-based platform has also raised concerns over whether and how China's government could use the company's data. The Economist looked into TikTok's growth and performance and found that the site's popularity is not only driven by cat videos.
---

Peter Georgiev is a producer and editor for the "Panorama" program broadcast on Bulgarian National Television. He was previously GIJN's social media and engagement editor, and part of NBC News' investigative unit in New York. His reporting has been published by the Guardian, Deutsche Welle, and other outlets.
For a look at NodeXL's mapping on #ddj and data journalism on Twitter, check out this map.