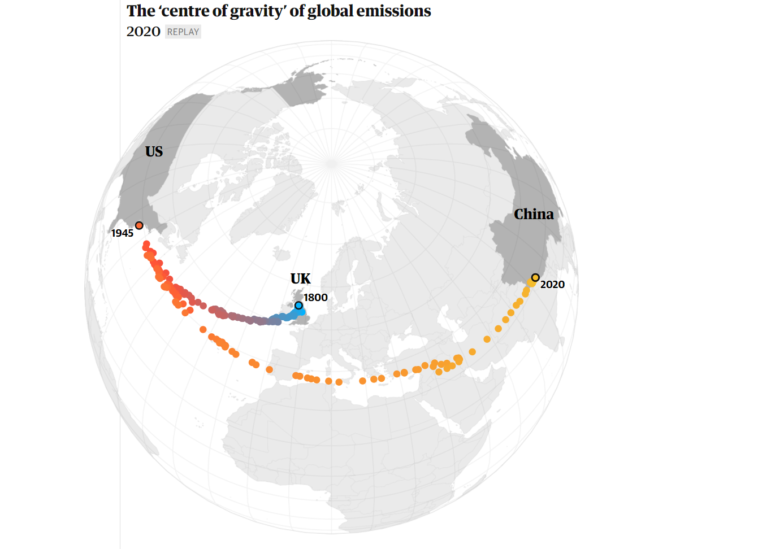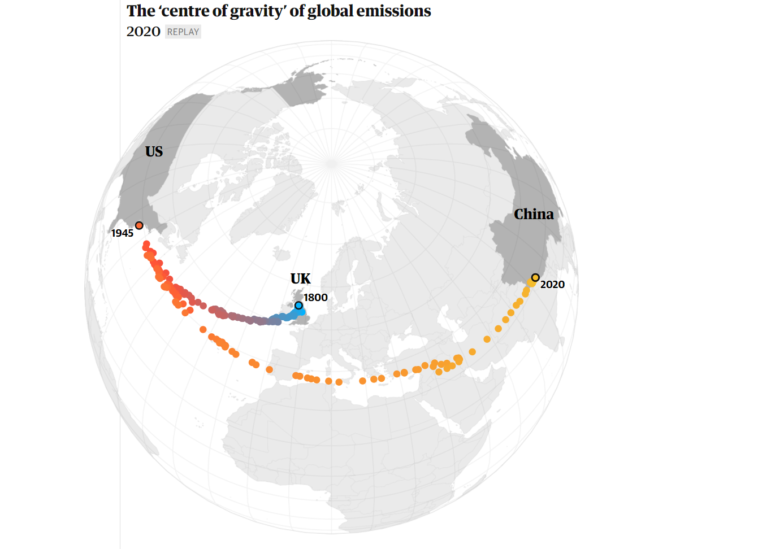 Data Journalism Top 10: Breaking into Data Journalism, America's 5G Fail, Thai Pop, Gender Bias, Fake Google Reviews
Read this article in
We often talk about climate change as an issue future generations will confront. But society is already feeling the dangerous impact of rising temperatures as more and more regions around the world slowly become unlivable. The Guardian produced an ambitious data project on this issue as well as another piece examining the shifting carbon center of gravity. The most popular data journalism tweets between October 11-17, as discovered by our NodeXL mapping and human curation, also include stories on the long-expected arrival of 5G technology, the rise of Thai pop, and fake reviews on Google Maps.
Climate Disaster Is Here
Will governments around the world work together to handle the unprecedented global climate crisis? Ahead of the UN climate talks at the COP26 summit in Scotland, the Guardian published an interactive deep dive looking at how new weather patterns are leading to heatwaves, floods, wildfires, crop failure, and other anomalies in every corner of our planet.
5G Expectations vs. Reality
The arrival of 5G, the latest iteration of cellular technology, has been marked by conspiracy theories and acts of vandalism. But now that more people finally have access to this updated form of wireless communication, Reuters explored how 5G works, how soon we can expect an impact on our everyday lives, and whether it actually works as advertised. They found that the United States delivers the slowest average 5G speed among the top 15 5G markets, trailing far behind South Korea, Saudi Arabia, and Taiwan.
https://twitter.com/fcage/status/1448626172997292032
Rise of Thai Pop
Earlier this year, we featured a piece by The Washington Post on the fascinating history of Korean pop, or K-Pop. This week, via The Kontinentalist, we take a look at Thailand's also compelling mainstream music scene. This data-based piece looks at the rise of Thai pop and introduces readers to some of the most influential performers and most catchy songs.
https://twitter.com/konti_sg/status/1448595198880010252
Gender Bias
The gender pay gap is a well-known global problem, as is the lack of female chief executives. But what are the reasons for this trend in the business world? Author Jessica Nordell teamed up with a computer science professor and a graduate student at the University at Buffalo to create a simulated work environment. They used it to replicate 10 years of promotion cycles at a company and show how even small biases can lead to significant underrepresentation of women in leadership roles.
https://twitter.com/iarynam/status/1448654640828989449
Doctor Shortages
Even before the pandemic, England faced a nationwide shortage of fully qualified family doctors, or general practitioners (also known as GPs). The recruitment and retention crisis has prompted many patients to complain that they're struggling to get access to medical professionals in their area. Sky News conducted a comprehensive analysis of data from the National Health Service and created maps illustrating the number of GPs for patients in different regions, finding notable shortfalls in some areas.
Tracking the Carbon "Center of Gravity"
Carbon emissions are the single greatest driving force behind climate change. But throughout history, different countries have surged ahead as world's biggest industrial powerhouses, meaning that the so-called carbon "center of gravity" has gradually moved according to different nations' annual emissions. The Guardian used country-level data from the Global Carbon Project to show how the center has shifted over two centuries.
The Ultimate Stanley Cup
The Stanley Cup — awarded to the annual champions of the National Hockey League (NHL) in North America — is one of the most iconic trophies in sports. Each season, the cup is engraved with the names of the teams and players who have won it. But every 13 years, a top band is removed and retired in the vault of the Hockey Hall of Fame in Toronto. ESPN partnered with the NHL and the Hall of Fame to create a spectacular 3D rendering with all 137 engravings in one place.
https://twitter.com/wyshynski/status/1448982833976991747
Fake Google Map Reviews
Do you check the reviews on Google Maps before choosing where to have dinner? If so, your decision might be driven by fake reports originating from suspicious profiles. While Google has worked on removing policy-violating reviews, a data investigation by Swiss broadcaster SRF has found that buying positive comments to boost ratings is still widespread in German-speaking countries. The outlet discovered thousands of abnormal accounts that may be operated by professional providers.
https://twitter.com/srfdata/status/1447863977833287684
Bad Data
Our understanding of the COVID-19 pandemic is largely based on statistics noting the number of new cases, deaths, and vaccinations. But we often forget that the methodology behind these numbers varies between countries. Governments collect data in different ways and official numbers are often unreliable. This makes comparisons between nations misleading and can lead to false conclusions about vaccine efficacy. Journalist John Burn-Murdoch explains the problem in this Twitter thread.
https://twitter.com/jburnmurdoch/status/1447617114999767045
Getting into Data Journalism
As more newsrooms and universities allocate resources to data journalism, using data in storytelling is becoming a popular choice for graduates. But breaking into the field can be a challenging task for many newcomers. Reporter Duncan Anderson spoke with five experts for DataJournalism.com, to ask them what advice they would give to aspiring data reporters.
https://twitter.com/datajournalism/status/1448899290286510094
Thanks again to Marc Smith and Harald Meier of Connected Action for gathering the links and graphing them. The Top Ten #ddj list is curated weekly.

---

Peter Georgiev is GIJN's social media and engagement editor. Previously, he was part of NBC News' investigative unit in New York. He also worked as a correspondent for Bulgarian National Television and his reporting has been published by the Guardian, Deutsche Welle, and other international outlets.
For a look at NodeXL's mapping on #ddj and data journalism on Twitter, check out this map.