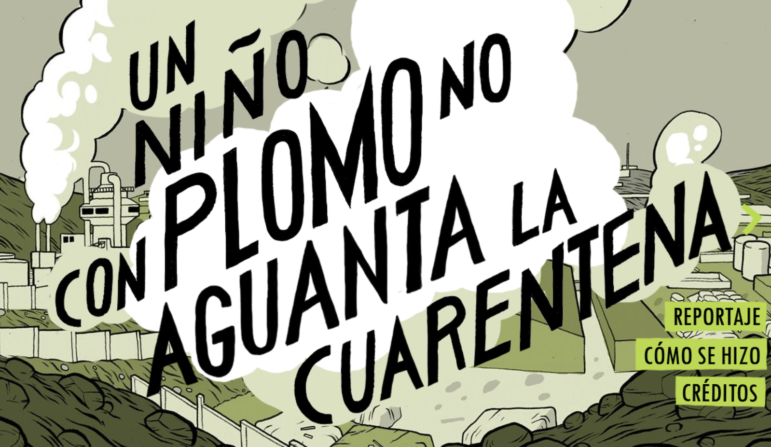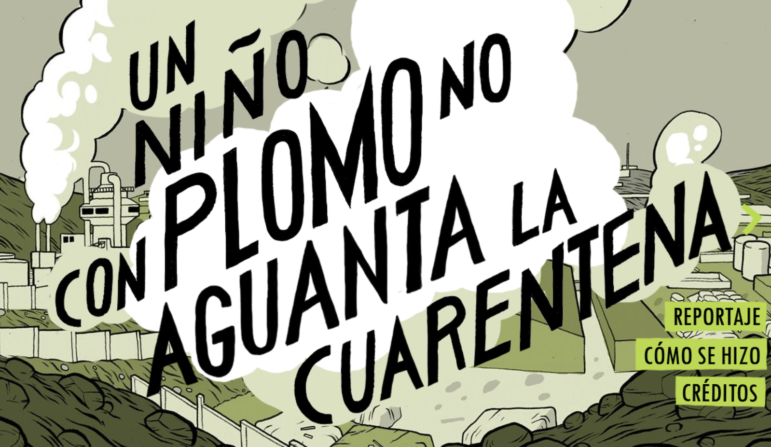 How a Comic Series Reveals Heavy Metal Poisoning in Peru
Read this article in
GIJN member Convoca, a Peruvian investigative newsroom, is digging into what befalls victims of heavy metal poisoning by using an innovative medium — comics. In its latest installment in the series, Convoca uses interactive images to tell the stories of those affected by high levels of lead in their blood and what's happened to them during the COVID-19 pandemic. 
Convoca.pe's latest series is called "Toxic Records: The Comic," a collection of stories that illustrates what happens to people exposed to heavy metals from mining and industry. The stories were developed by a team of 14 illustrators, developers, reporters, and editors, and show how the pandemic has left those who have lead in their blood — or other signs of heavy metal exposure — doubly vulnerable.
Investigative Journalism in a New Format
"Yoran Vigo is four years old and has 20.9 micrograms of lead per deciliter of blood. He lives in a settlement called the Virgin of Guadeloupe, very near the industrial zone in Callao [a seaside port near Lima]. Isolation makes him irritable."
So begins the story "A Child with Lead in their Blood Cannot Endure Quarantine," the first comic in the "Toxic Records" series which investigates heavy metals, this time in an interactive comic format composed of short stories.
Before the COVID-19 pandemic hit, Vigo studied at the Arturo Padilla school, which sits very close to the industrial neighborhood of Ventanilla. The lead levels there are the highest in the region, breaching the legal air quality levels. Lab tests on students from this area show that they are exposed to levels of metals above the legally safe range for human beings. Now, because of the pandemic, Vigo is having to stay home, which exacerbates his unhappiness.
"Children with high levels of lead lack concentration, they are irritable, and have greater behavioral problems," says Hugo Villa, a doctor who specializes in heavy metal contamination. "And this gets worse when they are socially isolated."
Convoca's investigative series "Toxic Records" — launched last year —  reveals how thousands of people in Peru have been affected by toxic metals. The series details cases like that of Espinar Province in the Cuzco region, where the Health Ministry has failed to give specialist treatment to 71 people seriously affected following exposure to contaminating chemicals associated with mining; the situation in the Pasco region in central Peru, where a six-year-old child died with lead poisoning; and in Madre de Dios, in the Amazon basin, where state institutions have failed to agree on the risks the population faces from mercury.
In all of these cases, the state — which allowed these industrial and extractive activities to take place — has been incapable of correctly monitoring the impact these heavy metals have had on the health of the people who live nearby. Even where there were programs intended to treat people from these communities, they have been ineffective or their budgets not distributed in the right way.
To make an interactive comic about these cases, Convoca created a team of 14 professionals: five renowned cartoonists (including Rodrigo La Hoz, Jesús Cossio, and Iván Palomino), five diligent reporters, two programmers, and two experienced editors. The project began in 2019 alongside the development of the journalism investigation, but it changed as a result of the pandemic. 
COVID-19 has left the people affected by heavy metals doubly vulnerable. So the reporters behind Toxic Records — Edwin Montesinos, Jackeline Cárdenas, and Shirley Cayetano — went back to speak to the people they had interviewed previously to find out how they were coping with a virus that has swept the world. What they found were Peruvians burdened by health problems caused by their exposure to heavy metals and by the coronavirus.
The first story to come out of this work was that of Vigo, a child who lives surrounded by factories with lead in his blood. To document this case, Montesinos interviewed epidemiologists, accessed the lab analysis that revealed the amount of lead the child has in his blood, spoke on numerous occasions to the boy's mother, and created a database containing information about the affected communities, the budget that was supposed to be assigned to provide healthcare to people in the Callao region, and scientific research on the subject. 
Next came stories of additional victims of heavy metal contamination in other parts of the country. These stories were led by journalists Jackeline Cárdenas (in the Amazon region), Shirley Cayetano (in Cusco), Alejandra Canchanya (in Áncash), and Paul Tuesta (in Pasco).
To bring these stories to life as an interactive comic, it was vital to marry the media investigation with the work of the five talented cartoonists. Jesús Cossio, Rodrigo La Hoz, Iván Palomino, Manuel Gómez Burns, and Jorge Pérez-Ruibal managed to transform the scenes witnessed by the reporters into short visual comics. 
Over the course of many months, the reporters and illustrators worked together to bring this very real and urgent content to life. 
"It's important to me that we had this opportunity to use the comic medium to shine a light on real people, those who are normally invisible, or infrequently represented," said La Hoz, who was in charge of the illustration "A Child with Lead in their Blood Cannot Endure Quarantine." 
"It was fascinating making a comic like this, with all the interactive tools it required, and about a subject that's as critical as the contamination caused by mining," said his colleague Cossio, who worked on the story about Espinar. "What's more, working as part of a group to create a collection of stories on an issue as critical as this helps power an excellent initiative." 
Jorge Pérez-Ruibal, who illustrated the story about mining contamination in Pasco, said: "Learning about the odyssey of one brave mother and her son has moved me enormously. I feel proud to be a part of bringing this story to light, and maybe helping justice to be done." 
Stranger than Fiction
"At Convoca, we can explore these formats because we're an interdisciplinary team," explained Milagros Salazar Herrera, who, along with the journalist Ghiovani Hinojosa, is editor of the series. "We can combine the sensitivity of the work of an artist with the journalistic rigor of committed reporters."
The last piece of the puzzle came with the programmers at Convoca, lead by technical director Elvis Rivera, who had an important role to play in making the stories come to life.
The whole process started with a lengthy analysis of comics published worldwide, in which they figured out what problems might arise in having their readers load the comics and view them on different devices (such as mobile phones, PCs, tablets, etc.) In the end, the team decided to create its own method to streamline animation of the comics. For this, they needed to hire a designer, Yenner Marchan, who worked on the comic about the boy with lead in his blood in Callao. 
Ultimately, these stories are about mixing rigorous reporting with the tradition of the comic and with the technology that allows you to tell an interactive story in small parts. It's another way of bringing the most important stories to our readers. 
Additional Reading
GIJN Members Think Out of the Box
The Webcomic that Tells the Story of a Bolivian River
Ojo Público Experiments with Digital Narratives
Eight Interactive Investigative Stories To Check Out
This article was originally published in Spanish by Convoca.pe and is republished here with permission. This article was translated by Laura Dixon.
---

Convoca is an investigative journalism association based in Peru. It was founded in 2014 and is made up of reporters, data analysts, and developers. The team advocates the "intelligent" use of databases and a multidisciplinary approach to investigations and digital narratives. Convoca is a member of GIJN.