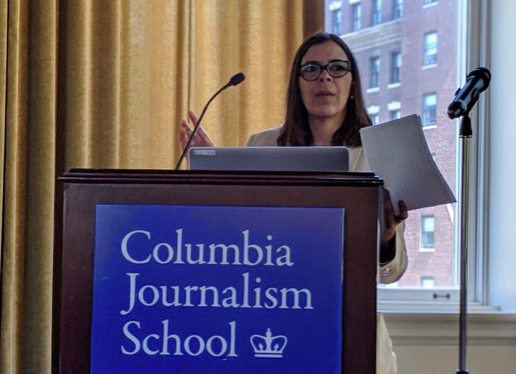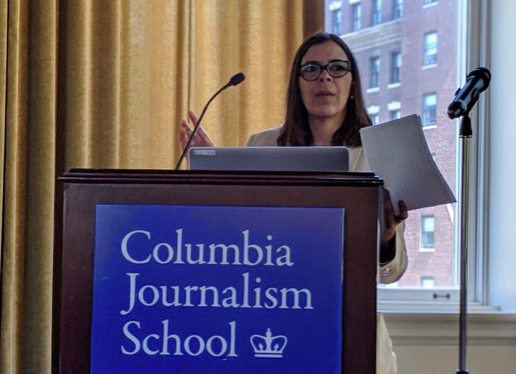 Image: Screenshot, Twitter
5 Questions for Venezuelan Journalist Ronna Rísquez on Overcoming Fear, Covering Organized Crime, and Working as a Woman Journalist
Read this article in
A woman journalist who has made her mark in a male-dominated news source, committed to work with a human rights perspective, and who continues to show courage with her investigations. This is how one could describe Ronna Rísquez, a Venezuelan who for more than 20 years has covered violence and organized crime in South America.
At the end of February, she published her first solo book "El Tren de Aragua: La Banda Que Revolucionó el Crimen Organizado en América Latina" [El Tren de Aragua: The Gang That Revolutionized Organized Crime in Latin America]. The book deals with this criminal organization involved in more than 20 illicit activities, from drugs and gold to human trafficking. It emerged in central Venezuela but now has a presence that goes from Central America to Chile and Brazil.
"I'm not just telling the story of a gang. In my book, I tell the recent story of Venezuela in terms of violence," Rísquez told LatAm Journalism Review (LJR).
She is currently coordinator of Alianza Rebelde Investiga, a coalition of the Venezuelan news outlets TalCual, El Pitazo and Runrunes. She is also the editorial coordinator of Monitor de Víctimas [Victims' monitor], a platform that won the 2018 Data Journalism Award.
In conversation with LJR, Rísquez talks about the challenges she has faced in practicing journalism as a woman and about the implications of threats received prior to the publication of the book.
The interview has been edited for length and clarity.
LatAm Journalism Review: Journalism is still a male-dominated profession in many Latin American countries (especially when it comes to management positions). Have you experienced any additional difficulties when working in journalism (especially in crime reporting) because you are a woman? 
Ronna Rísquez: Doing journalism in our Latin American countries is complicated for women because it is indeed male-dominated. Especially in management positions. In the case of Venezuela, we have been, I don't know if I should say lucky, in that some very talented female colleagues have managed to hold important management positions (as editors, coordinators, etc).
It is always a bit of an uphill climb for women to reach these positions and, once you reach them, it is also difficult for male colleagues who are under your supervision to respect you. That I think has been one of the biggest difficulties. Maybe not necessarily so much obtaining the position, but how male colleagues who are "under your command" behave. That has been the most difficult part because they almost always have an arrogant attitude of "What do you know?" "How are you going to get involved in a confrontation between gangs?" Especially when dealing with sources I have worked with the most: sports and crime or police, sources that are generally characterized by having a large presence of men.
Making a name for yourself and gaining respect when dealing with police sources as a woman is quite complicated. Male journalists even have a certain ease or advantage in accessing sources, because most of the sources (police officers or officials) are men as well.
To summarize, as women we face several challenges when dealing with this type of source. First, the challenge when working with victims of violence or trauma. You have to be conscious and responsible about the work you do, the language you use, and know that what you write affects many people. Secondly, we have to work surrounded by men, as I mentioned before. And thirdly, being a woman, you have to demonstrate your ability even more. That is to say, to demonstrate that I can cover a confrontation, that I can be in the hard zone of a protest, etc. These are three elements you have to deal with being a woman.
LJR: There is an element that has historically been attributed to crime journalism, which is sensationalism. What techniques or practices do you follow to report without falling into sensationalism?
RR: It's generally been said that crime or police reporters were the black sheep of the newsroom. They were isolated, covering topics that were not pleasant and, sometimes, they were scandalous or tabloid-like. I believe tabloid journalism does exist, but what happens in our countries in Latin America is that reality is often stronger and harsher, and cannot be covered up. That is to say, the reality of violence in Latin America is crude and must be told, because in some way it is a reflection of what we are as a society and what our governments are like.
It is necessary to make visible what is happening without criminalizing the perpetrators and without re-victimizing the victims. It is also key not to put at risk sources or relatives of those involved. We must be clear about what we are looking for and what we want to achieve before publishing an image or a text.
I believe that when we deal with the issues and interview those involved with respect for the dignity of these people, the result of our work will not be sensationalist. When we think about the victims and when we work with a human rights perspective, we do not fall into tabloid journalism.
LJR: Venezuelan journalists have faced several challenges in the last two decades (censorship, harassment, aggressions, media closures, etc). Many have had to go into exile and others end up self-censoring or changing professions. Have you ever self-censored yourself and/or thought about leaving journalism? 
RR: Yes, I have self-censored myself. That is to say, I have self-censored myself when I've decided not to byline a story because I'm afraid that by doing so, I may be attacked or something might be done to me. It's happened to me on several occasions. But, I've never stopped going out to cover a story or doing an investigation because I think something might happen.
I've never thought of quitting journalism either. Never. Even so, obviously I've been afraid and I think that, sometimes, it's important to be afraid when you do journalism. In countries like Venezuela, Nicaragua, El Salvador, Brazil, Mexico, and obviously Colombia, I think it would not be responsible to do journalism and not be afraid or not be aware of the risks. We have to continue doing journalism with responsibility, with care, being cautious, and taking all the necessary safety measures.
LJR: "El Tren de Aragua: The Gang That Revolutionized Organized Crime in Latin America" is your first book. How did you come up with the idea of dedicating it to this mega-gang?
RR: Actually, I began to see that the journalistic investigations I was carrying out were leading me to understand that this gang was something beyond what I had seen, up to this point, with other Venezuelan gangs.
I also realized that these journalistic investigations had a very specific focus and much of the material I was getting in my reporting was being left out.
Also, many of the stories were almost implausible, they seemed like fiction. With some of the testimonials, I felt like I was watching Mad Max or Westworld. I felt like I was watching a dystopian movie. So I said to myself, 'I have to find a way to get this out there.' I felt the book format was the best way to tell the story, which I felt had no place in a news feature story, not even in an investigative feature story.
I decided to write the book not only from the point of view that I am talking about a gang. I wrote it with the intention of talking about a stage in Venezuela in which there are gangs, in which there is a phenomenon or there are non-state armed groups with particular characteristics, which also partly connects with [Venezuela's] contemporary history. So, I think the book tells not only the story of a gang, but [also] the history of recent violence in Venezuela and the real make-up of organized crime in the country.
LJR: Both you and your family have been threatened because of the publication of this book. Is this the first time you have received threats of this kind because of your work? What actions have you taken? And what recommendations can you give to other journalists who follow or want to follow the same [editorial] line as you?
RR: Yes, indeed, after announcing that the book was about to be published, I received threats. The threats did not come directly to me, they came to the Instagram accounts of eight family members.
These threats worried me a lot, so I filed a complaint with the Venezuelan Public Prosecutor's Office. It was also reported to international and national journalism organizations.
I have never received direct threats in this way before. This is the first time I have received a formal threat, and obviously one worries, so I sought advice to take personal, digital, and emotional security measures.
Another thing is that the decision was made that the book was going to be published, because we thought that the threats were intended to intimidate and prevent the book from being published. The book was published and, fortunately, up to the time we are doing this interview there's been no further action.
I believe that journalists have a job and our job, as Martin Baron says, is to continue telling the truth with courage, and besides that, to unearth the truth, especially when it comes to investigative journalism. I believe we have to do it and I'll continue doing it. As journalists, this is our responsibility and it's our job. Precisely, by not doing so, we leave room to those who seek to intimidate us and to those who seek to put an end to democracy and its freedoms.
This interview was originally published by the Knight Center for Journalism in the Americas' LatAm Journalism Review and is reprinted here with permission. 
Additional Resources
How They Did It: Uncovering a Vast Network of Illegal Mining in Venezuela
Forced Out: Latin America's Investigative Reporters Pushed into Exile
Collaborations Help Strengthen Journalism in Venezuela
---

Katherine Pennacchio is a Venezuelan journalist. She has developed her career as part of media and non-governmental organizations. She co-founded Vendata.org, an innovative project for the liberation of information and publication of open data in Venezuela.