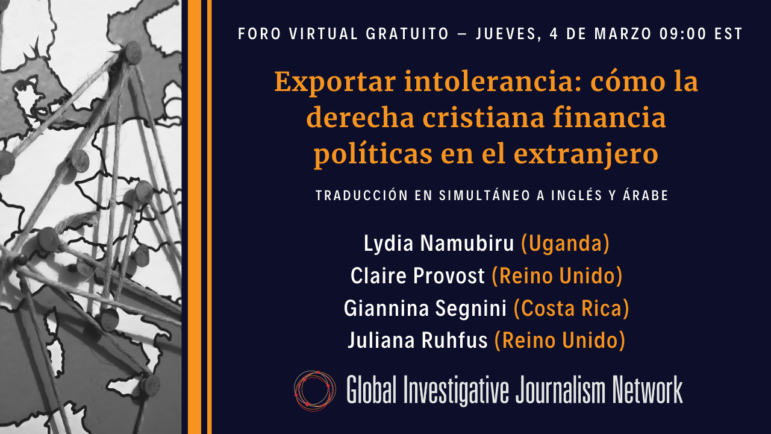 Los grupos conservadores cristianos gastan millones de dólares para apoyar a distintos movimientos controversiales en Europa, África y América Latina. Estos movimientos buscan malograr las batallas ganadas por los derechos de las mujeres, las comunidades LGBTQ+ y apoyar causas políticas autoritarias. En este foro virtual de GIJN, reunimos a periodistas de alto nivel que han investigado y pueden ofrecer consejos sobre cómo rastrear las conexiones y seguir el dinero de este tipo de grupos.
Las ponentes del foro serán:
Lydia Namubiru es la editora de África para openDemocracy. Originaria de Uganda, se especializa en periodismo de datos. Anteriormente trabajó para Quartz Africa, The New York Times, BBC World Service y Vision Group, la empresa de medios más grande de Uganda. También enseña periodismo de datos en el African Center for Media Excellence en Kampala y cura datos abiertos en www.data.ug.
Claire Provost es editora de investigaciones mundiales en openDemocracy, y especificamente trabaja en el proyecto Tracking the Backlash, contra los derechos de las mujeres y LGBTQI. Fue editora de género y sexualidad de openDemocracy, trabajó en The Guardian como periodista de datos y fue miembro del Centro de Periodismo de Investigación de la Universidad de Londres, Goldsmiths.

Giannina Segnini

es directora del Programa de Maestría de Periodismo de Datos de la Facultad de Periodismo de la Universidad de Columbia. Antes fue jefa del equipo de investigación de La Nación en Costa Rica. Segnini es una de los miembros fundadores del Centro Latinoamericano de Periodismo de Investigación (CLIP) y ha recibido varios premios internacionales por su trabajo.
Este foro web será moderado por la reconocida periodista y documentalista Juliana Ruhfus, reportera de la serie "People & Power" de Al Jazeera en inglés.
Sigue nuestra cuenta de Twitter @gijnes y suscríbete a nuestro boletín mensual, para saber más sobre los eventos que organizamos. 
Este webinar será realizado en inglés y contará con interpretación simultánea al español y al árabe.
Día: Jueves 4 de marzo del 2021
Hora:
8:00 a.m. (Ciudad de México)
9:00 a.m. EST (Washington DC, Toronto, Bogotá)
11:00 (Buenos Aires, Brasilia, Santiago)
14:00 (Londres)
15:00 (Abuja, Berlin, Paris)